Basement of the Week: Expanded Living Space on a Budget
Cost consciousness matches style savvy in this downstairs Massachusetts family room with guest quarters and a laundry room
Homeowner Christina Katos considers a strict budget a fun challenge and stretches every dollar. When she and her husband were house hunting three years ago, they were looking to add living space via a basement or an attic. This 1,800-square-foot multilevel house with an unfinished basement fit the bill.

Houzz at a Glance
Who lives here: A family with 3 young children
Location: Belmont, Massachusetts
Size: About 400 square feet
Budget: $35,000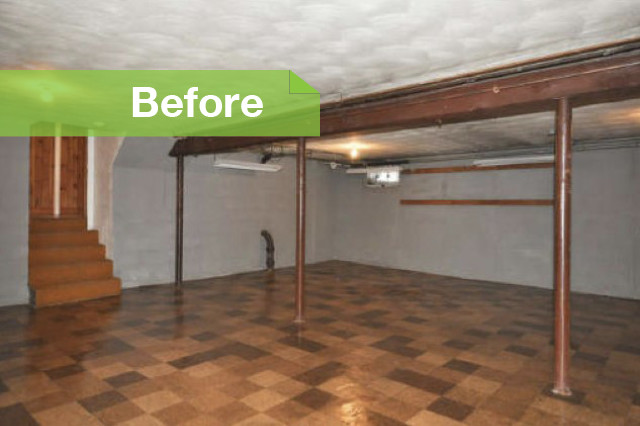 No. 29 Design
BEFORE: When they toured the house, Katos and her husband knew they could turn this basement into additional living space.
AFTER:
After two years and lots of planning, they moved the family room downstairs and added a fourth bedroom to it — a guest room for now and a potential room for one of their three kids later. "I love to work with what I have," Katos says, and she's generous about sharing her ideas on her blog,
No. 29 design
. She's a graphic designer, and her design eye gives her a big advantage, allowing her to create a beautiful room and stick to her strict budget.
When Katos learned that ripping out and replacing the ceiling would add $15,000 on to their costs, she opted to keep the same ceiling and wrap the structural posts. Her contractor was able to reroute all of the plumbing within the wrapped boxes as well, saving quite a few dollars. They added a new skim of plaster to the existing ceiling to get rid of its textured finish. New recessed lighting brightens the space.
For now the sofa is an old green leather one with a slipcover Katos found at Target. This is daughter Mia and dog Dolly.
Katos crafted the plans herself. Relocating the family room downstairs included relocating the laundry room down there too. She decided to place it wherever the least amount of plumbing work would be required, which was in the upper right corner on this plan.

The design also includes a large closet for games and toys, another closet for Katos' project stuff and a large pantry. The storage room on the left holds the mechanical components.
Katos got a very custom look for a bargain on this media wall. She arranged five storage elements from Ikea and had the builder paint them to match, put them in place and add finished pieces in between. She hung shelf paper behind the shelves to add dimension. The wall has a custom built-in look but cost only about $2,000.

The cabinets and drawers hold books and games as well as media equipment for family movie nights. Mia and her brothers, Stephen and Anthony, love to play Wii down here as well. "When we have parties, all the kids just run down here to hang out," Katos says.
Once open to the former family room, the new guest room is closed off by this new stenciled wall, which also creates a hallway with access to the basement.
"Right now we don't have a coffee table down here, because Wii dancing has taken over and a table could just lead to an injury," Katos says. "When I decide we need one, I'll probably make one myself." Floor pillows are great for the kids for now.

Rug: West Elm
The floors look like wood but are
vinyl
, much less expensive than hardwood. "There are always concerns about water, but when we added bulkhead doors during the renovations, we were able to take care of the one water problem we had around that area," Katos says. They were able to dig out around the basement, and to add gravel and pipes that redirect water out into the yard.
Katos tucked a smaller play area behind the laundry room.
Stephen loves to play Legos here.
The ceilings are only 7 feet high, so Katos made them seem larger by adding molding. It's simple planks framed around the drywall and painted the trim color to resemble board and batten. "We're short people, so the ceiling height doesn't bother us," she says.
"I didn't care where it went, but I had to have a barn door," Katos says. The door is mounted on a simple closet door track. She described what she wanted the door to look like and gave the contractor direction as he assembled the pieces.
A utility sink comes in handy. The laundry room cost between $5,000 and $7,000 to build and finish.
This area is Katos' domain. "It was nice to reclaim our mudroom upstairs and have it just be a mudroom, and not have baskets and stacks of laundry all over it," she says.
The basement has been done for about a year now, and the family has enjoyed it very much. Katos is now looking forward to completing more projects and sharing them on her blog.
Next:
See more basement before and afters