Dreamboats: The Romance and Reality of Houseboats
Floating homes can be heaven on earth (er, sea), with incredible views and ocean-fresh air. But not everything goes swimmingly
Everyone wants to live near the water, right? Looking up from a good book to watch a pelican dive right outside your window is a nearly universal dream.

And then there are the people who take things one step further and live on the water. Houseboats, or floating homes, as they are called when they are not boat-shaped, attract a quirky, artsy, adventurous type. But mostly they attract people with webbing between their toes. To live on a houseboat is to love the water.

I lived on a houseboat in Sausalito, California, for more than 10 years, and while it really was mostly the romantic fantasy we all think of, houseboat living has some drawbacks too. You are hull to hull with your neighbors; most houseboat docks are like pretty, upscale mobile home parks on the water, and it's close quarters. Berth rentals are pricey, much more costly than condo dues. You don't have any dirt; while you can garden on decks and balconies, everything is limited to containers. The homes rock; if you get seasick, this can be a big problem.

But none of this really matters when you are sitting on your roof deck, sipping a glass of wine and watching the pelicans dive while the sun sets.

Here are a few beauties to stir your own houseboat fantasies.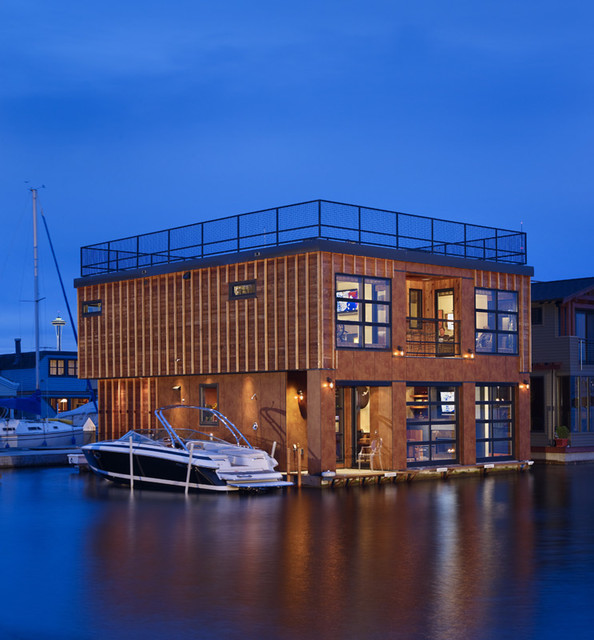 Dan Nelson, Designs Northwest Architects
For reasons of stability, houseboats are usually quite boxy. They also tend to have lots and lots of windows — all the better to enjoy those views.
Vandeventer + Carlander Architects
The roof deck is another common signature of houseboats. This modern beauty in Seattle benefits from being in the city but feels like a retreat.
dougmcclelland
In a houseboat, you can be up close and personal with the neighbors on the dock but removed from the pace of the city.
Lauren Mikus
Decks, docks, porches, balconies and roof decks are plentiful. Because houseboats tend to be small, outdoor living is an important part of this way of life.
Samantha Schoech
A floating home on a canal in Malmo, Sweden. It's right in the heart of the city, with views out to the Baltic.
Art by Anitta
A converted tugboat. Now this is a houseboat: tiny, boaty and no frills.
Art by Anitta
Inside this tiny boat, all the rooms are defined by furniture, steps and imaginative dividers like this bead curtain, which allows light through but offers a sense of separation.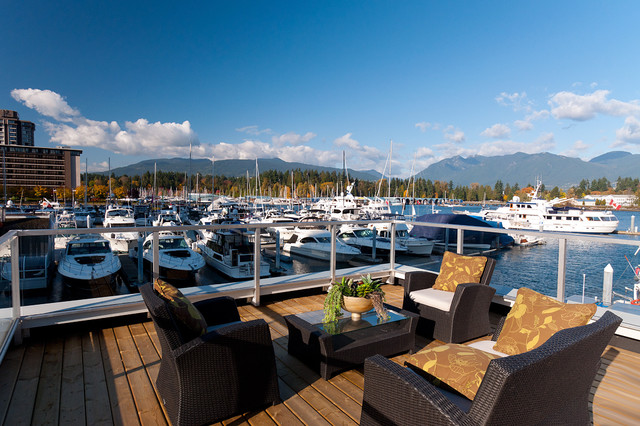 dougmcclelland
Outdoor living is all decks and docks.
Dan Nelson, Designs Northwest Architects
Because floating homes tend to be smaller than their landlubbing counterparts, open, bright spaces work best. This open staircase allows light and air to move. And check out those high "portholes." They let in the light without offering neighbors a view inside.
Adrienne Chinn Design
Open layouts and lots of windows. Without all the windows looking out at the water, there's hardly a reason to live on a houseboat.
Vandeventer + Carlander Architects
A room with a view. If you live on a houseboat, you have to get use to lookie loos kayaking by to get a peek.
Adrienne Chinn Design
As on an actual boat, storage and space are at a premium. While floating homes with a cement hull have a built-in basement, any and all clever storage solutions, like the multiple drawers built into both sides of this island, are most welcome.