Go Wide With a Football-Watching Party Outside
The home-field advantage is all yours with an outdoor screen, a better-than-a-bar patio and a fire feature for some heated action
The start of the new NFL season is just around the corner. On Wednesday evening, September 5, 2012, the Cowboys of Dallas take on the Giants of New York. You couldn't ask for a better kickoff to football season, as this is one of the great NFL rivalries, pitting "America's Team" against the Superbowl champions.

While being in the stadium to watch the game is great, football is a sport that is made for television. All the better if you're lucky enough to live in a mild climate where the television can be outside and you get to enjoy football season while lounging by the pool.

So let's take a look at some outside television spaces perfect for watching all of the upcoming games.
If any home was made to watch a sporting event while relaxing by or in the pool, it's the
New American Home
shown at the 2012 International Builders' Show. Large glass doors open so the family room blends seamlessly with the pool and the patio.
Just a flick of a switch and down comes the screen. The big game is ready for viewing from the comfort of a lounge chair or the pool (next photo).
While those in Green Bay, Wisconsin, will likely be watching the game while downing some brats and beer, we here in Florida will be enjoying some fresh seafood and daiquiris.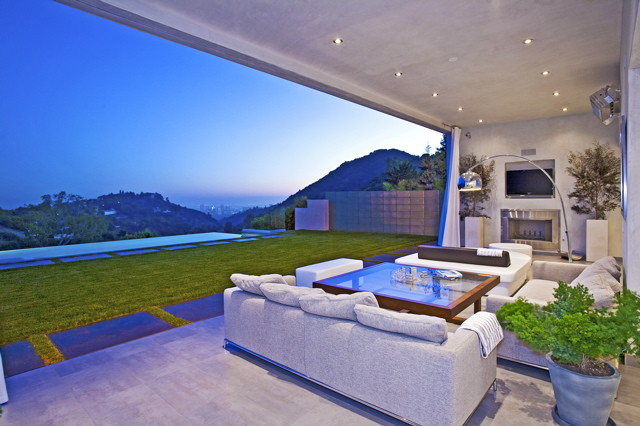 See Construction
Those living in Southern California can enjoy their football games while sipping wine on the patio. The thing is, a football game needs to be watched on a really big screen so you feel like you're in the huddle. So go as big as you can.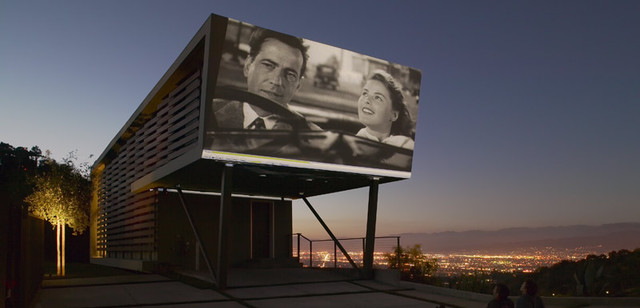 Belzberg Architects
Which brings me to this. Why not turn the entire house into one big screen? Those monster Jumbotrons aren't just for the folks at the stadiums. You can turn
football night in America
into a neighborhood block party.
AMS Landscape Design Studios, Inc.
AMS Landscape Design Studios, Inc.
Better yet, put the bar outside next to the pool. There's nothing like taking a dip in the water during a break in the action. And a venue like this gives going to your favorite watering hole a whole new meaning.
LaRue Architects
Add a little heat for when the temperature dips, and you've got a great gathering spot where family and friends can watch the game no matter what the temperature. Make it a heated pool, and you'll have the best venue around.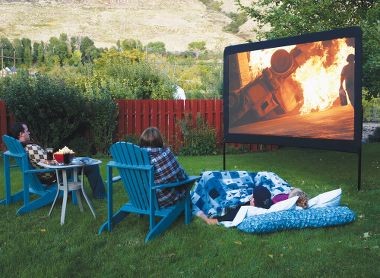 Camp Chef Outdoor Movie Screen
An outside spot for game watching doesn't have to cost big bucks or be a permanent installation. All you need is a projector and a portable screen, and you'll be enjoying the great outdoors while watching your favorite team.
Northern Virginia's Exclusive Kitchen & Bath Remodeler | Best of Houzz