Happy Puppy Drags Sprinkler Through Doggy Door, and Chaos Ensues
A border collie pup becomes internet famous after he soaks his owner's living room with his favorite toy
Cara Wohr was
checking Facebook
on her phone in her bedroom at home in Lake Dallas, Texas, on Wednesday when she heard loud banging coming from the living room. She has five dogs, so she wasn't too concerned at first. Then she heard barking and decided to investigate.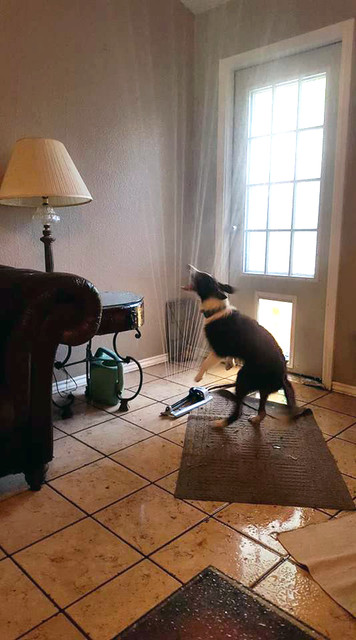 Photos by Cara Wohr
That's when she discovered her 5-month-old border collie, Baloo, had dragged the running sprinkler into the living room through the doggy door and was having the time of his life.
Baloo apparently didn't understand that his sprinkler toy should stay outside.
Here's the scene Wohr found on July 18.
With her phone in hand, Wohr took a quick burst of photos before grabbing the sprinkler and tossing it outside.
But everything was already soaked: her brown leather chair, the walls, the floor, the tables. The stream even hit her TV and ceiling.
It was 107 degrees in Texas that day, so Wohr wiped everything down with towels as best she could and then left the door open for an hour and a half to dry out the room.
"The ceiling was clean," she says. "All the cobwebs were down. And i
t could have been worse. What if I had gone to the store?"
Her photo has been shared hundreds of thousands of times, often without her permission, copied from her Facebook page and used in posts around the internet — Reddit, Tumblr, Twitter — without giving credit to her or Baloo. "That kind of gets me mad," says Wohr, who runs a horse ranch and lodge in Forestburg, Texas.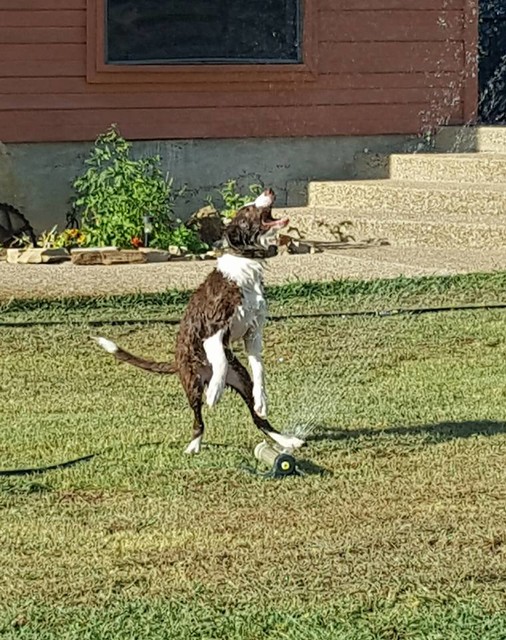 Wohr named the chocolate-and-white Baloo after the bear character in Disney's adaptation of
The Jungle Book
. "He really does act like that," Wohr says. "He doesn't have a mean bone in his body."
Here's Baloo playing with the sprinkler again, showing no signs of stopping.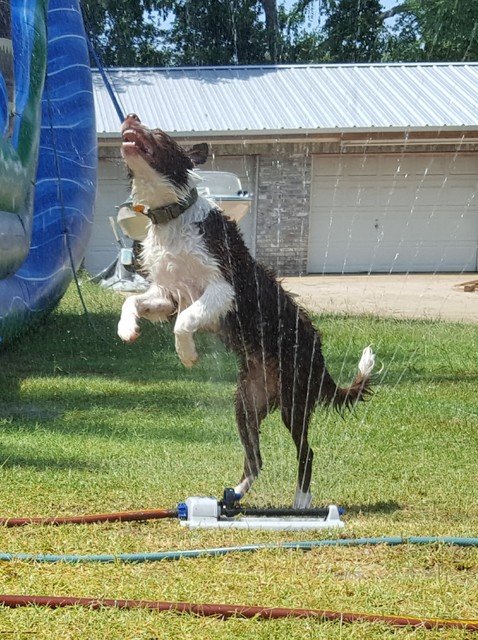 At a birthday party over the weekend for her grandson, Wohr says Baloo played with the sprinkler nonstop for three hours.

"We have to shut it off for him to rest," she says. "I've never seen anything like it."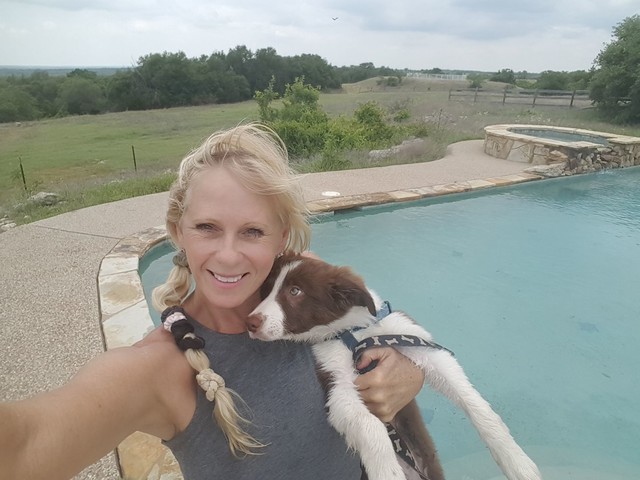 Here's Wohr with her rambunctious Baloo, who was a birthday present from her husband, Stephen, for her 60th birthday.
She says sometimes she looks over to see Baloo just standing over the sprinkler, smiling his pearly white teeth, letting the water spray his belly. "He's the cleanest dog ever," she says.
Don't ever change, Baloo!
Your turn: Share your most destructive pet story in the Comments! Photos encouraged.
More
So You're Thinking About Getting a Dog
See more pet places
Find pet supplies