Ideabook 911: How Can I Make My Living Room Seem Bigger?
10 Ways to Make a Small Space Live Large
Houzz User ibelieve left us a question on the Questions board the other day: Hello could someone give me an idea for my living room??!!! First, my living room is rather small and I was trying to think of a way by enlarging with mirrors for the walls to make it look bigger. Any ideas anyone? Thanks!

Well, ibelieve, I have a small living room also. Here are a few tricks to fit everything in without seeming cramped:
Cary Bernstein Architect
Use smoke and mirrors. Well, in this case, really just a honkin' big mirror that will trick the eye into thinking the room is larger and more open.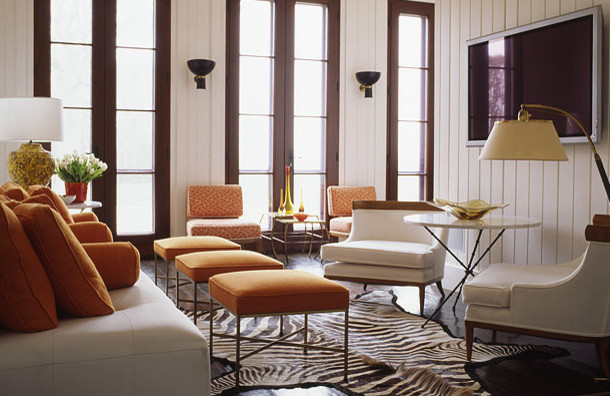 hhbrady
Mount the television to the wall. Eliminate the need for a piece of furniture to plop it on upon. Work with a carpenter and an electrician to create a niche in the wall for the rest of that pesky electronic equipment.
Chr DAUER Architects
Put your backs against the walls. In a long narrow living room, try leaving the middle of the room as open as possible. The rug and light fixture help balance out the look so it doesn't really look like everything is backed against the walls.
Audrey Matlock Architects
Don't give up on the idea of a sectional. You'd be surprised how well your room could accommodate a small sectional. Here a light neutral color practically blends into the wall, keeping it from looking like it's eating up all the space in the corner.
Frederick + Frederick Architects
Replace a table lamp and side table with a floor lamp. It's a great way to save space and add a vertical line in the room.
Frederick + Frederick Architects
Consider built-ins. This type of shelving can wind up taking up less room, especially when it's recessed into the wall.
Tracery Interiors
Add a niche. Here the space for wood storage was carved into the wall.
Chapman Architects
Extend the view. Keeping the curtains open on these wonderful large windows extends the space via the view.
valerie pasquiou interiors + design, inc
Consider clear furniture. Glass or lucite coffee tables, consoles, end tables and even chairs leave more visual space open.
Blount Architectual and Interior Design
Arrange your furniture around a round coffee table. You won't be as likely to bonk your shins on edges, and your furniture will have a radius.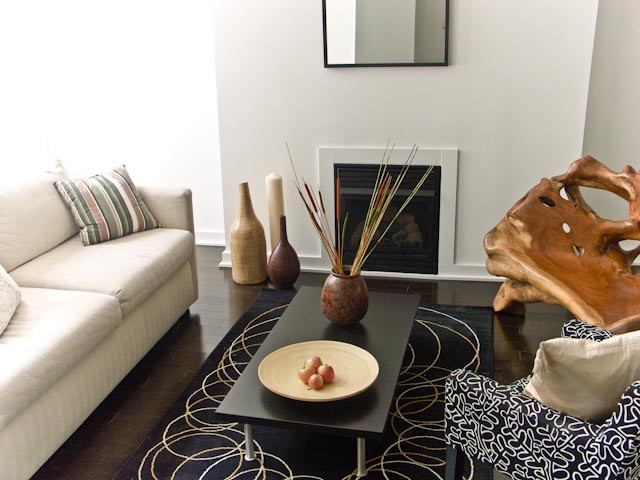 Voila Design Home
Use a rug trick. Using a small area rug and centering furniture around it can give the illusion of more open floor space. This dark rug against the dark floor keeps it from looking like a postage stamp.
Rachel Reider Interiors
Add a window seat.
Generally speaking, you wouldn't otherwise back seating right up to the edge of the window; you can incorporate the seat into the rest of the room. Bonus: Underneath, you might be covering up a radiator or adding storage.