Share Tactics: Great Ideas for Shared Kids' Rooms
Maintain peace and maybe even inspire togetherness with decorating strategies from a designer with seven grandchildren
My husband and I learned the hard way that as far as children are concerned, there is a yawning chasm between the concept of having a baby brother and the reality of it — particularly if it means sharing a bedroom. Our older son was 3½ years old when his brother was born. Although we spent months prepping him, when the moment came to move Tyler into his room, Jedd stood there with his legs spread and arms akimbo, demanding that we "get him out of my room!"

"Now, sweetheart," we cooed. "We talked about this, and you are going to love sharing your room with your brother."

He repeated his demand and then — in the ultimate act of marking his territory — peed on the floor.

The transition from a private room to a shared space can be traumatic for kiddos, but most adjust. "Kids really don't want to be alone. They want to be with other people," says Laura Kastner, University of Washington professor of psychiatry and author of The Launching Years. Though the squabbling might drive parents nuts, sharing a room gives children the opportunity to learn some important life skills, particularly about how to handle and resolve conflict. For the parents it can inspire some interesting design solutions, as you'll see below.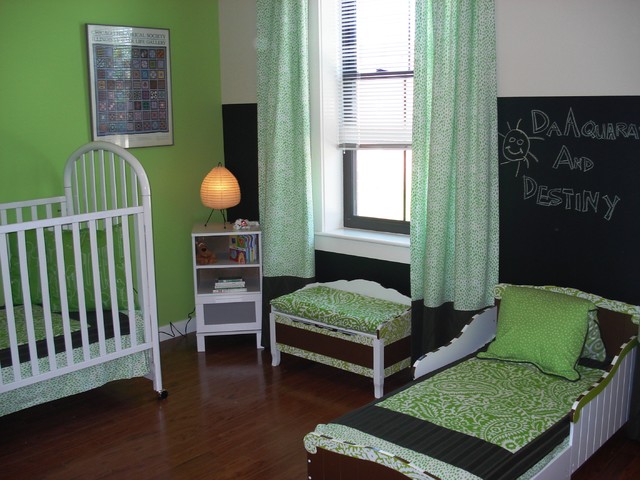 Joni Spear Interior Design
Toddler Plus Baby

Let's start with when a toddler and a baby share a bedroom. This parent has made the room comfortable for both children while creating a bit of separate space for the older child. The blackboard over the toddler's bed gives him a healthy and safe way to express how he is feeling, while marking that part of the room as his alone. Walls painted different colors delineate whose space is whose while adding color and fun to the decorating scheme.
YouthfulNest
A closet is often not necessary when kids are young, so adapting it to accommodate a changing table and all the attendant accoutrements will create additional space and help the older child feel not quite so invaded.

If you use a dresser like this to change diapers on, consider engineering a guardrail for the outside edge. Babies have a habit of deciding to turn over willy-nilly, without regard for their own safety.
Crisp Architects
One of the keys to successful room sharing is understanding how your children relate to each other. If they are pretty independent, like my sons were, putting the beds back to back like this creates a sense of separation. Place their nightstands and desks at opposite ends of the room, and it will be as close to having separate rooms as they can get.
Kids Close in Age

On the other hand, if you have twins or children very close in age, separation is probably not what they want. Two of my grandchildren are identical twins, and they are joined at the hip, figuratively speaking. Alyssa and Alexis are each other's best friend, confidante and playmate. They want to be together all the time. This is often true as well for children who are very close in age. When you create a shared room in these situations, you'll want an open, we-like-being-together feeling.
Soorikian Architecture
The fact that children inhabit the same bedroom does not mean that they love the same colors. A great way to make the shared space personal to each child is to let them pick the colors for the walls nearest their bed, and to pick the color of their bedding. For instance, my twin grandchildren like different colors: Alyssa always picks pink, and Alexis always picks purple — even if what they are choosing is otherwise identical. Color is a great way to let each child dictate the look of his or her personal space.
Allen Patterson Residential
I know, I know — I can hear the jeers of derision out there. We all know that our kids' rooms are never this clean and picked up. And if they were, we would be rushing them to the hospital to see what was wrong! There will inevitably be toys and clothes spread all over the floor, but at least we can help keep their beds made by opting for kid-friendly bedding. These striped spreads are very good-looking and relatively easy for a child to manage. Ruffled skirts, white linens and piles of decorative pillows might discourage a child from keeping a bed tidy. (It certainly does for some adults I know.) Unless you have a princess, keep things simple.
pepperdesignblog.com
My two sons have blessed us with seven grandchildren who, except for the oldest (almost 11) and the youngest (6 months), share their bedrooms with a least one sibling. Something they all like is a table and chairs in their room. The table offers a place for playing, having a snack and even doing homework. It's the same dynamic as a family sitting down to have dinner together. As the kids get older, practicality may demand that the table be replaced by desks. But when they are little, consider adding this communal item to their room.
Southern Studio Interior Design
More Than 2 Kids

If you have more than two children sharing a room, this ingenious arrangement of bunk beds is a terrific solution. Building them into the corner makes maximum use of the floor space, while adding the cubby at the head of each bed guarantees every child a private nook. Bookshelves add an important dimension while also providing a bit more separation between the beds — and thus between the children.
Kemp Hall Studio
Space Constraints
If the shared bedroom is small, gain extra space by building up. Here a play loft has been created over the beds, adding considerably to the available area. It has the added perk of giving children an "away" space to go to if they want some time on their own. Let's just hope both kids don't want to use their away space at the same time, or they'll have a great opportunity to learn about conflict resolution.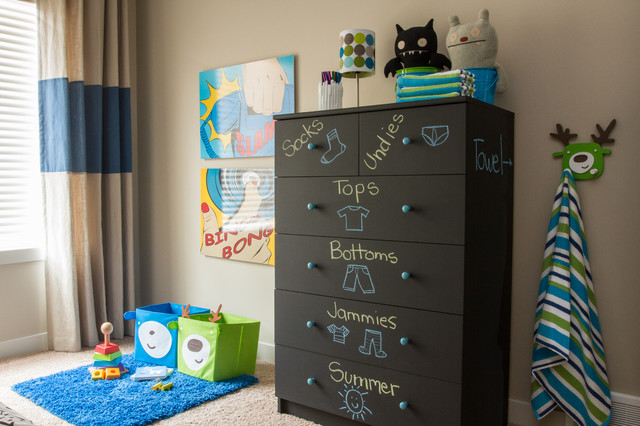 LeAnne Bunnell Interiors Inc.
If budget or space constraints demand that two children share one dresser, consider this imaginative solution. Painting an otherwise nondescript piece with chalkboard paint allows the drawers to be labeled for each child while easily accommodating changes. Benjamin Moore offers explicit instructions on how to work with
chalkboard paint
.
S Connors
When They Need Desks
And then there are the desks, which seem more necessary then ever these days. I am astounded by how much homework my three first-grade grandchildren have. Memory certainly dims, but I'm adamant that my sons' homework load was nowhere near what their children are bringing home. (OK, maybe they just never
did
theirs, but that's beside the point.)
The twins would joyously embrace this desk arrangement, with its two identical chairs and shared workspace.
GatorGrid
metal pegboards, hung over a desk like this, are a versatile and child-friendly solution to storage and display needs, and the color choices are awesome.
Schrader & Companies
If your kids like their own desk areas, take one entire wall and insert a dresser or storage piece between the individual desks. This is a particularly good solution If you have a long, narrow room. You can decorate the desks similarly or trick them out to each child's individual taste.
More:
Oh, Baby! 12 Ideas to Get a Chic Nursery Rolling