Simple Pleasures: 15 Ways to Welcome Spring
Embrace the season by lightening up, freshening up and connecting with nature
After we muddled through what was a particularly bleak winter in some regions, finally being able to greet spring is a genuine pleasure. Here are 15 ideas for welcoming spring into your home
—
from bringing nature in to digging in the garden beds.
Dean J. Birinyi Photography
Give your living space a quick color makeover. Leave the warmer, deeper hues of winter behind and embrace a light, spring-inspired palette. Remove heavy window coverings in favor of matchstick blinds or lightweight curtains. Paint the walls (or just one wall) pale aqua, spring green or crisp white and invest in a few new accessories in the same color family.

Let the fresh air in. After we've spent a winter hunkered down indoors with the heater on, the air inside our homes can get stale. On a nice early-spring morning, open up all of the windows in your house and let the fresh air flow in.
Chris Snook
Plant fresh herbs.
A few little pots of herbs in the kitchen window make a fragrant (and useful) display. If your sill isn't wide enough, consider installing a simple rail with s-hooks, as shown here, to hold small pots.
Get sparkling-clean windows.
Cleaning the windows
(both inside and out)
is no small task, but your efforts will be rewarded with more light and clearer views.

Dean J. Birinyi Photography
Clear the kitchen counters.
Having as much counter space clear as possible makes cooking easier and your kitchen look bigger. In the daily bustle, it's natural to let items gather on the counter
— but after a while, this accumulation of small appliances, bags of coffee and half-gone bananas can really get in the way. Take a moment to completely clear off the kitchen counters, wipe them down and replace
only
the items you truly need.
Make a grab-and-go picnic kit.
Want to go on more impromptu picnics this spring? Make things easier on yourself by gathering the necessary nonperishable items (picnic blanket, utensils, napkins, bottle opener) in a large hamper or sturdy tote bag. Keep the picnic kit in the kitchen, so you can fill it with fresh foods before heading out the door.
Paint something white.
A new coat of white paint can revive almost anything, from lackluster kitchen cabinets to beat-up flea market chairs
— a
nd white goes with everything.
Roll up the rugs.
If you use a lot of area rugs in your home, consider whether you might enjoy going without some of them for the spring and summer. Bare floors can be a treat to toes after the heavy socks and woolen carpets of winter.
Nanette Wong
Pick up some spring branches.
Spring blossoms are elegant and can be long lasting
— up to a month. T
reat your home to an armful.
A tall, cylindrical glass container is a good bet for displaying your branches. If you want to use really tall branches, invest in an extra-large glass vessel that can sit on the floor.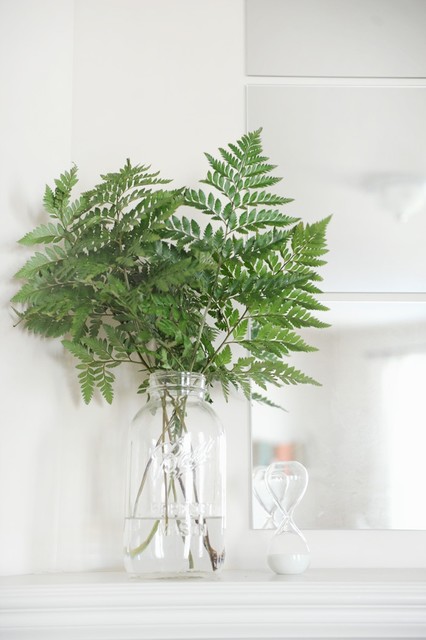 Alli Michelle
Snip some greenery. For a quick (and free) pick-me-up, head outside with a pair of scissors and just snip any green foliage that catches your eye (preferably from your own yard). Plunked into a mason jar, a small bundle of ferns or tree leaves makes a simple, fresh arrangement.
Todd Haiman Landscape Design
Prettify your porch or patio.
A pot of plants, a flower box, a hammock
—
no matter the size of your outdoor space, there are plenty of ways to make it more inviting.
If you have a tiny space, add a mirror.
If you have noisy neighbors, add a small fountain for white noise.
If your outdoor space lacks privacy, add an arbor over your sitting area, planted with climbing vines.

Robin Amorello, CKD CAPS - Atmoscaper Design
Deck out your garden shed. It doesn't take much to transform a shed from boring and utilitarian to charming. A few basic trellises, when given a lick of bright paint, add color and offer a place for climbing plants to grow. Window boxes and hanging baskets give a shed the feel of a cottage. For a finishing touch, add a sign, a doormat or string lights above the entrance.

Draw up a garden plan. As you get your garden growing this spring, take the time to draw up a quick garden map that shows exactly where you planted what. As the season progresses, make notes on your garden plan for next year.
Laughlin Design Associates, Inc.
Enjoy blooming bulbs. Tulips, daffodils and other blooming bulbs are widely available (and affordable) as both cut flowers and potted plants at this time of year. To gather inspiration for planting bulbs for next year, take a neighborhood walk this spring and snap photos of gardens that stop you in your tracks — then note on your garden plan where you would like to plant bulbs in your own yard.

Viscusi Elson Interior Design - Gina Viscusi Elson