The Hidden Factors Driving Your Home's Design
Before you can talk aesthetics on a new build or remodel, you've got to open the floor to rules and requirements
For most people, houses embody a style that is draped over the home's exterior and applied to its interior. Many people are comfortable picking a style like an entrée off a restaurant menu, but they're often not very familiar with what created all those styles in the first place: homeowner needs and values, the builder's vision and
expertise, the local and available materials.
There's another strong influence that often goes unseen. Since the 1950s basic house prototypes and every other home built in or around most urban centers have been further defined and limited by a growing number of building regulations. The best designs embrace those governing regulations — as well as the desires of homeowners and the natural context — to create homes that surprise and comfort.
Burr & McCallum Architects
There are rules that every new built house must follow. These regulations shape and define many essential elements you may think came out of a designer's imagination.

Rules and beauty are not enemies, however. Talented designers can make limitations disappear, requirements can express themselves with delightful details, and idiosyncracies of homeowners can become artful features anyone can appreciate. For example, this home's unique sliding barn doors are a feature design element. They also separate adult areas from children's, and the generous opening can accommodate a wheelchair.
studio of Glenn Williams Architect
If you are thinking of creating a home you love by rebuilding it, adding on to it or building it from the ground up, you will need a building permit, and in more and more places, getting that permit has an increasing number of strings attached to it. Truth be told, the most artful homes still have to follow the most artless of inspirations: codes, commissions and costs.

This home was conceived as a new single-family dwelling; the intention was to convert it into a duplex with a minimum of physical intervention. After a lengthy approval process, the duplex conversion was completed, which allowed the homeowner family to live there as well as accommodate a brother.
MQ Architecture & Design, LLC
Every home has to follow rules; it's just that some of them do it beautifully. Before you even put pen to napkin, building codes, zoning laws, septic engineering requirements, federal regulations for building on the coast, energy codes, wetlands regulations and even sustainability factors are also designing your home, whether you know it or not.

This house is located in a nature conservancy. It is sustainably designed and LEED Gold certified, and has won local and national awards.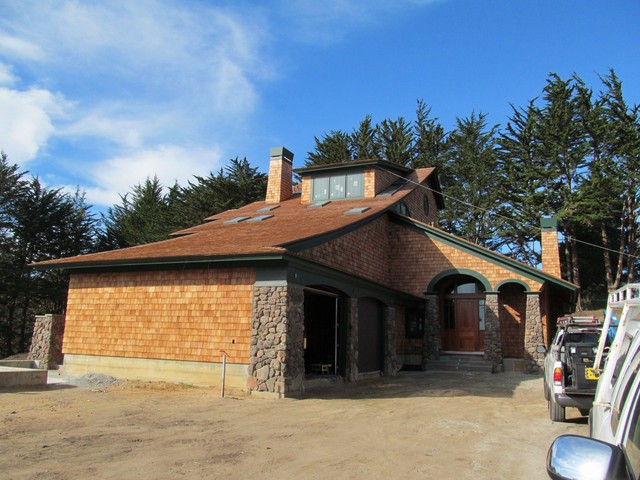 Duo Dickinson, architect
In the past generation, village districts, historic districts and architectural review boards have boldly gone where no regulatory body has ever gone before: into aesthetics. These outside revisionists look over your shoulder as you envision how you want to live and often provide a perspective that is not yours. So if your home is on or near water in a historic neighborhood or an urban center for example, these new labyrinths of design review and approval have been set up to protect that water — whether you think your home represents a threat to it or not.

In extreme cases, these regulations can be budget busting. My office is the design architect for the house shown here, in California; it needed 13 consultant firms (geotech, archeological, hydrological and on and on), two years of applications and hearings, and more than $600,000 in soft costs to get a building permit for a design that needed no variances. The site is set half a mile inland from the coast with no wetlands, no historic district and no architectural review board approval required.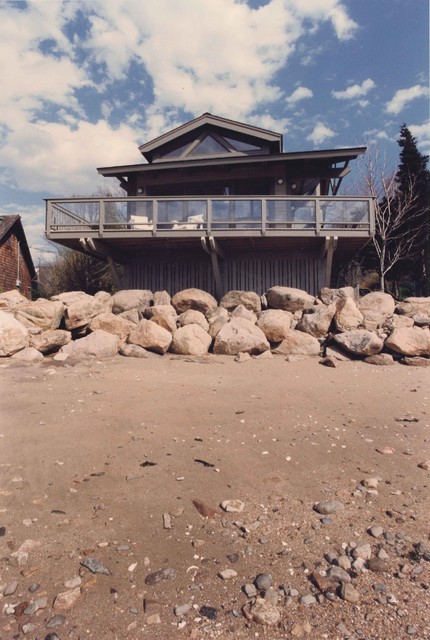 Duo Dickinson, architect
Beyond addressing codes and rules and bureaucratic review, every single home design has requirements that have nothing to do with style. Construction cost, the particulars of how you cook, how you use your bathroom, if you can handle steps, or if your children or parents may return to the nest all fix a home's bones before the art part invents your design.
Here the shape of the cantilevered deck follows the coastal setback line, which is the limiting line for construction.
Additionally a great tree, a dramatically beautiful or ugly view, or just road noise can challenge every "Home Sweet Home" dream you had before you found the exact place on the planet for you and your family.
"Style" is not the wallpaper glued over these inartful origins. Whether you renovate, add on or build new, the design of where you live first finds inspiration in every aspect of what your home needs to be.
More:
Have It Your Way — What Makes Architecture Successful