Turn Your Firewood Into a Focal Point
Clever storage nooks transform stacks of firewood Into sculpture for the hearth
Fireplaces are and always been a hot commodity, and the demand of modern convenience has birthed various alternatives to the wood-burning design. Yet, there is one element that keeps many faithful and true to the original, wood-burning fireplace: wooden logs.

The presence of firewood immediately evoke feelings of warmth, comfort, and appreciation for nature and her bountiful supply. When cut and stacked vertically or horizontally, wood effortlessly takes on a sculptural appearance often taken for granted. Instead of storing logs outdoors, they now are being stored in convenient wall nooks that display their natural beauty.
Lozinski Architecten
While stylishly and conveniently accommodating the room's supply of firewood, this storage option maintains the consistency of shape and design in this modern den.
Tracery Interiors
A special compartment for firewood is an especially clever solution in a room with limited floor space. The cutout eliminates the need for freestanding storage and becomes a secondary focal point due to its tall, rectangular shape.
Taylor Lombardo Architects
An accommodating nook alleviates the need for fireplace accessories and keeps the focus on the dining room furnishings, the formidable stone hearth, and the breathtaking mountain view.
la2000
A hearty stack introduces a rustic element in this modern design and becomes a beautiful disruption to the room's and clean lines and neutral color palette.
Jamie Laubhan-Oliver
Logs stacked inside a firebox have a natural sculptural quality that proves to be an attractive and affordable option when fireplace is not in use.
InHouse Design Studio
A storage door allows this family room to take on an alter ego. When the door is closed, it maintains its contempory atmosphere. When the door is open and the wood is on display, the room instantly appears warmer.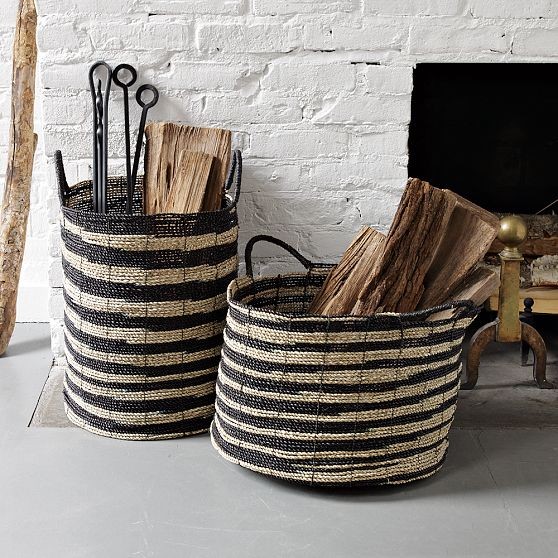 Ikat Baskets
If you missed the opportunity to make customized accommodations for your wood-burning fireplace, these durable ikat baskets make for a beautful yet practical storage solution for firewood and accessories.
1800Lighting
Neatly contained in a charming basket, firewood is conveniently within arms reach while simulateously softening the lines of this square fireplace surround.