Where to Put Holiday Pots, Pans and Platters the Rest of the Year
If your holiday meal plans involve large cooking and serving vessels, consider these 9 kitchen storage options
My husband loves to cook and has a passion for accumulating large roasting pans, cooking pots and serving platters to use for our big holiday feasts. Unfortunately, his habits meant that the one-bedroom apartment where we previously lived eventually started to look like a restaurant-supply store. So when we moved to a new home and decided to renovate the kitchen, planning for sufficient storage was a priority.

Here are some of my favorite kitchen storage ideas for those big items not frequently used. If you're planning a kitchen renovation or just dreaming of one for now, consider these options.
Cushman Design Group
Storage Options for Big Pots

1. Hanging pot rack. A hanging rack makes storing large items easy, but there are a few things to consider to get this type of storage right. First, measure your large pots and pans before hanging the rack. You'll want to hang racks low enough that you can reach the pots but not so low that you will hit your head on them. Also, if the rack is above an island or peninsula, make sure pots and pans do not block your line of sight.

Simple pot racks can be an inexpensive storage solution and are available with added features such as lighting. Custom creations, like the large pot rack shown here, can be more costly, but consider the money you're saving by not building extra cabinetry for the storage. When designing your kitchen, keep the pot rack simple and let the focus be on the pots.
John Milner Architects, Inc.
2. Ceiling hooks. Of course, if you're hanging your pots where they can be seen, you may want to invest in pretty ones. This kitchen is filled with beautiful copper pots hung from hooks attached to the ceiling rafters. This works great in a home with a low ceiling, and it essentially creates a fun new ceiling — one made of pots. Alternatively, this could also look good in a kitchen that has a small nook or bump out; store your pots in the architectural feature to highlight it.
Jere Bradwell
3. Hanging shelf.
If you don't like the cluttered look of hanging pots but still like the idea of displaying them, consider a hanging shelf. This shelf above a big kitchen island has the industrial feel of a pot rack, but it looks neat and tidy. The shelf keeps the ceiling plane open, which makes the room feel larger, compared to solid shelves or cabinets. Hanging shelves can also be a great spot to display plants and serving dishes.
Find hanging pot racks
Artichoke
4. Open shelves. Want to know a secret about open shelving? Whatever goes on the top shelf gets dusty, so it might as well be the large pots and platters you rarely use. Again, a pretty set works best here, especially if the open shelves are in a prominent place. These copper pots add color and reflect light into the room. If you are designing a kitchen with lots of windows, consider adding shelves in front of the windows. Pots and pans will glow in the natural light.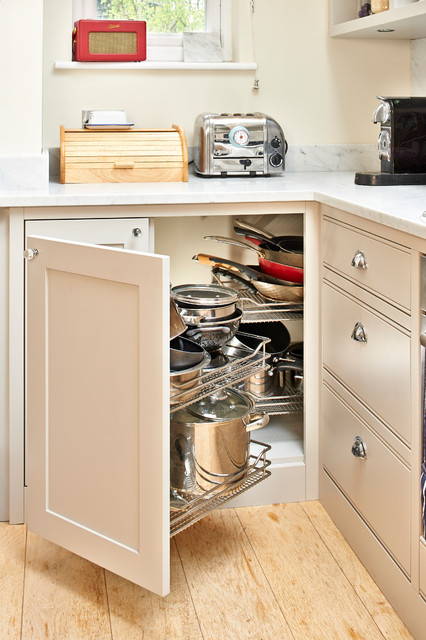 marco joe fazio photography
5. Blind corner.
There are many new storage solutions available for corner cabinets, but I think this organizer is my favorite. It has four large shelves, all of which pull all the way out of the cabinet. These awkward corners provide large storage that can work well for your biggest pots.
Browse blind corner organizers
Airy Kitchens
Places for Pans and Platters

6. Storage bench. Maybe your roasting pan isn't so pretty or space is at a premium in your kitchen. Think outside the cabinet and maximize unused spaces. Storage benches are a good spot to keep rarely used platters and pans because they are out of the way but still close by. The storage bench shown here adds extra seating to the breakfast table and extra color to the kitchen. Cushions keep it comfortable and finished looking.
David Nelson & Associates, LLC
This kitchen storage bench has drawers instead of a lid. Drawers are easy to open and dig through, and require a little less bending over than a lidded storage bench. Even if you don't have an eating area, a bench or window seat are great for entertaining or having your kids hang out while you cook.
Heartwood Kitchens
7. Above appliances. To create a ready space for large items, I recommend you use a 24-inch-deep upper cabinet above your refrigerator or wall oven. Having this extra depth in an out-of-the-way cabinet creates a perfect storage spot for large items that you can divide however suits your need. Some cabinets have dividers installed to keep many trays and platters up on edge. Alternatively, if you wanted to store large pots too, you could have simple shelves and arrange all items horizontally. Perhaps the best idea, though, is doing a combination of these two options, as shown here.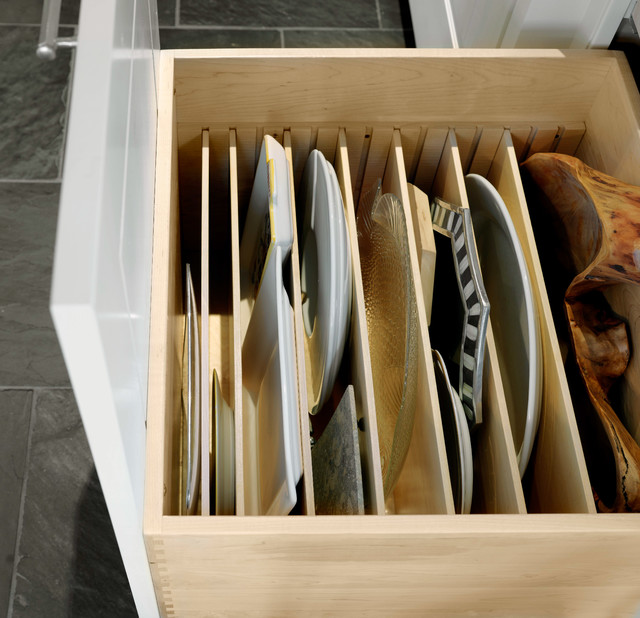 Silver Maple Construction LLC
8. Platter drawer. Seeing this divider drawer is giving me kitchen envy. My husband and I store all of our large platters in a big drawer with no dividers. We have to take all of the platters out and dig through them every time — so annoying. When purchasing cabinetry, all of the little extras can get expensive, but I think a platter drawer would be worth it.
Rikki Snyder
9. Wall platter racks. What a cool idea for decorative storage. Many serving plates are white or vibrant, so this could work well in a dark hallway or laundry room off the kitchen. Colorful platters could really brighten a room and together feel like a piece of art. Plus, platter racks are thin, so they can fit into a tight space. You could even hang these on the walls of a stairway. I think I've found my next project, which is good because my new kitchen seems to be filling up.