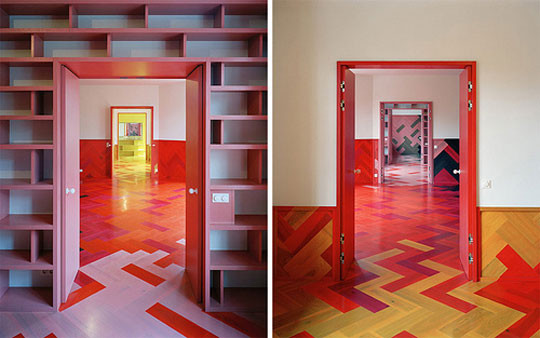 Apartment Therapy Los Angeles | Look! Colorful Flooring Via Design Crisis
Look! Colorful Flooring Via Design Crisis Given our druthers we prefer a wood floor over carpet, linoleum or painted floors. But whether you go dark or light , wood flooring tends to come in a range of wood, i.e. brown tones, and the excitement comes from what goes on top of it, from rug to furniture. Or so we thought, until we saw these floors... Renovated by Swedish architects Tham & Videgard Hansson, these floors in the Humlegarden Apartment, challenge that idea with a playful puzzle of undulating colour. The herringbone pattern of the floor highlights the appeal; the apartment is furnished with stark white furniture to keep the emphasis on the witty floors. We're tempted to let our inner paintbox loose on our own floors. For more information click here . Tags Look! , hard flooring Related Links Share Comments (4) I would find it really hard to decorate adjoining rooms cohesively with all the multi floor color/design. It really IS eye catching and different....but would be a difficult task for most people. posted by baileyb on April 13th 2009 at 2:32pm view baileyb's profile Horrific. posted by LilyC on April 13th 2009 at 2:51pm view LilyC's profile Tacky. posted by PRU on April 13th 2009 at 2:58pm view PRU's profile Holy moly. posted by gagabrielle on April 13th 2009 at 2:59pm view gagabrielle's profile Post a comment Our privacy policy has recently changed. Please review our policies and terms and check the box to continue. I have read and agree to Apartment Therapy's Privacy Policy , Terms of Use and Infringement Policy . Comment are allowed. URLs will be converted to links, and line breaks are automatic. Please be aware of our comment policy . Name (required) Email (required) Website URL Please log in to comment Username Password Forgot Your Password? Reset Password Enter the email address you used to register and we will email you a new password. Email Register for Comments Please complete all the required fields Please be sure your password
What Houzz contributors are saying:

Kit Pollard
added this to
Getting into Patterns: The Stages
Intermediate. These floors are cool and though they're not particularly easy to pull in and out, they can be covered or refinished.

Kit Pollard
added this to
Pattern on the Floor
I'm fascinated by this floor - the people who created this room certainly are daring! I love the pattern, but I have to admit that I'd be worried about commiting to such permanent color.
What Houzzers are commenting on: