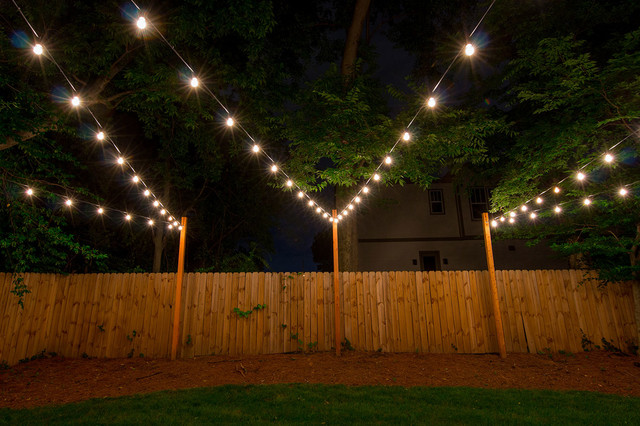 4 x 4 Post to Support String Lights
, Nashville
Backyard string lights, custom cut to fit the space. 4 x 4 wood post were installed to support one end of the string light runs, otherwise the lights wouldn't be high enough to walk under.
What Houzz contributors are saying:

Lauren Dunec Design added this to How to Hang String Lights Outdoors
May 16, 2018
How to Hang String Lights in a Backyard Without TreesIf you don't have walls or trees in just the right spot to hang your string lights, you'll need to put a little extra effort into making supports for your patio lights. Along a wood fence. If you have a wood fence that isn't high enough for the lights, attach 10-foot-long wooden posts with cup hooks on the top to bump up the height of the lights. Space the wooden posts along the fence posts, or roughly 8 feet apart. Secure the wooden posts to the fence posts by side-nailing (nailing at an angle), or use a drill to secure them with screws into the fence. On a deck or concrete patio. If you don't have any natural supports available in a yard, a common solution is to put posts, each with a hook on the top, into sturdy planters filled with gravel or buckets filled with concrete and a PVC pipe (large enough to fit the post) slot in the center. Position planters or buckets around the perimeter of a patio and string lights between the posts. The drawback of this method is that you need to deal with heavy planters or buckets filled with concrete. If the lights are strung over a larger patio, they will have a substantial pull on the supports, which can cause buckets to tip over. If you'd like more tension in the string light cords, use a thicker wooden post (2-by-2 or larger), or use half-inch electrical metal tubing plus a tube clamp at the top for attaching a hook.
What Houzzers are commenting on:
Homes with Similar Colors