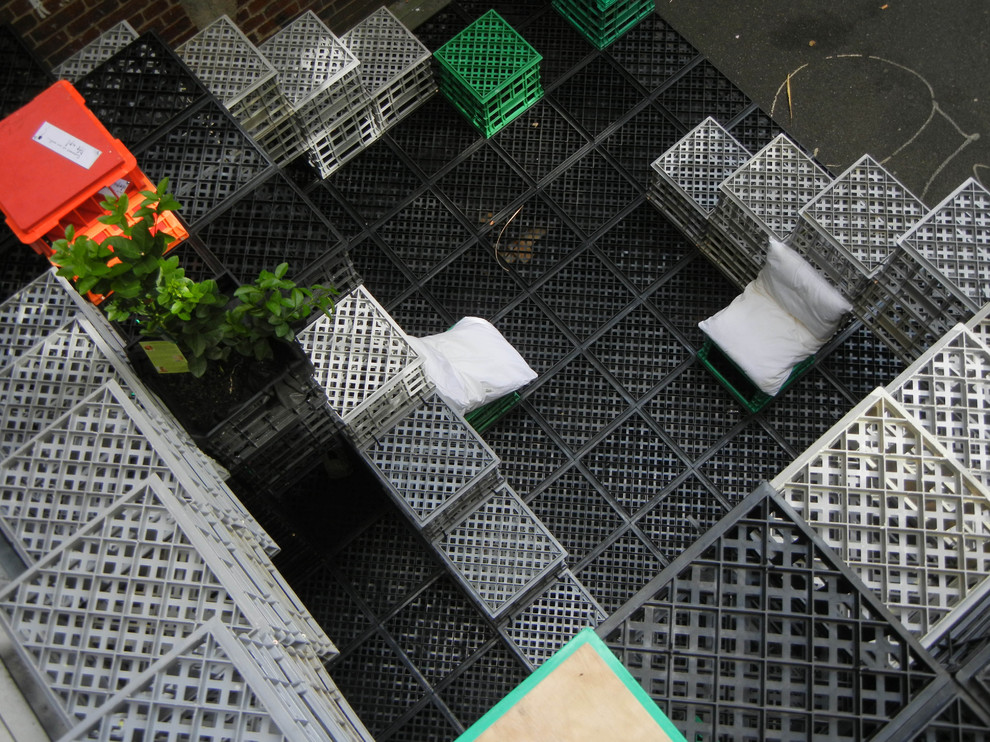 A Playground for Urban Dwellers/ Reuse of Milk Crates
Contemporary Exterior, Melbourne
PlayMo is an urban intervention by the platform City Leaks. We seek to inspire urban dwellers to explore moments, spaces and places where one can deposit themselves. The challenge is to reconsider how we inhabit and identify ourselves in the cities. City Leaks acts as a hub for like minded people to address, share and realise ideas. PlayMo was born from the intention of inventing a space that turns into a place where people meet, spend time and play. Its name comes from "playmobil", a Lego styled child's creative play toy. Using Milk Crates was like playing with big Lego pieces. Milk Crates are a fantastic material for many reasons; they are structural, light, modular and they have an iconic role in Melbourne's cafe image and laneways. We believe that familiarity to a material plays an important role in engaging with it. PlayMo uses 3 different types of Crates. Black = platforms, Grey= stairs, Green=moveable. The Green Crates provide the undefined random element; people rearrange their seats or even build small stairs themselves. There hasn't been a single day where we found them in the same place. Finally PlayMo is designed to grow and adapt. People are encouraged to leave things behind and to add to the structure. We found artworks, plants, toys, pillows, new crates and received hundreds of letters. We even found that people had constructed a bin so that it could be kept clean.
Inspiration for a contemporary exterior home remodel in Melbourne
Questions About This Photo
What Houzzers are commenting on

City_Leaks

added this to

cities_leak's ideas
July 27, 2011
A Playground for Urban Dwellers. We like that it keeps evolving...