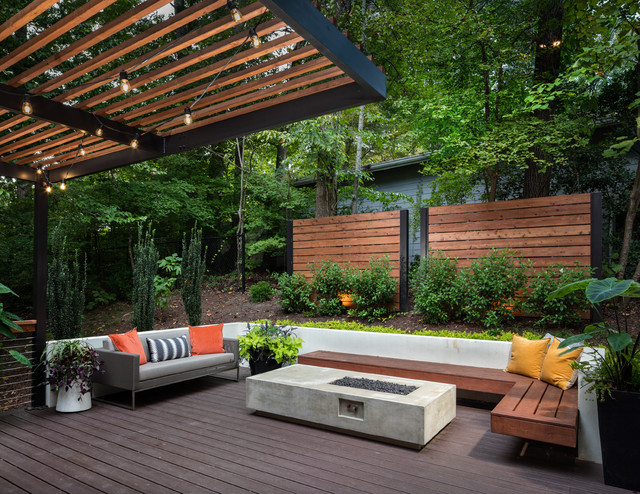 Atlanta Backyard Retreat
Contemporary Deck, Atlanta
The upper level of this gorgeous Trex deck is the central entertaining and dining space and includes a beautiful concrete fire table and a custom cedar bench that floats over the deck. Light brown custom cedar screen walls provide privacy along the landscaped terrace and compliment the warm hues of the decking. Clean, modern light fixtures are also present in the deck steps, along the deck perimeter, and throughout the landscape making the space well-defined in the evening as well as the daytime.
Inspiration for a large contemporary backyard deck remodel in Atlanta with a fire pit and a pergola — 
Houzz
Related Professionals in Atlanta
What Houzz contributors are saying:

Annie Thornton added this to How Much Homeowners Spent on Landscape Projects in 2018
May 21, 2019
The 2019 U.S. Houzz & Home report, fielded between Feb. 13 and April 16, 2019, collected responses from more than 128,000 U.S. homeowners on Houzz, including over 67,000 homeowners who renovated their primary homes in 2018. The 2019 U.S. Houzz Landscaping Trends Survey, fielded between Feb. 13 and March 25, 2019, reflects the responses of over 26,000 registered U.S. Houzz users who own homes and were in the midst of an outdoor project or had completed one in 2018. This article includes information pulled from both national studies.How Much Outdoor Projects CostThe median spend amount, meaning the midpoint spending level, on outdoor renovations was $5,000 in 2018, according to the 2019 U.S. Landscaping Trends Survey. Half of homeowners spent more on their outdoor project, and half spent less. Economists consider the median a more useful measure than the average or mean because expensive one-off projects can skew average numbers upward in a misleading manner. But renovating homeowners upgrading their outdoor spaces tackled various outdoor projects with a wide range of price tags. Prices ranged from $400 for the median spend on outdoor lighting to $14,250 to add an outdoor pool. These prices include design fees and costs for permits, materials and labor.

Annie Thornton added this to 8 Rot-Resistant Woods for Your Outdoor Projects
Apr 22, 2019
Why Use Wood Today? From a design standpoint, wood surfaces are very intriguing, with their color modulations, weathering and variety of textures. Woods have a huge range of aesthetic expressions, from wild, bumpy log posts to refined decks sanded smooth. Wood has an undeniable warmth and an association with woodlands and natural landscapes, and one type of rot-resistant wood can be used in a variety of ways. From an environmental standpoint, wood is a great choice when it is locally sourced and sustainably harvested.Talk to a landscape architect about incorporating wood into your outdoor project

Lauren Dunec Design added this to 10 Creative Deck Designs With Built-In Bonus Features
Jan 11, 2019
2. Built-In BenchesBuilt-in seating is one of the best space-saving features you can add to a deck. In this Atlanta backyard by Boyce Design & Contracting, a custom L-shaped cedar bench around a fire feature appears to float above the rot-resistant composite deck. Freestanding cedar-panel screens relate to the natural wood bench and shade structure.
What Houzzers are commenting on:
jtgerhardt added this to Backyard
6 hours ago
Way to handle the elevation rise; shade structure

Decks with Similar Colors