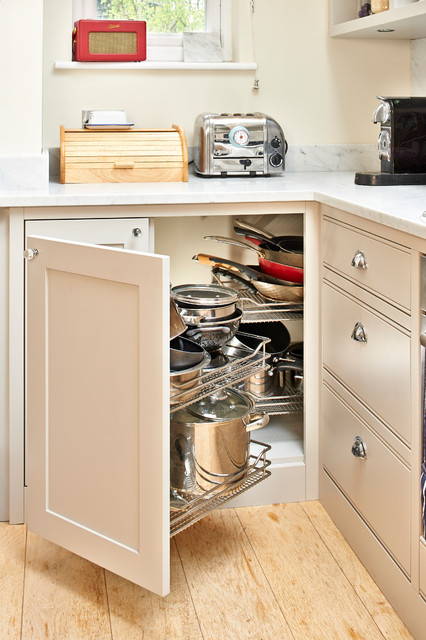 Bespoke kitchen joinery in London
Contemporary, London
photography :: Marco Joe Fazio
© mjfstudio photographic bureau
Example of a mid-sized trendy home design design in London — 
Houzz
What Houzz contributors are saying:

Sean Lewis added this to Where to Put Holiday Pots, Pans and Platters the Rest of the Year
Oct 31, 2017
5. Blind corner. There are many new storage solutions available for corner cabinets, but I think this organizer is my favorite. It has four large shelves, all of which pull all the way out of the cabinet. These awkward corners provide large storage that can work well for your biggest pots.Browse blind corner organizers

Cheryl Freedman added this to 10 Simple Ways to Bring Order to a Small Kitchen
Jun 23, 2017
9. Put the pans away. Similarly a pullout pan rack can be a gift in a small kitchen, creating an organized home for frying pans and saucepans and keeping you from tearing your hair out as you hunt around in the backs of cupboards. Also try using racks for items such as steamers or large, unwieldy casserole dishes.
What Houzzers are commenting on:

Kira Patrick added this to kitchen
6 days ago
Полностью использовать пространство в угловых шкафах, не заставляя при этом хозяйку нырять глубоко в недра кухонного гарнитура — вот задача, над которой многие годы бьются лучшие технические умы планеты. Пока что эти умы изобрели полки-карусели (стойка, вращающаяся вокруг центральной оси) и полки-паровозы с поворотно-выдвижным механизмом (первая вытягивает следующие, как на фото). Недешевое удовольствие, но полезное место в углу гарнитура того стоит.
Юлия В added this to Кухня
6 days ago
Организуйте внутренний угол Полностью использовать пространство в угловых шкафах, не заставляя при этом хозяйку нырять глубоко в недра кухонного гарнитура — вот задача, над которой многие годы бьются лучшие технические умы планеты. Пока что эти умы изобрели полки-карусели (стойка, вращающаяся вокруг центральной оси) и полки-паровозы с поворотно-выдвижным механизмом (первая вытягивает следующие, как на фото). Недешевое удовольствие, но полезное место в углу гарнитура того стоит.
Анна Anna added this to кухня
Sep 11, 2019
Организуйте внутренний угол Полностью использовать пространство в угловых шкафах, не заставляя при этом хозяйку нырять глубоко в недра кухонного гарнитура — вот задача, над которой многие годы бьются лучшие технические умы планеты. Пока что эти умы изобрели полки-карусели (стойка, вращающаяся вокруг центральной оси) и полки-паровозы с поворотно-выдвижным механизмом (первая вытягивает следующие, как на фото). Недешевое удовольствие, но полезное место в углу гарнитура того стоит.