Rupert Tulloch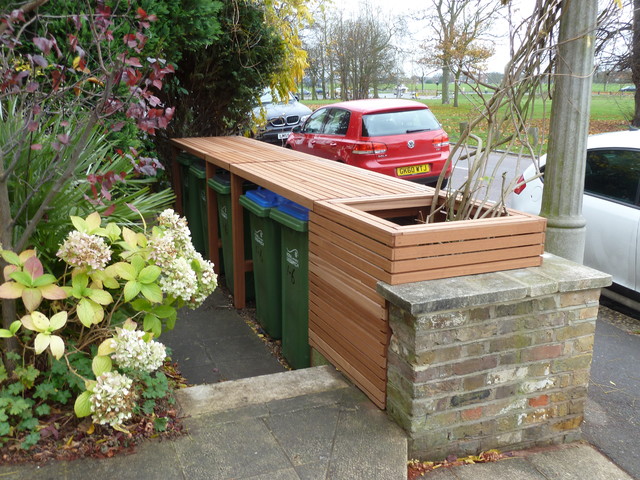 Bin storage
Contemporary , Sussex
Example of a trendy home design design in Sussex — Houzz
What Houzz contributors are saying:

Jo Simmons
added this to
8 Stylish Storage Solutions for Your Patio and Garden
8. Conceal trash bins. This cedar-clad storage unit slots in against the street wall of this front garden and conceals bulky garbage bins. It's as practical as it is good-looking.Your turn: We want to see your clever storage for your garden furniture, tools and more. Upload a photo in the Comments and tell us about it!More: How to Add a Backyard Shed for Storage or Living

Shana Levy McCracken
added this to
How to Waste Less Food
9. Use your city's organics bins. If your city has a curbside program that accepts food scraps along with yard trimmings, be sure the organics cart — not the trash can — becomes your last resort. Those scraps will be turned into compost at an industrial-scale facility and still be put to good use. Some jurisdictions even provide food scrap pails to make separating this material right in your kitchen easy and tidy. Ask your garbage hauler or recycler if they can provide you with one. If not, you can purchase one online quite inexpensively. Tip: If you're not sure what can go into your organics cart, check with your local garbage hauler or public works department. The number is usually hot-stamped on the cart.More on HouzzGet on a Composting Kick (Hello, Free Fertilizer!)Browse stories on edible gardensFind a pro to work with near youShop for kitchen storage and organization products

Victoria Harrison
added this to
How to Disguise Your Garbage Bins
Build a clever storage wall. If space is limited, why not make your recycling containers work extra hard by turning their storage area into a boundary wall, as these smart homeowners have. This neat wooden shelter screens the bins from the road while creating a clean, contemporary-style wall.
What Houzzers are commenting on: