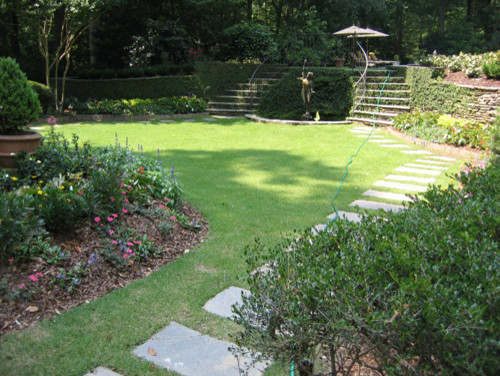 Borders Estate (Atlanta, Ga)
Traditional , Atlanta
'The backyard'... this path takes you from the house, along the blue stone stepping stones, up the stairs, beyond the pool area, to yet another area, highlighting a Limestone water wall retreat in the far rear of the property.

The backyard features include a small circular Koi pond with sculptured water feature, surrounded by Blue stone steps, a 4' stacked stone retaining wall encompassing the entire perimeter, raised colorful flowerbeds, potted plants, more natural forest and specimen trees.

You're overwhelmed by perfect serenity, a 'country retreat' sprawling over 15 acres, yet set in a prestigious urban neighborhood... it's truly a one of a kind property!
Huge elegant home design photo in Atlanta — 
Houzz