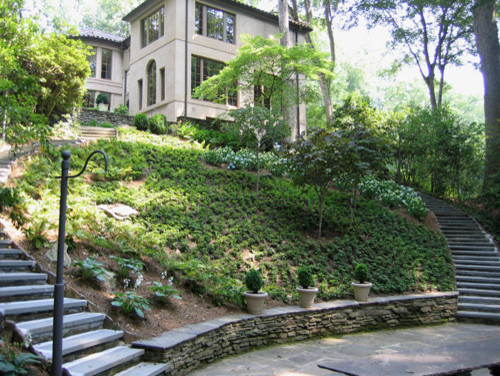 Borders Estate (Atlanta, Ga)
Traditional , Atlanta
Formal blue stone tread steps, lead from an upper walkway (separate pic) to a large circular blue stone terrace with surrounding stacked- stone cheek walls. The focal point here is a rustic (albeit nicely upgraded) 40- yr old fireplace (not shown).

This natural terrain produces an amphitheater- camp like setting! You're completely surrounded by an abundance of natural vegetation, a meandering creek and waterfalls flowing through the forest, a small cypress bridge.. absolute serenity!

Also, along recessed pea gravel pathways are numerous 100-150- yr old primary growth hardwoods, specimen Crape Myrtles, Magnolias, Chinese & Blood-red maples, as well as, thousands of flowering plants!
Example of a huge classic home design design in Atlanta — 
Houzz