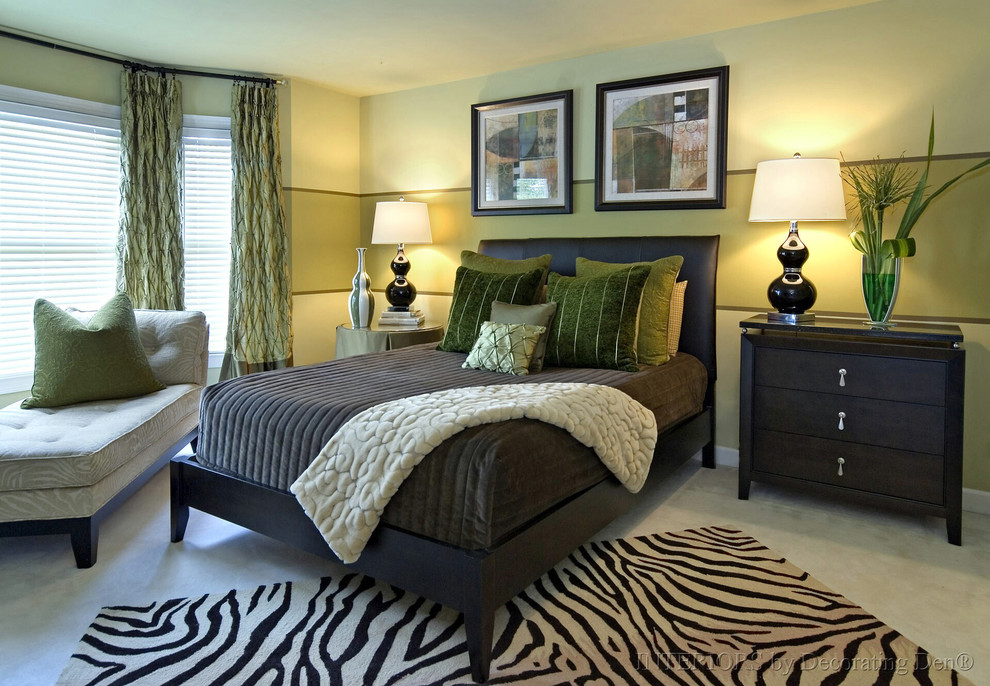 Calming green master bedroom
Contemporary Bedroom, Portland
The interior design components that make this bedroom work so well: custom window treatments, creative wall treatment, and the right bedding combined with a stylish area rug. I've been asked several times about the paint colors in this room... I always advise people that they should not start with the paint colors when decorating a room, because it's much more difficult to match other decorating elements to paint colors such as fabrics, artwork and area rugs. Where as paint colors can be matched to anything. The paint colors can also look different in a room depending on lighting, both natural and electric. Photos can be great starting points for deciding the color scheme that appeals to you, however, photographs typically don't depict the actual paint colors. Consequently, it is dangerous to say you want the exact paint colors that you see in a photo. What else are you putting in the room that has green in it? Artwork, area rugs and fabrics are great starting points for matching up paint colors, and you definitely want to have a design plan before you start painting color. Here's blog post I wrote on how to ease the process of choosing paint colors...
http://devinedecoratingresults.com/2011/03/01/how-to-ease-the-process-of-choosing-paint-colors/
Here's a link to a blog post I wrote on design plans - which you want to have before you start painting...
http://devinedecoratingresults.com/2010/01/16/choosing-your-decorating-style/