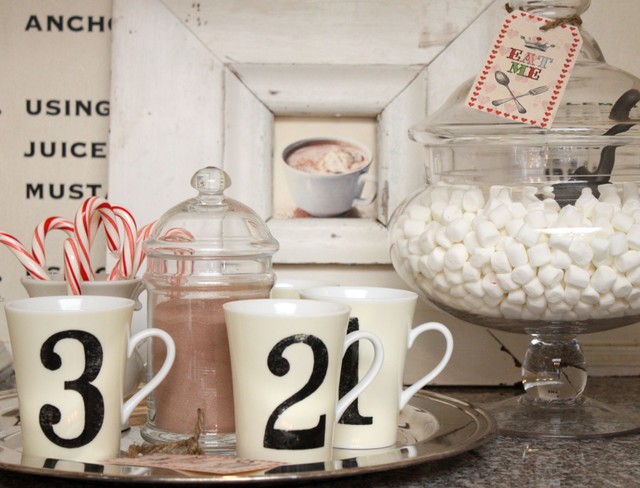 Christmas 2010
Traditional , Seattle
Elegant home design photo in Seattle — Houzz
This photo has one question
What Houzz contributors are saying:

Amber Hopman
added this to
Hot-Drink Stations Hit the Spot
A beverage station also can be as simple as 1, 2, 3. Stock a tray with some mugs, hot cocoa mix, candy canes and marshmallows. It will take up very little space yet still do the job.

Laura Gaskill
added this to
Budget Decorator: 15 Shortcuts to Holiday Style
15. Display favorite holiday ingredients. One of the simplest ways to add a bit of holiday fun to your kitchen is to round up ingredients for holiday treats and make them into a mini display. Decant cocoa powder and marshmallows into glass containers, fill a jar with candy canes or cinnamon sticks, and group your favorite mugs onto a nice tray.Tell us: What is your best time-saving decorating trick for the holidays?

Tiffany Carboni
added this to
The Busy Mom's Guide to Throwing a Kids' Holiday Tea Party
I know what some of you might be thinking: "All this work for kids? They should be running around outside." Agreed, and we do plenty of that as well. The real reason I love to host my children's friends in these intimate gatherings where they are the center of attention is so I can foster strong bonds with each child as they march together toward teenagehood. A wise mother once told me: Be the responsible party you want your children to attend. Don't wait for someone else who may not care as much to take that role for you.
What Houzzers are commenting on:
мария шер
added this to
Идеи пользователя m_sherkh_u_u
Идею шоколадного вина я подсмотрела в мексиканском ресторане: их версия напитка была на базе черного шоколада с добавлением кайенского перца, корицы, мускатного ореха и (конечно же) шота текилы. Почему бы не последовать примеру мексиканцев? — Добавьте в сотейник палочку корицы или кайенский перец — может получиться интересно. Что еще учесть при приготовлении?