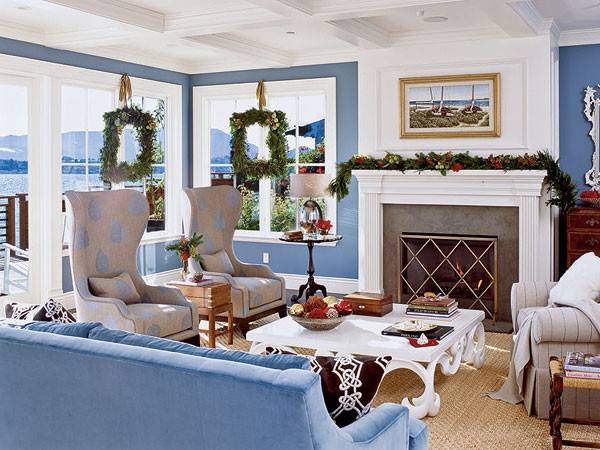 Christmas Decortaing in Living Room - MyHomeIdeas.com
Search MyHomeIdeas.com « Room Galleries Main Coastal Christmas Text Size: A A A [+] Dominique Vorillon Rate it: ( 12 ratings) Not my style Not my style Has potential Has potential Good, solid design Good, solid design Lots of great ideas Lots of great ideas I want to live here! I want to live here! Lots of great ideas » comment » Read all comments (5) This classic blue-and-white coastal living room gets a holiday makeover with fresh garland over the mantelpiece and wreaths in the windows. Related Related Rooms COMMENTS (1-5 of 5) » add comment Danielle Fri 6/18/10 02:16 PM I love the coffee table, does anyone know who makes it? Read replies (0) Add reply TC Fri 6/11/10 07:31 AM Blue is my favorite color.....however i don't think i would do a blue sofa in a blue room. Don't care for the square wreaths at the windows. How about a small tree in the corner instead. Even a table top tree would look nicer. Read replies (0) Add reply Shirley Mucci Thu 6/10/10 09:03 AM great feel, except the large chairs, I like to see all the view Read replies (0) Add reply Barbara Mon 2/15/10 09:05 AM I love it !!! It's Perfect (well, almost) -- it does need a warm touch of PINK here & there & you'd be AMAZED at the difference in the overall feel of the room !!! Love the ceilings too ! Read replies (0) Add reply angela Thu 2/11/10 01:37 PM This room brings the water in the background right up into the house. I would find it too cool, but it is a beautiful design. The ceiling fits the high style. Read replies (0) Add reply » Read all comments (5) Add new comment The rules: Keep it clean, and stay on the subject or we might delete your comment. If you see inappropriate language, e-mail us . An asterisk * indicates a required field. Your Name Your Comment * 2000 characters remaining Related Features More from MyHomeIdeas Add MyHomeIdeas to: My Yahoo! My Google My MSN My AOL My Netvibes Most Popular Rooms A Cook's Dream Kitchen This Southern Living Idea House kitchen features cabinetry w
What Houzz contributors are saying:

Jen L'Italien added this to Handmade Holiday: The Modern Wreath
Dec 4, 2011
It's hip to be square with these green wreaths. The shape is definitely unexpected. I like how these square wreaths were hung over the window molding. It reminds me of frames hung over bookcases to break up the grid of shelves.
What Houzzers are commenting on: