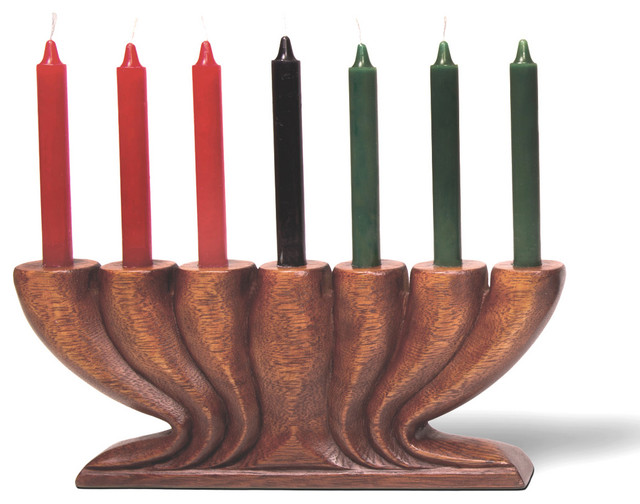 Continuing the Holiday Festivities with Kwanzaa
Photo courtesy Designs for Better Giving
What Houzz contributors are saying:

Erin Carlyle added this to What's the Best Way to Spend the Week After Christmas?
Nov 17, 2017
Do you celebrate Kwanzaa? The festivities don't have to be placed on hold between Christmas and New Year's Eve — there's a holiday that stretches between them. Kwanzaa is a weeklong celebration of African heritage in African American culture, created by Maulana Karenga (originally named Ron Everett) in 1966. Do you celebrate Kwanzaa at home? If so, we'd love to hear about it and see photos of your celebrations.Read more about celebrating Kwanzaa at home

Becky Harris added this to Houzz Call: Share Your Personal Holiday Traditions
Dec 8, 2014
Kwanzaa begins December 26 and runs for seven days, ending on the first of the year. Interior designer Nicole White Quinn recommends using the holiday as inspiration to "get busy adding loads of Kwanzaa influence to your decor." Are there any special objects, artwork or textiles you pull out this time of year? What's the story behind them?If you celebrate Kwanzaa, please tell and show us how your family celebrates and which part of this weeklong holiday means the most to you.

Fred Albert added this to Celebrating Kwanzaa: Honor African Heritage All Over the Home
Dec 26, 2013
The seven principles of Kwanzaa are as follows: 1. Umoja (oo-MO-jah): Unity 2. Kujichagulia (koo-jee-chah-goo-LEE-ah): Self-determination3. Ujima (oo-JEE-mah): Collective work and responsibility4. Ujamaa (oo-jah-MAH): Collective economics5. Nia (NEE-ah): Purpose6. Kuumba (koo-OOM-bah): Creativity7. Imani (ee-MAH-nee): FaithThe principles are expressed by the use of a kinara, which holds seven candles — three red, three green and one black — which can be purchased at a local craft store or from a store specializing in African wares.
What Houzzers are commenting on: