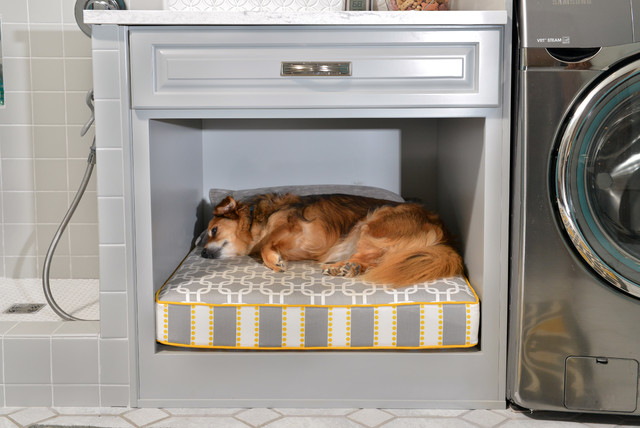 dogs dream
Traditional , Cleveland
this dog wash is a great place to clean up your pets and give them the spa treatment they deserve. There is even an area to relax for your pet under the counter in the padded cabinet.

Mid-sized elegant home design photo in Cleveland — 
Houzz
What Houzz contributors are saying:


Julie Sheer added this to 16 Stylish Built-In Sleeping Areas for Dogs
Aug 18, 2016
11. This laundry-mudroom in an Akron, Ohio, house got a big upgrade from Artistic Renovations of Ohio with new cabinetry and the addition of a dog wash area and built-in resting spot — enjoyed by dogs Roxy, pictured here, and Bella. Vibrations from the stacked washer and dryer lull the pups to sleep.See more of this room

Mary Jo Bowling added this to Room of the Day: Laundry Room Goes to the Dogs
Nov 18, 2014
"Both dogs share the bed," Perrin says. "They seem to like being near the washer when it's running. I think they like the vibrations."Roxy is seen here (she looks bigger in the previous picture, due to the camera angle); her bunkmate, Bella, was out running in the yard when the photo was taken."If you have an animal, these kinds of spaces are great to have," says Perrin. "Anyone who has a dog knows how hard it is to clean their muddy paws. This space makes it easier."
What Houzzers are commenting on:

Nita Draves added this to nita_draves's Ideas
Feb 28, 2019
I like built in puppy beds in the laundry area. Laundry/mud room. Must have closing door to room.


michele1634 added this to Laundry Room
Nov 9, 2018
Probably no room to build a puppy cubby....just a thought to keep in mind for somewhere