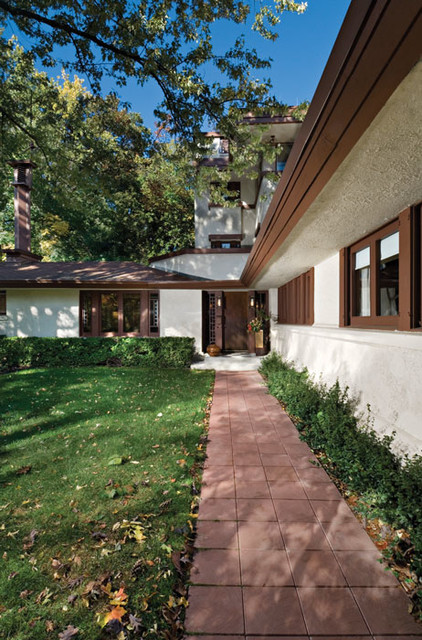 Frank Lloyd Wright Residence
, Chicago
What Houzz contributors are saying:

Becky Harris added this to What It's Like to Live in a Frank Lloyd Wright House
May 16, 2017
Ready for Its Next CustodiansSince its completion more than a century ago, the home has had only three owners: the Booth family, Northwestern University, and Sonia and Ted Bloch, who bought it in 1967. According to Sonia, the house had been intended for use as a conference center for Northwestern, but the university wound up putting it on the market. "It was completely vacant when we saw it. It had ragged carpets, and none of the light fixtures worked," she says. "To some people, it was ugly, but to me, it was gorgeous." The Blochs got to work restoring the house to its original glory.
What Houzzers are commenting on:
kamimura4727 added this to ブース邸
Nov 29, 2017
次の住人を待ちながら 100年以上前に完成して以来、この家のオーナーとなったのは3組だけだ。ブース家、ノースウェスタン大学、そして1967年に購入したソニア&テッド・ブロック夫妻である。ソニアさんによると、ノースウェスタン大学はコンファレンス施設として使う予定だったが、ふたたび市場に出すことになったのだと言う。「私たちが見学に来たときには、まったく空っぽの状態でした。カーペットは傷んで、照明器具もすべて壊れていました」とソニアさんは言う。「ほかの人は醜い物件だと思ったかもしれませんが、私はすごく美しいと感じたんです。」ブロック夫妻は修復に取り組み、オリジナルの優美な姿によみがえらせた。
kamimura4727 added this to シャーマン・ブース邸
Jul 4, 2017
長く伸びる水平ラインを強調した大きな家が渓谷に隣接して流れを見下ろす、というデザインは廃された。その代わりにライトが考えたのは、垂直方向から渓谷とのつながりをつくる住宅だ。すでに完成していた管理人用コテージと厩舎兼ガレージを、中央の縦長コアでつなげて住まいにつくり変えたのである。中央のコアは3階建てで、屋上デッキに出られるポーチが4階部分になっている。屋上デッキは、木々のこずえ越しに渓谷を眺める場所としてつくられた。