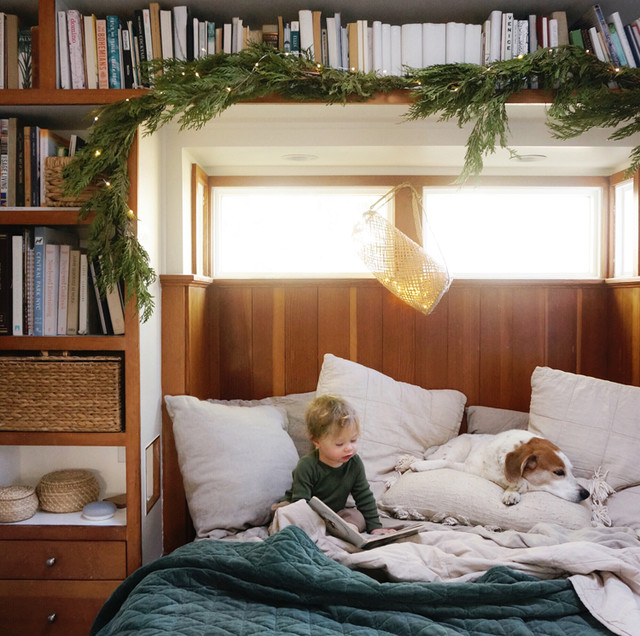 How to Handle the Holidays in a Small Space
, Los Angeles
The Tiny Canal Cottage. Photo by Whitney Leigh Morris
What Houzz contributors are saying:

Victoria Villeneuve added this to How to Handle the Holidays in a Small Space
Sep 28, 2018
What to Do With GiftsQ. Every year, I vow to cut back on gift giving and then get foiled by pressure or desire to reciprocate. How do you tactfully convey to well-meaning, generous relatives and friends that you don't have a lot of room for presents? A. We have a bit of a cheat in this arena — after seven years of living here, our friends and family now all know firsthand how tiny our home truly is. Still, whenever given the opportunity, I do state in very clear terms that we don't want or need gifts but that books for West are always welcome, and usually that does the trick! Before having our son, we'd share the names of our favorite local shops and restaurants, and we were always happy and grateful to receive gift cards to those businesses. I learned a while back that it's usually the act of giving that people love so much, and I don't fight to take that away from them. Instead, I express my appreciation for their generosity and thoughtfulness, and then determine if the item gifted is suitable for our family and home. If it isn't, I give it to a person or nonprofit that will put it to better use. This might sound rude, but I truly don't believe it is. I can't imagine that most people would be angered to know that the teddy bear they'd intended for my son is instead comforting a child in the foster care system within L.A. — whereas if a teddy bear stayed here in the cottage, it would get torn to shreds by our youngest beagle within minutes.
What Houzzers are commenting on: