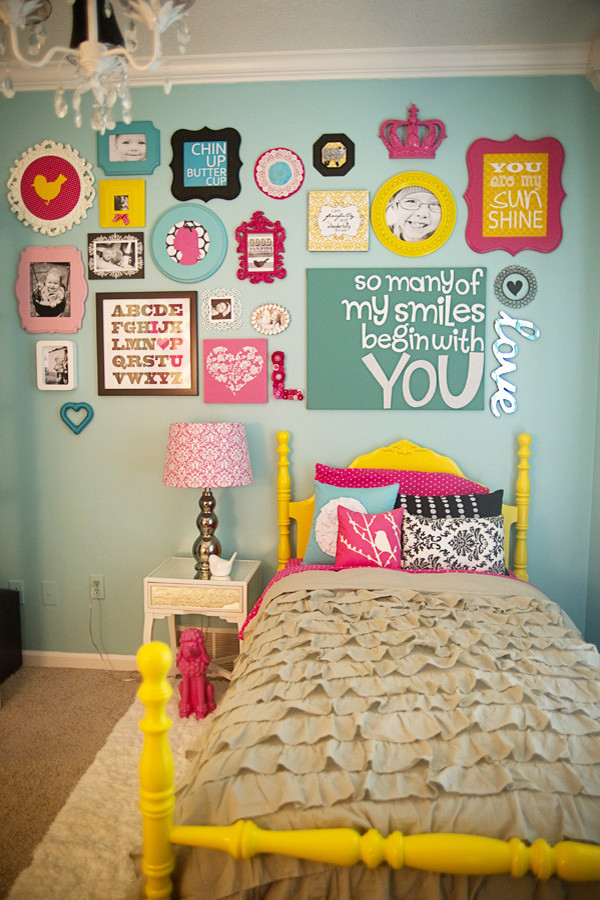 London's Big Girl Room
Modern Kids
Photos by Ginny Phillips Photography...me :) London's big girl room! From nursery to THIS. DIY glam! Decorating Style: I am in love with big, bold prints and colors...lots of mixtures of textures (ruffles, furriness, and crystal are some faves) and I like a bit of glam. I also love DIY and budget friendly rooms that inspire and are very doable for a normal, everyday family. Nothing that costs thousands and is out of reach! Project Details: twin bed: antique find ($100), made in the 1930s and found on Craigslist. Painted and laquered by my husband, yellow paint by Olympic. We also cut about 5 inches of the legs off the bed to make it shorter...it was waaay tall! table/chairs: separate antique finds (totaling about $50) and painted/laquered by my husband and me with white primer. The table is an oak end table! I liked the "mix and match" look of the chairs...they are all different (there is a small stool in the back in addition to the two chairs) and I wanted them all painted the same. hot pink accent wall: we painted it white, I taped off the diamonds (didn't measure...just did it) using 3-inch painters tape (widest we could find) and then we painted it hot pink (Olympic) and took the tape off. black dresser: was her changing table...took the top part off, added black and white wrapping paper by spray-adhesiving it on and then covered that with Mod Podge. Replaced hardware with crystal "glam" knobs ($2.50 each) from Hobby Lobby. black/white damask pillow: already had black/white dots pillow: Target teal/white rosette pillow: Hobby Lobby sale hot pink bird/branches pillow: joom etsy shop hot pink w/small white dots bedding: Target ($15) Ruffle duvet cover: one of the things I actually bought from a store for full price...Urban Outfitters ($140) I ususally choose 2 or 3 things to purchase in-store and "splurge" on...and by splurge I mean a couple hundred bucks total. White and mirrored Side table: my second full-price splurge...from Target ($79) chevron stripe window fabric: moderncloth etsy shop, sewn by my mother :) white furry rug: already had, from Target (was a part of her nursery as well) Chandelier: already had, from walmart.com (was a part of her nursery as well) ...was very cheap though! side-table lamp: already had, used an old lamp shade and recovered it with about $3 worth of pink damask fabric from Hobby Lobby floor lamp by dresser: already had as part of her nursery, from Target Yellow elephant bank: already had from nursery, from Target "faux" chandelier over table/chairs: three separate bird cages found at yard sale and Hobby Lobby...I sprayed each of them with black spray paint, hung them at different heights with black skinny ribbon, and tied hot-pink polka dot ribbon to the tops. Really cheap and I wanted a chandelier look without wiring in a light. Total was about ($35) 3 stacked floor-to-ceiling mirrors: Bought one from Target for ($19.99) (its the one on the bottom) and already had the other two from my grandma. Taped them off and sprayed them bright yellow (Krylon yellow spray paint form Hobby Lobby) I wanted a really really bold look in that corner, from floor to ceiling, without it being too overwhelming with the pink wall and wanted to keep it fairly simple to balance out the huge gallery wall on the other side. Didn't want tthe pink wall to have anything else on it so it wouldn't be too busy! pink shag rug under table/chairs: Hobby Lobby sale ($10?) Ok, NOW for that HUGE gallery wall! "You are my sunshine," "Chin Up Buttercup," "Good Morning Beautiful!" and "I am fearfully and wonderfully made" GRAPHIC prints were made by ME and can be found in my etsy shop: West Eighty Third. Also the paper silhouette in the round frame was made by me and can be found in the shop as well. The "L" flowered letter can be found there too, also made by me.
http://www.etsy.com/shop/westeightyhird
frames are a mix of: Organic Bloom, Modern Knot, and hand-painted Salvation Army/yard sale finds. Yellow circle frame was a mirror I busted out and painted...black octagon frame was a $.99 black from Salvation Army and I just painted it and put scrapbook paper on the face of it...and inside it is a sheep from London's baby mobile that hung over her bed...we wanted to have as much of her "nursery" in the room as possible :) I painted A LOT of things yellow in this room! Whew! "love" mirrored letters were $7.50 and from Hobby Lobby. Almost all the things on this wall were made by me...it was a labor of love! It took me MONTHS to collect all the things for this wall. If I didn't actually make it graphically or with paper, I painted it or altered almost everything. "So many of my smiles begin with you" canvas was painted and then the letters were just cut out with a cricut and adhered to the canvas. I also made the little twine heart. I am a photographer and also took all the black and white photos displayed. I wanted to have lots of fun photos of London and the people she is closest with as part of the wall! The total for EVERYTHING in this room (that we spent when we made the room)...furniture, even the new mattress/box springs, etc was about $1100.