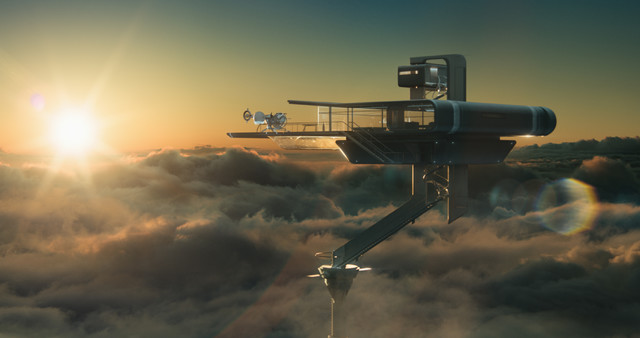 "Oblivion" | David James and Universal Pictures
What Houzz contributors are saying:

Janet Paik
added this to
Glimpse Design's Imagined Future in 'Oblivion'
Gilford also took note of the overhangs commonly seen in midcentury modern architecture. Long horizontal cantilevers are an interesting counterbalance to the 3,000-foot-long vertical line connecting Skytower to Earth. These strong lines, common in midcentury modern architecture, also play off the endless horizontal lines of the clouds.

Spry Architecture
added this to
8 Wonders of Imagination in Architecture
Imagination of the FutureYou'll recognize this if you've seen Oblivion, a recent Tom Cruise film. Although I found the movie disappointing (sorry, you may disagree with me below), I found the architecture fascinating, beautiful and strangely functional for its future purpose. In other words, the architecture seemed believable. Raised high above the ground (because bad things live on the earth), this home in the movie lyrically floats among the clouds.More about the architecture in Oblivion

Dorman Architects
added this to
15 Intriguing Homes Perched Above the Earth
Future Imagined: Skytower in OblivionLiving above the ground is taken to an extreme in the science fiction movie Oblivion; the Skytower residence is 3,000 feet above the polluted earth below. It has all the classic features of a supercool modern home: wraparound decking, fully glazed walls and, of course, a heliport.More about the architecture in this movieMore: 6 Amazing Homes Dug Into the Earth
What Houzzers are commenting on: