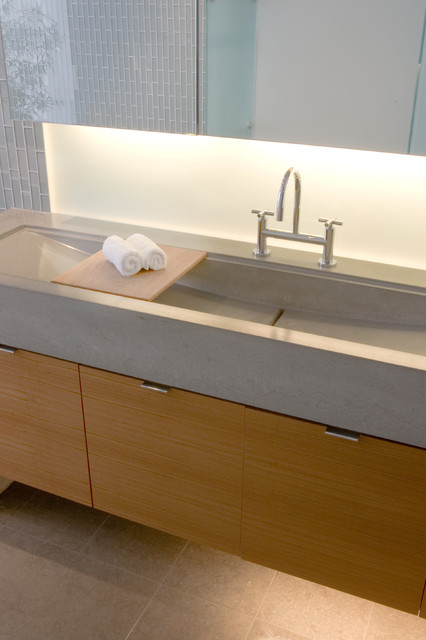 Poured Concrete Sink
Contemporary , San Francisco
Custom poured concrete sink
Example of a trendy home design design in San Francisco — Houzz
This photo has 15 questions




Custom Concrete Designs
wrote:

Wright Street Design Group Inc.
wrote:
What Houzz contributors are saying:

Becky Harris
added this to
10 Ways to Think Outside the Bathroom Sink Box
10. Realize that troughs aren't just for horses. This poured concrete sink forces you to put things away in the medicine cabinets keep things uncluttered.

Natalie Myers
added this to
Amazing Ways with Concrete Countertops
Unlike stone slabs, you can create any thickness you like without a huge cost difference. This counter is approximately 6" thick for a unique porportion to the vanity. Notice how the sink is one continuous element subtracted from the thicker pour? Very cool.

Ivon Street Studio
added this to
Green and Clean: Ecofriendly Bathroom Sinks
Cement-based sinks. Cast-in-place concrete sinks, each poured for a unique installation, provide ultimate flexibility to design the perfect sink for you and your bathroom. Green your concrete with recycled aggregates like glass, porcelain or coal fly ash (though skip the fly ash if coal isn't produced in your region, as the transportation energy negates any green cred).Alternatively, Lithistone's ceramic cement uses approximately 20 to 40 percent less energy than Portland Cement, thereby reducing the sinks' carbon footprint. The remainder of Lithistone's matrix is natural mineral binder, different grades of sand and stone, recycled material and organic mineral pigments.
What Houzzers are commenting on: