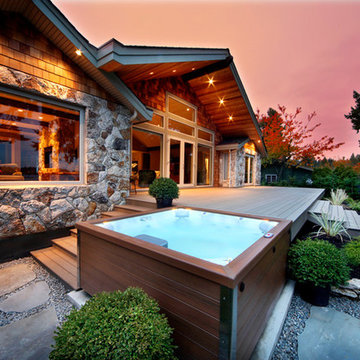 GALAXY OUTDOOR LLC
Whether it's arthritis, joint or back pain, restless leg syndrome, muscle injuries or fibromyalgia, hot tubs are a proven form of chronic pain relief. The heat of the water increases blood flow and relaxes the body, while the massaging action of the jets and the water's buoyancy loosen muscle tension and soothe sore joints. The New England Journal of Medicine (08-16-1999) found that, after just 10 days, patients with Type 2 Diabetes who used hot tubs 30 minutes a day/6 days per week required reduced doses of insulin, lost weight, slept better and showed distinct decreases in plasma glucose and glycosylated hemoglobin. Hot tubs can be a great fix for those suffering from insomnia, helping your body to wind down before bed and get the natural sleep you need. Even if you don't suffer from chronic sleep problems, the Better Sleep Council recommends establishing a relaxing bedtime routine, such as soaking in hot water to help maintain a healthy sleep cycle. According to the Council's findings, warm water releases muscle tension and increases blood flow, both of which contribute to a relaxed and deeper, more comfortable sleep. Whether it's a new exercise routine or an unusually active day on your feet, most of us know the "day after" feeling of sore, overworked muscles that make it hurt to move, period. The water pressure from hot tub jets relieves muscle tightness and soreness by removing lactic acid, opening up the blood vessels and promoting the flow of endorphins. LPGA Sports Medicine Director Caroline Nichols and former President of the American Orthopedic Society of Sports Medicine Dr. James Andrews recommend hydrotherapeutic activity for athletes at every level. Nichols says that hot tubs especially help with recovery since jets focus on overused muscle and joint regions, while Andrews supports hydrotherapy as a good tool for improved circulation, sensory impulses and stiff joints. Whether you're looking to alleviate stress, feel healthier or simply spend more time with your loved ones, you'd be amazed at how as little as 10 minutes in a hot tub can help you relax and put everything in perspective. There are hot tubs for every type of user, regardless of whether it's just you or it's the entire gang piling in, looking for some much-needed relief after a long day.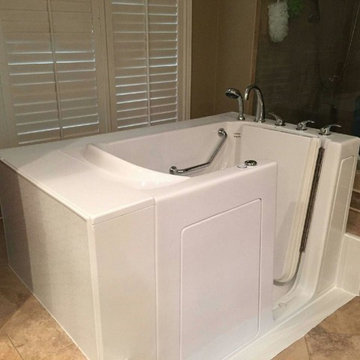 Independent Home Walk In Tubs New York
Independent Home just completed a walk in tub installation for a couple in West Chester. Check out how our installation process works and how a walk in tub could benefit you. Our installation process starts with a pre-installation meeting. Our experts met with Allison and Greg to find out what type of walk in tub would best fit their needs, the best location, and what type of finish they would want. At the meeting, our experts learned that Allison and Greg already had a walk in shower. However, it wasn't providing them with what they needed. They both suffer from arthritis and restless leg syndrome and were looking for relief. The Supreme Walk in Bathtub model was the perfect solution for Allison and Greg because not only do they suffer from arthritis and restless leg syndrome they also are bariatric clients and needed a wider tub. The Supreme model is large, has a non-slip floor, two safety grab bars, and hydrotherapy. Hydrotherapy is what will help reduce Allison and Greg's pain. Their pain will decrease each time they enjoy a deep soaking massage that is provided by the air and whirlpool jets. The jets work in a greater range of motion that causes an increase in circulation. As Allison and Greg's circulation increase, their muscles will begin to rehabilitate and reduce the pain. The installation only took a couple days to complete. That included taking out their old shower along with removing the foundation, bringing in the new bathtub, making sure the legs are level, hooking up the new plumbing, and making sure that there aren't any leaks. The last part of the installation is building the finish. Allison and Greg had wanted our experts to maintain their bathroom tile.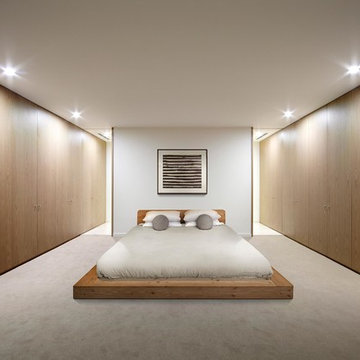 Urban Angles
Urban Angles
Bedroom - scandinavian carpeted bedroom idea in Melbourne with white walls

Showing Results for
"Arthritis Relief"