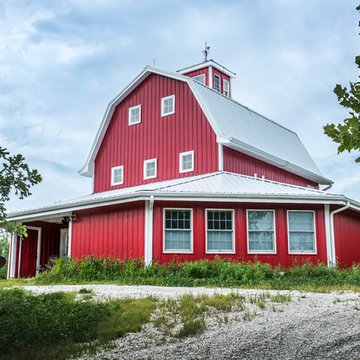 Authenticity, LLC
Architect: Michelle Penn, AIA This barn home is modeled after an existing Nebraska barn in Lancaster County. Heating is by passive solar design, supplemented by a geothermal radiant floor system. Cooling uses a whole house fan and a passive air flow system. The passive system is created with the cupola, windows, transoms and passive venting for cooling, rather than a forced air system. Because fresh water is not available from a well nor county water, water will be provided by rainwater harvesting. The water will be collected from a gutter system, go into a series of nine holding tanks and then go through a water filtration system to provide drinking water for the home. A greywater system will then recycle water from the sinks and showers to be reused in the toilets. Low-flow fixtures will be used throughout the home to conserve water. Photo Credits: Jackson Studios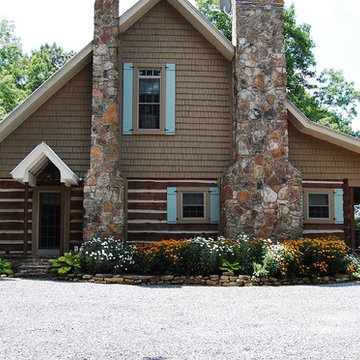 Corynne Pless
Photo: Corynne Pless © 2013 Houzz
Rustic exterior home idea in New York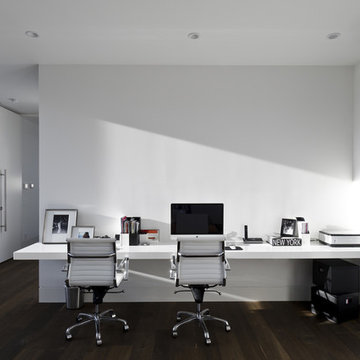 CONTENT Architecture
Photo by Peter Molick
Inspiration for a modern home office remodel in Houston with white walls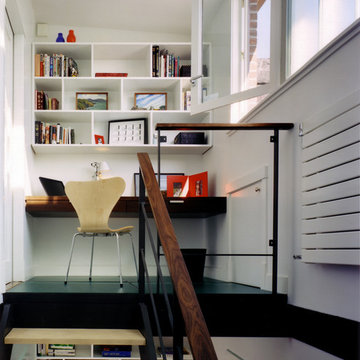 The Brooklyn Studio
Photos by Hulya Kolabas & Catherine Tighe; This project entailed the complete renovation of a two-family row house in Carroll Gardens. The renovation required re-connecting the ground floor to the upper floors and developing a new landscape design for the garden in the rear. As natives of Brooklyn who loathed the darkness of traditional row houses, we were driven to infuse this space with abundant natural light and air by maintaining an open staircase. Only the front wall of the original building was retained because the existing structure would not have been able to support the additional floor that was planned. In addition to the third floor, we added 10 feet to the back of the building and renovated the garden floor to include a rental unit that would offset a costly New York mortgage. Abundant doors and windows in the rear of the structure permit light to illuminate the home and afford views into the garden, which is located on the south side of the site and benefits from copious quantities of sunlight.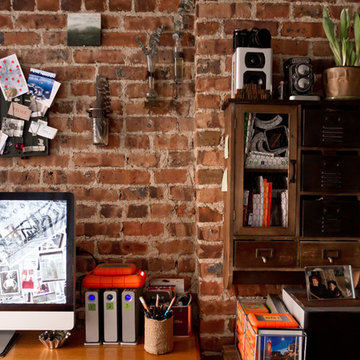 Rikki Snyder
Photo: Rikki Snyder © 2014 Houzz
Eclectic home office photo in New York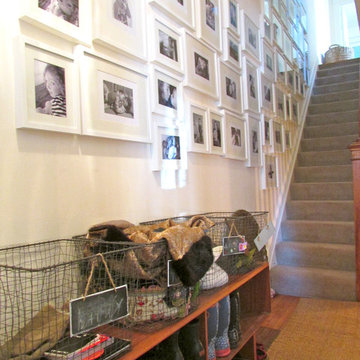 Jenn Hannotte / Hannotte Interiors
Photo: Jenn Hannotte © 2013 Houzz
Eclectic entryway photo in Toronto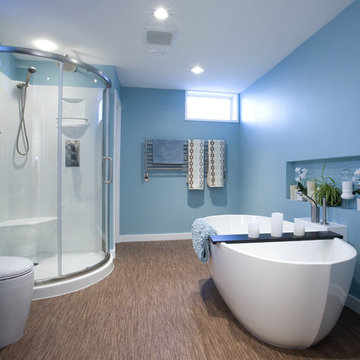 Centennial Kitchen & Bath
Centennial is the proud recipient of three 2011 Bridges Awards hosted by the Saskatoon & Region Home Builder's Association This bathroom was awarded the 2011 Bathroom Renovation of the Year! Bathroom Design By Corinne Kaye

Showing Results for
"Backup Copies"