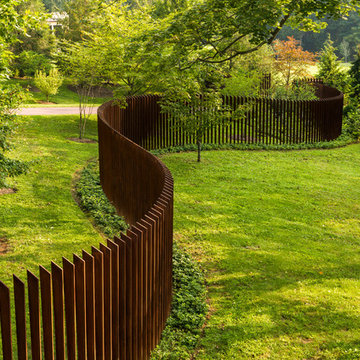 Archer & Buchanan Architecture, Ltd.
Photographer: Tom Crane Made of 300, 10-foot steel blades set upright 8 inches apart, the award winning Cor-Ten Cattails Sculptural fence was designed for a home in Berwyn, Pennsylvania as a yard sculpture that also keeps deer out. Made of COR-TEN, a steel alloy that eliminates the need for painting and maintains a rich, dark rust color without corroding, the fence stanchions were cut with a plasma cutter from sheets of the alloy. Each blade stands 8 feet above grade, set in concrete 3 feet below, weighs 80-90 pounds and is 5/8 inch thick. The profile of the blades is an irregular trapezoid with no horizontal connections or supports. Only the gate has two horizontal bars, and each leaf weighs 1200 pounds.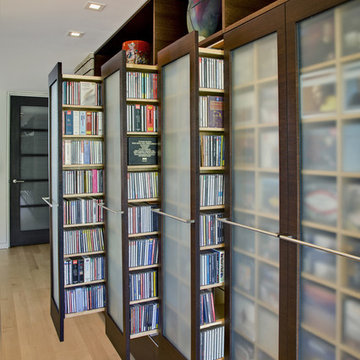 John Senhauser Architects
Our client initially asked us to assist with selecting materials and designing a guest bath for their new Tucson home. Our scope of work progressively expanded into interior architecture and detailing, including the kitchen, baths, fireplaces, stair, custom millwork, doors, guardrails, and lighting for the residence – essentially everything except the furniture. The home is loosely defined by a series of thick, parallel walls supporting planar roof elements floating above the desert floor. Our approach was to not only reinforce the general intentions of the architecture but to more clearly articulate its meaning. We began by adopting a limited palette of desert neutrals, providing continuity to the uniquely differentiated spaces. Much of the detailing shares a common vocabulary, while numerous objects (such as the elements of the master bath – each operating on their own terms) coalesce comfortably in the rich compositional language. Photo Credit: William Lesch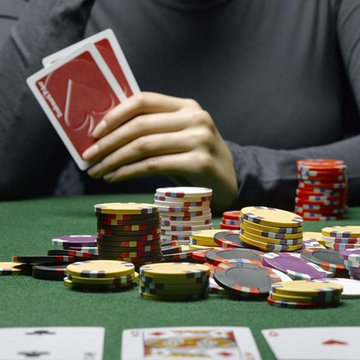 hanyn diah
http://saranapoker.casino
adalah situs judi online yang telah dipercaya memberikan sebuah kemenangan yang mutlak, dengan begitu anda juga tidak akan merasa menyesal ketika bermain di situs ini. Bukan hanya itu saja, situs judi poker online ini memiliki promo bonus yang akan dibagikan setiap minggunya kepada para member yang telah aktif bermain.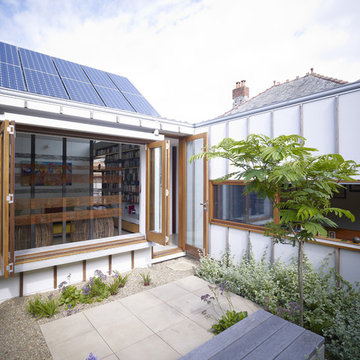 Sam Crawford Architects
(c) Brett Boardman
Example of a trendy one-story mixed siding exterior home design in Sydney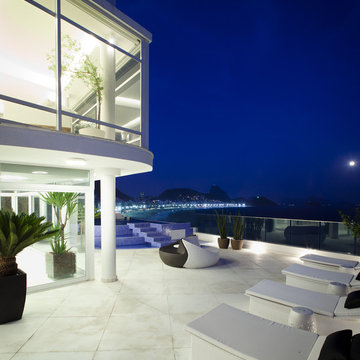 Eduardo Raimondi . Fotografia de Arquitetura
This beautiful triplex apartment in Rio de Janeiro was the challenge of the architect Carlos Cesar Ferreira. That took care of every detail of the project and learned to respect and integrate the sea view from Copacabana beach with the interior of about 1500m2. "It was necessary to use white because of the views of the beach. I did not want to compete with the landscape and the light of Rio, but bring them into the apartment. "Check the images of photographer Eduardo Raimondi.

Showing Results for
"Bonus Yang"