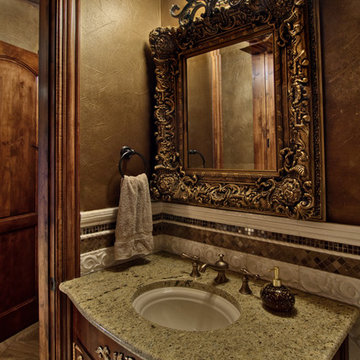 Bella Villa Design Studio
Inspiration for a timeless mosaic tile powder room remodel in Austin with an undermount sink and dark wood cabinets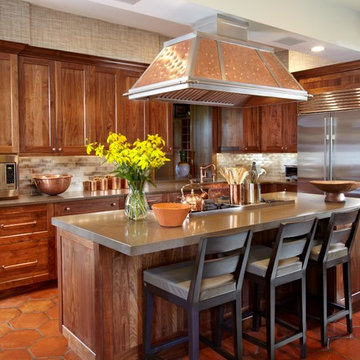 Kitchen Designs by Ken Kelly, Inc. (CKD, CBD, CR)
kitchendesigns.com Kitchen Designer: Ken Kelly at Kitchen Designs by Ken Kelly, Inc. Interior Designer: Andrew Petronio of K A Design Group
Kitchen - transitional l-shaped kitchen idea in New York with metallic backsplash, an undermount sink, shaker cabinets, medium tone wood cabinets, stainless steel appliances and subway tile backsplash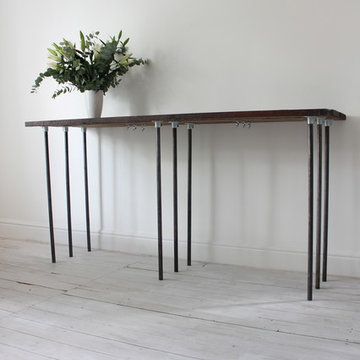 Urban Grain
Reclaimed Scaffolding Boards and dark graphite Steel Pipe Bar Table - Its salvaged vintage industrial design works perfectly in a sophisticated, casual living space or commercial environment. This bar table was made for a client who already had some bar stools and wanted us to create a bar to match them - she wanted a drop leaf leaf section so it could be extended when necessary so we designed this using a really long piano hinge and leg storage clips - it, or anything similar, can be made to measure to your own specifications.... ... the piping comes in a variety of diameters and could be painted.... scaffolding boards could be substituted for reclaimed floor boards, chunky reclaimed timber of any type, toughened glass, sheet metal, wire grills, railway sleepers... whatever you would like... I can source anything and gladly will ! The scaffolding boards pictured in this example were sanded down and stained with a coloured varnish and a little dark wax added for depth of finish, but anything you choose to use can be distressed or polished up to create any required finish. The table pictured here is 1214mm long x 1070mm high x 440m/660mm deep. Please contact me to discuss any ideas or obtain quotes. All furniture comes with detailed installation and build instructions... they are amazingly easy to put together... it's just a case of screwing components together in the right order.
http://www.inspiritdeco.com
,
http://www.etsy.com/shop/inspiritdeco
,
http://www.facebook.com/inspiritdeco
,
http://www.twitter.com/inspiritdeco
,
http://www.linkedin.com/carlamuncaster
,
http://www.pinterest.com/inspiritdeco
Showing Results for
"Client Handouts"