Search results for
"Experiencing conclusions"
in
Home Design Ideas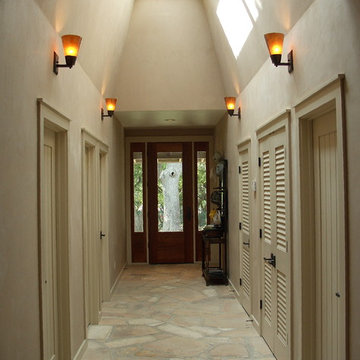 Terri Symington, ASID
Mountain style beige floor hallway photo in Houston with beige walls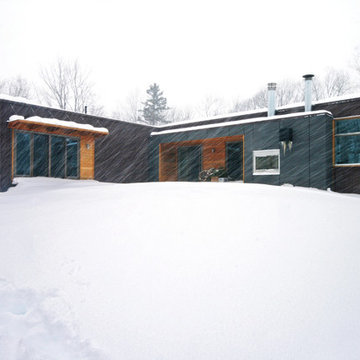 Resolution: 4 Architecture
VERMONT CABIN Location: Jamaica, VT Completion Date: 2009 Size: 1,646 sf Typology: T Series Modules: 5 Boxes Program: o Bedrooms: 3 o Baths: 2 o Features: Media Room, Outdoor Fireplace, Outdoor Stone Terrace o Environmentally Friendly Features: Off Grid Home, 3kW Solar Photovoltaic System, Radiant Floor Heat Materials: o Exterior: Corrugated Metal Siding, Cedar Siding, Ipe Wood Decking, Cement Board Panels o Interior: Bamboo Flooring, Ceasarstone Countertops, Slate Bathroom Floors, Maple Cabinets, Aluminum Clad Wood Windows with Low E, Insulated Glass, Black Steel, Custom Baltic Birch Bench Project Description: Isolated in the Green Mountain National Forest of Vermont, this 1,650 sf prefab home is an escape for a retired Brooklyn couple. With no electric or cell phone service, this 'Off-the-Grid' home functions as the common gathering space for the couple, their three grown children and grandchildren to get away and spend quality time together. The client, an avid mushroom hunter and connoisseur, often transverses the 200 acre property for the delicacy, then returns to her home which rests on the top of the mini-mountain. With stunning views of nearby Stratton Mountain, the home is a 'Head & Tail' design, where the communal space is the 'head', and the private bar of bedrooms and baths forms the longer 'tail'. Together they form an 'L', creating an outdoor terrace to capture the western sun and to enjoy the exterior fireplace which is clad in cement board panels, and radiates heat during the cool summer evenings. Just inside, is the expansive kitchen, living, and dining areas, perfect for preparing meals for their guests. This communal space is wrapped with a custom Baltic Birch bookshelf and window bench so one can soak up the south sun and view of the fern meadow and surrounding wilderness. With dark bamboo floors over radiant heating, and a wood-burning fireplace, the living area is as cozy as can be. The exterior is clad in a maintenance-free corrugated Corten Kynar painted metal panel system to withstand the harsh Vermont winters. Accents of cedar siding add texture and tie the strategically placed windows together. The home is powered by a 3,000 KwH solar array with a back-up generator in case the sun is hidden for an extended period of time. A hybrid insulation system, combining both a closed cell spray foam insulation and batt insulation, along with radiant floor heat ensures the home stays airtight and warm in the winter. Architects: Joseph Tanney, Robert Luntz Project Architect: Justin Barnes Manufacturer: Simplex Industries Project Coordinator: Jason Drouse Engineer: Lynne Walshaw, P.E., Greg Sloditskie Contractor: Big Pine Builders, INC. Photographer: © RES4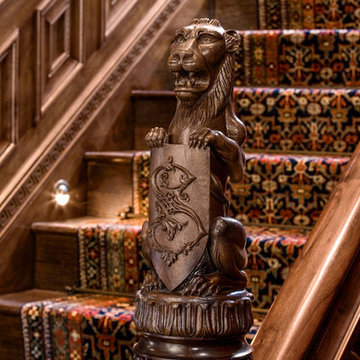 Cravotta Interiors
Inspiration for a timeless staircase remodel in Austin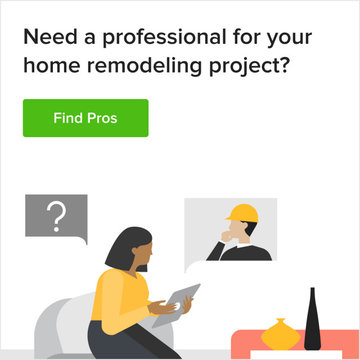 Find top design and renovation professionals on Houzz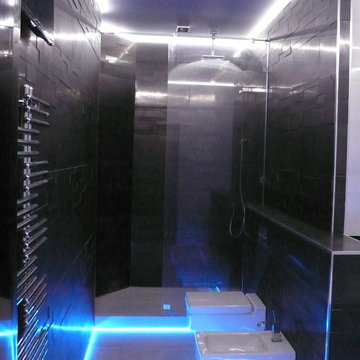 Ovchinnikov Eugene N.
Home design - contemporary home design idea in London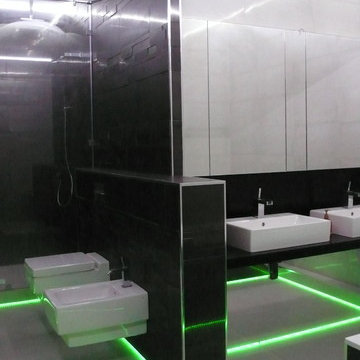 Ovchinnikov Eugene N.
Trendy home design photo in London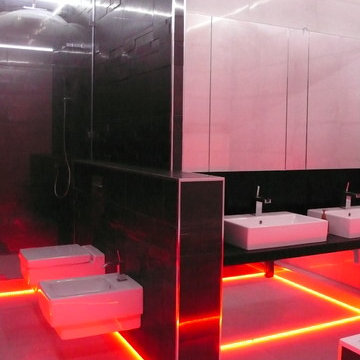 Ovchinnikov Eugene N.
Inspiration for a contemporary home design remodel in London

Learn More
Showing Results for
"Experiencing Conclusions"