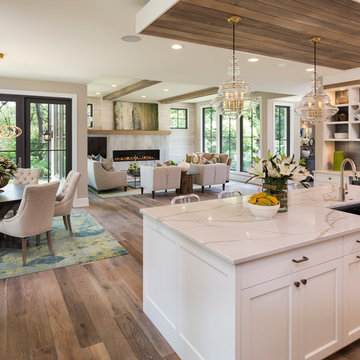 Housing First Minnesota
Builder: Great Neighborhood Homes Artisan Home Tour 2016
Transitional light wood floor open concept kitchen photo in Minneapolis with an undermount sink, shaker cabinets, white cabinets, black backsplash and an island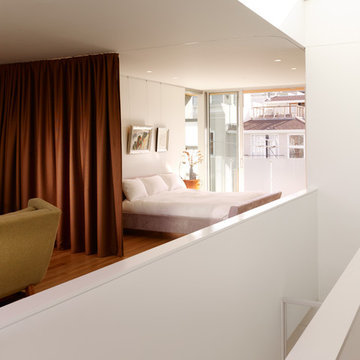 Nick Noyes Architecture
Photography by Cesar Rubio
Example of a trendy loft-style bedroom design in San Francisco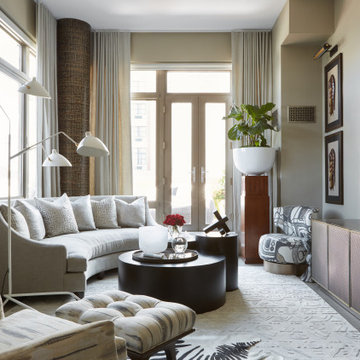 Lux Pad Interiors
Example of a mid-sized trendy open concept light wood floor and gray floor living room design in New York with gray walls, no fireplace and a wall-mounted tv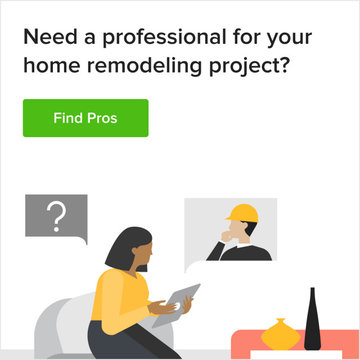 Find top design and renovation professionals on Houzz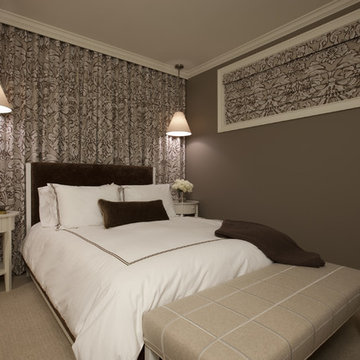 Michael Abrams Interiors
Example of a classic bedroom design in Chicago with brown walls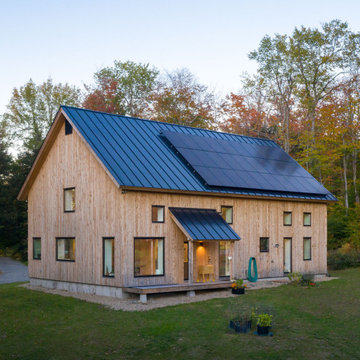 Mathes Hulme Builders
Our team set out to design and build a primary residence that met the client's humble goals for their (5-person) family while also achieving Passive House certification. It wasn't clear from the start whether or not going for certification would be viable given the budget restrictions and bank-loan financing limitations. We worked very closely as an integrated team (Architect, Builder, Project Management, Owner, CPHC (chris Miksic) , PHIUS rater (Karen Bushey), various subs, and vendors) throughout the design and planning process to incorporate cost-savings measures and provided numerous estimating "interventions" to stay on track. There was a significant effort to value engineer what we could, to ensure there were funds available for the desired energy goals. Each member of the team contributed towards getting the project over the finish line and ultimately Passive House +2018 & Source Zero certified! Winner of the 2021 Best of the Best, Healthy Home Award for Residential New Construction from Efficiency Vermont.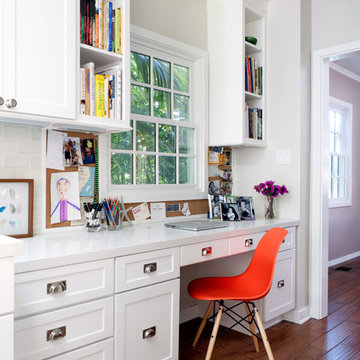 Daleet Spector Design
Lee Manning
Example of a trendy kitchen design in Los Angeles with shaker cabinets, white cabinets and subway tile backsplash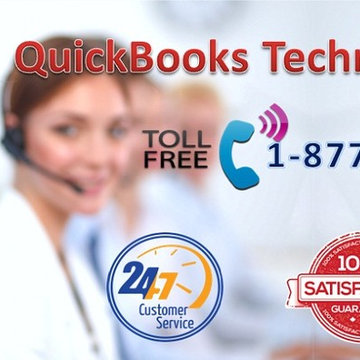 QuickBooks Support
Business' financial statement management is not at all an easy task for most of the business professionals. Despite this fact, they attempt to understand the significance of tracking financial trajectories of their own. But, there are a few aspects that bring various types of QuickBooks errors in front of the accountants, clerks, bookkeepers, and other business professionals when they attempt to manage their financial statements through QuickBooks. In such scenarios, accounting experts search for solutions that help them to manage their finances in an appropriate way.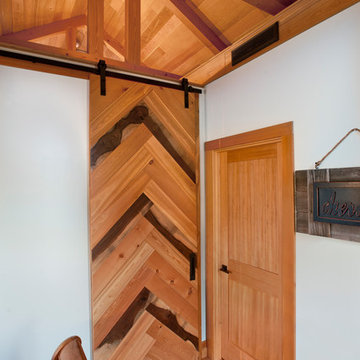 New Energy Works Timberframers
Phil and Rocio, little did you know how perfect your timing was when you came to us and asked for a "small but perfect home". Fertile ground indeed as we thought about working on something like a precious gem, or what we're calling a NEW Jewel. So many of our clients now are building smaller homes because they simply don't need a bigger one. Seems smart for many reasons: less vacuuming, less heating and cooling, less taxes. And for many, less strain on the finances as we get to the point where retirement shines bright and hopeful. For the jewel of a home we wanted to start with 1,000 square feet. Enough room for a pleasant common area, a couple of away rooms for bed and work, a couple of bathrooms and yes to a mudroom and pantry. (For Phil and Rocio's, we ended up with 1,140 square feet.) The Jewel would not compromise on design intent, envelope or craft intensity. This is the big benefit of the smaller footprint, of course. By using a pure and simple form for the house volume, a true jewel would have enough money in the budget for the highest quality materials, net-zero levels of insulation, triple pane windows, and a high-efficiency heat pump. Additionally, the doors would be handcrafted, the cabinets solid wood, the finishes exquisite, and craftsmanship shudderingly excellent. Our many thanks to Phil and Rocio for including us in their dream home project. It is truly a Jewel! From the homeowners (read their full note here): "It is quite difficult to express the deep sense of gratitude we feel towards everyone that contributed to the Jewel…many of which I don't have the ability to send this to, or even be able to name. The artistic, creative flair combined with real-life practicality is a major component of our place we will love for many years to come. Please pass on our thanks to everyone that was involved. We look forward to visits from any and all as time goes by." –Phil and Rocio Read more about the first steps for this Jewel on our blog. Reclaimed Wood, Kitchen Cabinetry, Bedroom Door: Pioneer Millworks Entry door: NEWwoodworks Professional Photos: Loren Nelson Photography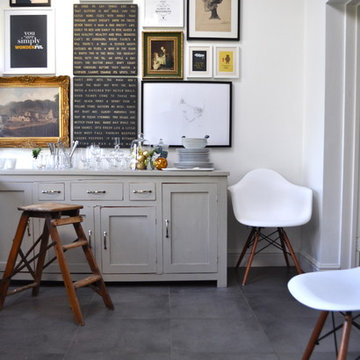 sarah & bendrix
Example of an eclectic ceramic tile dining room design in London with white walls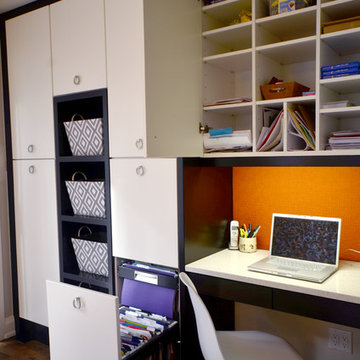 StyleHaus Interiors
Detail of mail sorting and storage and filing system. Also included is a printer drawer (not shown), open shelving and closed storage.
Home office - contemporary built-in desk home office idea in Ottawa

Showing Results for
"Finances Track"