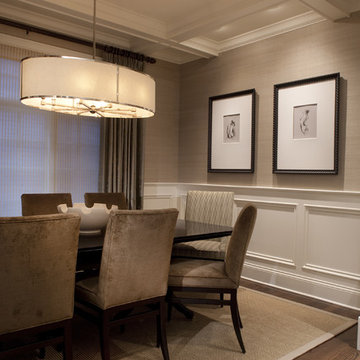 Michael Abrams Interiors
Inspiration for a timeless dark wood floor and brown floor dining room remodel in Chicago with beige walls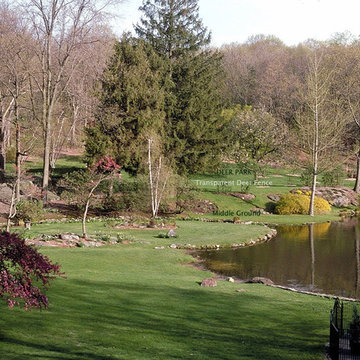 MVR LANDSCAPE | GARDEN
DEER PARK GARDEN VIEW AFTER. THEMES: LANDSCAPE Restoration|Maintenance; TREE Care; DEER Fence Planning; SCENIC Measures. The measures listed for Photo 1 that were executed across entire Middle Ground- whole width of image- opened views into the whole Deer Park. Judicious routing of Deer Fence makes it invisible. Deer Resistant Planting enhance Park and Driveway Entry, Photo 1, far left in this image.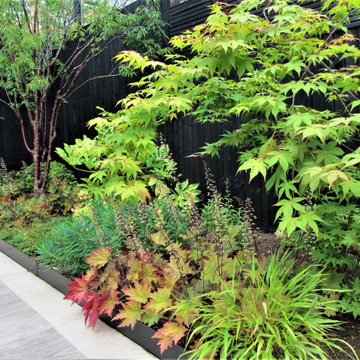 Christine Wilkie Garden Design
This small, north-east facing garden, measuring around 100 m2, was in need of a complete transformation to bring it into line with the owner's interior style and the desire for an outdoor room experience. A series of bi-folding doors led out to a relatively small patio and raised lawn area. The objective was to create a design that would maximise the space, making it feel much larger and provide usable areas that the owners could enjoy throughout the day as the sun moves around the garden. An asymmetrical design with different focal points and material contrasts was deployed to achieve the impression of a larger, yet still harmonious, space. The overall garden style was Japanese-inspired with pared back hard landscaping materials and plants with interesting foliage and texture, such as Acers, Prunus serrula cherry tree, cloud pruned Ilex crenata, clumping bamboo and Japanese grasses featuring throughout the garden's wide borders. A new lower terrace was extended across the full width of the garden to allow the space to be fully used for morning coffee and afternoon dining. Porcelain tiles with an aged wood effect were used to clad a new retaining wall and step risers, with limestone-effect porcelain tiles used for the lower terrace. New steps were designed to create an attractive transition from the lower to the upper level where the previous lawn was completely removed in favour of a second terrace using the same low-maintenance wood effect porcelain tiles. A raised bed constructed in black timber sleepers was installed to deal with ground level changes at the upper level, while at the lower level another raised bed provides an attractive retaining edge backfilled with bamboo. New fencing was installed and painted black, a nod to the Japanese shou sugi ban method of charring wood to maintain it. Finally, a combination of carefully chosen outdoor furniture, garden statuary and bespoke planters complete the look. Discrete garden lighting set into the steps, retaining wall and house walls create a soft ambient lighting in which to sit and enjoy the garden after dark.

Showing Results for
"Judicial Measures"