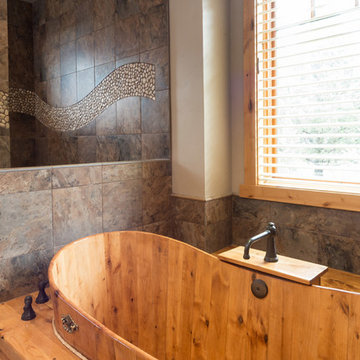 Western Design International
Chandler Photography
Bathroom - rustic bathroom idea in Other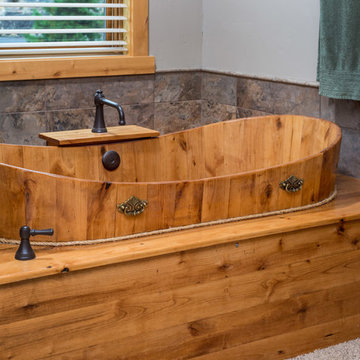 Western Design International
Chandler Photography
Inspiration for a rustic brown tile drop-in bathtub remodel in Other with medium tone wood cabinets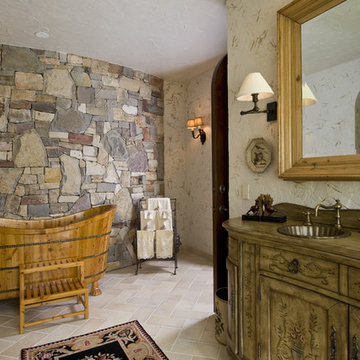 Marie Meko, Allied ASID
Example of a mountain style claw-foot bathtub design in Minneapolis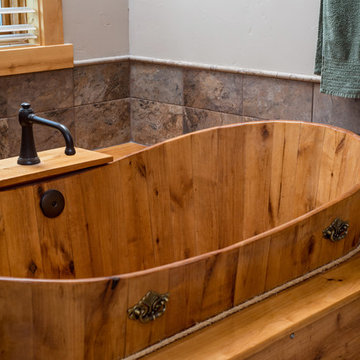 Western Design International
Chandler Photography
Inspiration for a rustic bathroom remodel in Other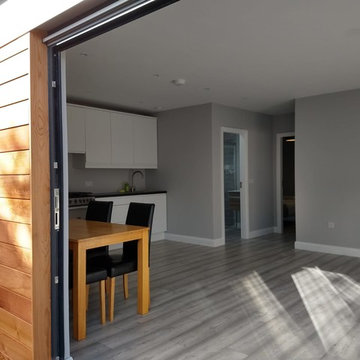 The Pod Factory
Here at The Pod Factory we always want to put our customer first. We understand there isn't a one size fits all solution for every Pod owner. Our Pods are designed not only to be independent living spaces like Offices, Studios and Apartments, but have the ability to be joined together to make multi Pod structures. Our Pods can be fitted together in numerous combinations. Side by side, top to toe, 'T' shape…. The options are endless!! For small or oddly shaped areas this is a life saver. We also have the option to 'stack' our Pods leaving a much smaller footprint. We feel we have solutions for commercial customers, charities and student accommodation with our rapid build modular buildings. We'd love to hear from you if any of these projects sound interesting to you
http://thepodfactory.ie/contact-us/
The interior layout can also be amended to suit specific requirements. For example, a full kitchen may not be needed in a shared living space, The Pod Factory also offers a kitchenette! Another example is a full bathroom, you may not have a need for it, The Pod Factory offers a toilet and basin! We recently reached out to our friends and followers on social media to ask them what they wanted to know about our Pods. Below we listed the most common questions, there were others, we were flattered with a question 'How can I come work with you guys?'…. We must be doing something right!!! What do our customers ask us? How much are the Pods? Are they easy to finance? Our Pods vary greatly but a starting guide price would be €28,000. We work with finance companies to assist you in applying for finance and providing you with the documentation required to make to process as efficient as possible What are the payment terms? Any finance agreement is not with The Pod Factory directly so terms are set out by the lender. Customers who buy a Pod pay a 50% deposit upon ordering and the balance is paid in the final week of the Pod build How big are they? What are the dimensions? We have so many Pod variations we couldn't possible list them all. However, the most popular Pods at the moment are 17 square meters, 22 square meters and 2 bedroom Pod which is 52 square meters. Our Pods are 3.6 meters wide (7 meters wide for the 2 bedroom Pod) and vary in length. For specific measurements and sizes please feel free to call or message us
http://thepodfactory.ie/contact-us/
Can you add them to existing houses like an extension? Yes you can, please contact us so we can get your specific details and discuss your needs How long will they last? Do they require a lot of maintenance? Our Pods are built the same way houses are built – to last a lifetime. We have designed and engineered each one to endure many weather conditions, each Pod is built using light gauge steel system. They are extremely low maintenance! All products come with their own manufacturers warranty What type of heating is used, is there a choice of heat systems? How cost efficient are the Pods to heat? Because of the way our Pods are designed and engineered (wrapped in airtightness membrane and insulation) they offer a high insulation value. They are easy to heat and the retain any heat generated. The Pods can be heated using any conventional heating system. Currently we are using an electric system with a gas combi for water heating. For convenience we use lpg for the supply of the gas which means it comes from a barrel as opposed to being connected to a main line. The radiators we use are designed to be the most energy efficient radiator available. There are various features and controls built into the radiator programme including PID Intelligent Control that ensures accurate temperature efficiency to 0.2C. This technology is far superior to other forms of heating such as traditional storage heaters and dry element radiators Do I need to apply for Planning Permission? Each County Council varies and there are a number of factors involved. We would advise you to speak to your local planning office. However we construct Pods which are within the size and height restrictions set out Where can I see a Pod? We have 3 beautiful Show Pods on display in Navan, Co Meath. We are open Monday to Friday from 8am until late. We also do Saturday and Sunday viewings by appointment so you can have plenty of time and privacy to view our Pods and ask all the questions! How long will my Pod take to build? Our Pods are considered 'rapid build'. From the day of order confirmation it usually takes 6 weeks. We build our Pods indoors so we are not weather dependent How much time do you spend on site? The standard ground works are completed in a day but as all sites are different we will confirm at the time of the site survey. All other building is completed off site at our purpose build factory so the Pod is delivered to site turnkey ready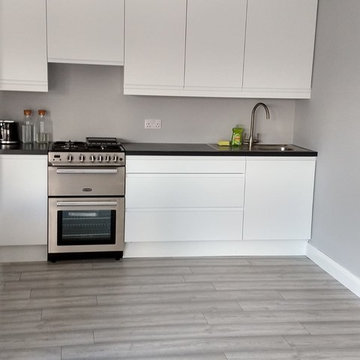 The Pod Factory
Here at The Pod Factory we always want to put our customer first. We understand there isn't a one size fits all solution for every Pod owner. Our Pods are designed not only to be independent living spaces like Offices, Studios and Apartments, but have the ability to be joined together to make multi Pod structures. Our Pods can be fitted together in numerous combinations. Side by side, top to toe, 'T' shape…. The options are endless!! For small or oddly shaped areas this is a life saver. We also have the option to 'stack' our Pods leaving a much smaller footprint. We feel we have solutions for commercial customers, charities and student accommodation with our rapid build modular buildings. We'd love to hear from you if any of these projects sound interesting to you
http://thepodfactory.ie/contact-us/
The interior layout can also be amended to suit specific requirements. For example, a full kitchen may not be needed in a shared living space, The Pod Factory also offers a kitchenette! Another example is a full bathroom, you may not have a need for it, The Pod Factory offers a toilet and basin! We recently reached out to our friends and followers on social media to ask them what they wanted to know about our Pods. Below we listed the most common questions, there were others, we were flattered with a question 'How can I come work with you guys?'…. We must be doing something right!!! What do our customers ask us? How much are the Pods? Are they easy to finance? Our Pods vary greatly but a starting guide price would be €28,000. We work with finance companies to assist you in applying for finance and providing you with the documentation required to make to process as efficient as possible What are the payment terms? Any finance agreement is not with The Pod Factory directly so terms are set out by the lender. Customers who buy a Pod pay a 50% deposit upon ordering and the balance is paid in the final week of the Pod build How big are they? What are the dimensions? We have so many Pod variations we couldn't possible list them all. However, the most popular Pods at the moment are 17 square meters, 22 square meters and 2 bedroom Pod which is 52 square meters. Our Pods are 3.6 meters wide (7 meters wide for the 2 bedroom Pod) and vary in length. For specific measurements and sizes please feel free to call or message us
http://thepodfactory.ie/contact-us/
Can you add them to existing houses like an extension? Yes you can, please contact us so we can get your specific details and discuss your needs How long will they last? Do they require a lot of maintenance? Our Pods are built the same way houses are built – to last a lifetime. We have designed and engineered each one to endure many weather conditions, each Pod is built using light gauge steel system. They are extremely low maintenance! All products come with their own manufacturers warranty What type of heating is used, is there a choice of heat systems? How cost efficient are the Pods to heat? Because of the way our Pods are designed and engineered (wrapped in airtightness membrane and insulation) they offer a high insulation value. They are easy to heat and the retain any heat generated. The Pods can be heated using any conventional heating system. Currently we are using an electric system with a gas combi for water heating. For convenience we use lpg for the supply of the gas which means it comes from a barrel as opposed to being connected to a main line. The radiators we use are designed to be the most energy efficient radiator available. There are various features and controls built into the radiator programme including PID Intelligent Control that ensures accurate temperature efficiency to 0.2C. This technology is far superior to other forms of heating such as traditional storage heaters and dry element radiators Do I need to apply for Planning Permission? Each County Council varies and there are a number of factors involved. We would advise you to speak to your local planning office. However we construct Pods which are within the size and height restrictions set out Where can I see a Pod? We have 3 beautiful Show Pods on display in Navan, Co Meath. We are open Monday to Friday from 8am until late. We also do Saturday and Sunday viewings by appointment so you can have plenty of time and privacy to view our Pods and ask all the questions! How long will my Pod take to build? Our Pods are considered 'rapid build'. From the day of order confirmation it usually takes 6 weeks. We build our Pods indoors so we are not weather dependent How much time do you spend on site? The standard ground works are completed in a day but as all sites are different we will confirm at the time of the site survey. All other building is completed off site at our purpose build factory so the Pod is delivered to site turnkey ready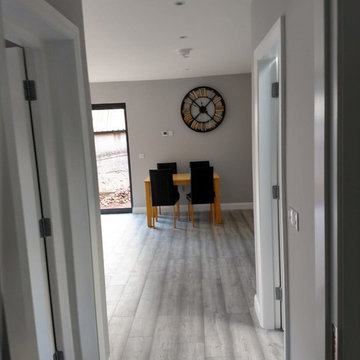 The Pod Factory
Here at The Pod Factory we always want to put our customer first. We understand there isn't a one size fits all solution for every Pod owner. Our Pods are designed not only to be independent living spaces like Offices, Studios and Apartments, but have the ability to be joined together to make multi Pod structures. Our Pods can be fitted together in numerous combinations. Side by side, top to toe, 'T' shape…. The options are endless!! For small or oddly shaped areas this is a life saver. We also have the option to 'stack' our Pods leaving a much smaller footprint. We feel we have solutions for commercial customers, charities and student accommodation with our rapid build modular buildings. We'd love to hear from you if any of these projects sound interesting to you
http://thepodfactory.ie/contact-us/
The interior layout can also be amended to suit specific requirements. For example, a full kitchen may not be needed in a shared living space, The Pod Factory also offers a kitchenette! Another example is a full bathroom, you may not have a need for it, The Pod Factory offers a toilet and basin! We recently reached out to our friends and followers on social media to ask them what they wanted to know about our Pods. Below we listed the most common questions, there were others, we were flattered with a question 'How can I come work with you guys?'…. We must be doing something right!!! What do our customers ask us? How much are the Pods? Are they easy to finance? Our Pods vary greatly but a starting guide price would be €28,000. We work with finance companies to assist you in applying for finance and providing you with the documentation required to make to process as efficient as possible What are the payment terms? Any finance agreement is not with The Pod Factory directly so terms are set out by the lender. Customers who buy a Pod pay a 50% deposit upon ordering and the balance is paid in the final week of the Pod build How big are they? What are the dimensions? We have so many Pod variations we couldn't possible list them all. However, the most popular Pods at the moment are 17 square meters, 22 square meters and 2 bedroom Pod which is 52 square meters. Our Pods are 3.6 meters wide (7 meters wide for the 2 bedroom Pod) and vary in length. For specific measurements and sizes please feel free to call or message us
http://thepodfactory.ie/contact-us/
Can you add them to existing houses like an extension? Yes you can, please contact us so we can get your specific details and discuss your needs How long will they last? Do they require a lot of maintenance? Our Pods are built the same way houses are built – to last a lifetime. We have designed and engineered each one to endure many weather conditions, each Pod is built using light gauge steel system. They are extremely low maintenance! All products come with their own manufacturers warranty What type of heating is used, is there a choice of heat systems? How cost efficient are the Pods to heat? Because of the way our Pods are designed and engineered (wrapped in airtightness membrane and insulation) they offer a high insulation value. They are easy to heat and the retain any heat generated. The Pods can be heated using any conventional heating system. Currently we are using an electric system with a gas combi for water heating. For convenience we use lpg for the supply of the gas which means it comes from a barrel as opposed to being connected to a main line. The radiators we use are designed to be the most energy efficient radiator available. There are various features and controls built into the radiator programme including PID Intelligent Control that ensures accurate temperature efficiency to 0.2C. This technology is far superior to other forms of heating such as traditional storage heaters and dry element radiators Do I need to apply for Planning Permission? Each County Council varies and there are a number of factors involved. We would advise you to speak to your local planning office. However we construct Pods which are within the size and height restrictions set out Where can I see a Pod? We have 3 beautiful Show Pods on display in Navan, Co Meath. We are open Monday to Friday from 8am until late. We also do Saturday and Sunday viewings by appointment so you can have plenty of time and privacy to view our Pods and ask all the questions! How long will my Pod take to build? Our Pods are considered 'rapid build'. From the day of order confirmation it usually takes 6 weeks. We build our Pods indoors so we are not weather dependent How much time do you spend on site? The standard ground works are completed in a day but as all sites are different we will confirm at the time of the site survey. All other building is completed off site at our purpose build factory so the Pod is delivered to site turnkey ready
Discover More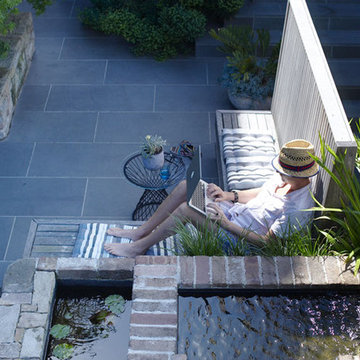 Secret Gardens
This courtyard garden perched on top of a double garage in the hub of Sydney City was overgrown and never used. There was some structure in place but it was bordering on dangerous. The slate was wiped clean, and a consistent palette of materials introduced that provides a rustic but edgy 'town garden' feel. The plant sections respond to the shaded environment and create a cool, soothing place to unwind.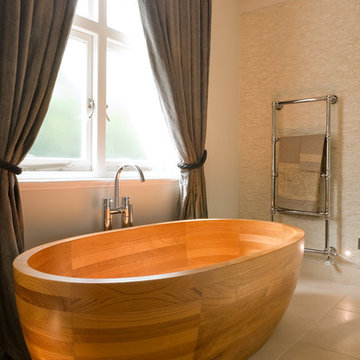 London Basement
Freestanding bathtub - contemporary freestanding bathtub idea in London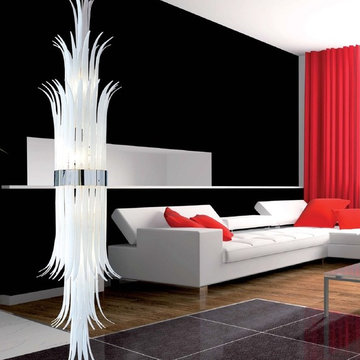 Murano Art Glass Australia
Modern Murano Glass Chandelier for any Home fully customisable in any number of arms, body and trim colour and size. You will never miss another design opportunity and have complete flexibility with design options to match ANY decor solution imaginable. Please contact us via any of the following methods Email - salesandsupport@italiandecor-glasslights.com Web -
http://www.italiandecor-glassights.com
(LIVE CHAT) Skype - shezza64lexy Our Houzz Professional profile is -
http://www.houzz.com/pro/muranoitalianglass/_public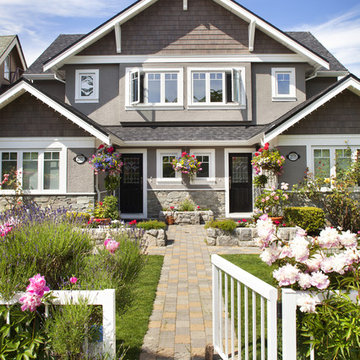 Best Builders ltd
photographer: Ema Peter
Inspiration for a mid-sized timeless gray two-story stucco exterior home remodel in Vancouver

Showing Results for
"Late Payments"