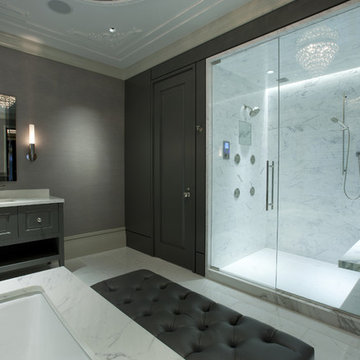 Michael Abrams Interiors
Example of a trendy white tile alcove shower design in Chicago with gray cabinets, an undermount tub and recessed-panel cabinets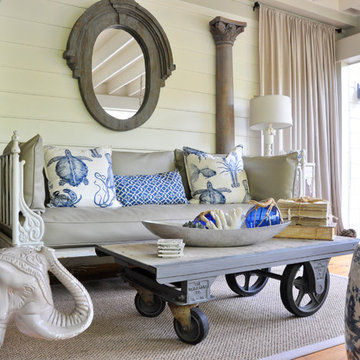 CM Glover
CM Glover Photography © 2013 Houzz
Eclectic porch photo in DC Metro with a roof extension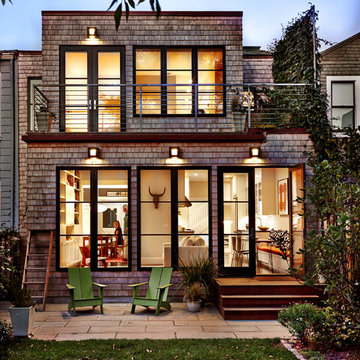 Jeff King & Company
This high durability exterior requires no painting or maintenance over time due to the natural cedar shingles, untreated machiche wood decking, blue stone patio, aluminum clad windows, copper gutters and galvanized railings. Photography: Brian Mahany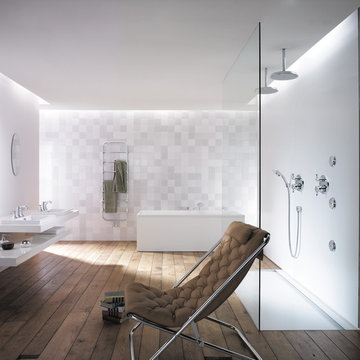 Hansgrohe USA
Example of a minimalist bathroom design in Atlanta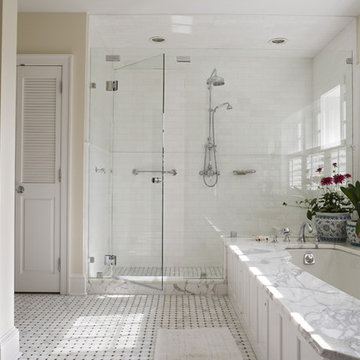 Archer & Buchanan Architecture, Ltd.
Photographer: Tom Crane
Example of a large classic master stone tile marble floor bathroom design in Philadelphia with an undermount sink, recessed-panel cabinets, white cabinets, marble countertops, an undermount tub and beige walls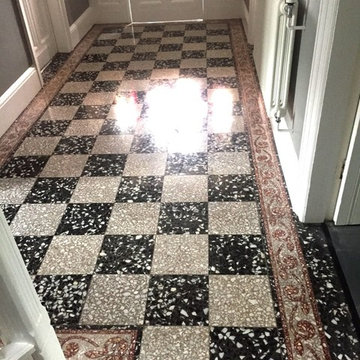 Tile Doctor Ltd
For this job, I paid a visit to the bustling town of Windermere in South Cumbria. My client asked me to refinish a black and white Terrazzo tiled entrance and hallway floor. Terrazzo if you're not familiar is a very interesting and beautiful stone of Italian origin, which has been used for flooring in houses for centuries. We had previously quoted to do the work on this floor however the customer has also received a quote from another firm in Glasgow and had chosen to go with them solely because they were more expensive. However, it stands to reason that the most expensive companies are not always the best quality and Tile Doctor prides itself on the amount of customer feedback we display on our websites which we believe is a far better indicator. On the arranged day no one from the Glasgow firm showed up and after following up with the firm a young man in his early 20s arrived five hours late and began work on the floor. According to the customer he spent three days attempting to complete the job, but ran out of time and asked the client to apply the sealer themselves. The client applied the sealer, but as she had never done it before the floor turned out blotchy in appearance and she was far from happy. To cut a long story short, my client complained to the Glaswegian company, after all she had paid for a full service and not received it. Unable to get a satisfactory conclusion from them she decided to call in Tile Doctor to put the matter right. I must point out that although I have included before and after photos one this post it's really difficult to appreciate the extent of the problem without seeing the floor in real life. To resolve the sealer, and to provide my client with the polished finish she had originally wanted, I burnished the floor using a set of four Tile Doctor Diamond encrusted burnishing pads. Each of the four pads has a different grit: I first applied the coarse pad and worked my way through medium, fine and eventually very fine using a little water to lubricate and rinsing the floor between each pad to remove any residue; after the burnishing process was complete I gave the entire floor a final, thorough wash. I then used a wet-vac machine to extract the water and get the floor as dry as possible before leaving for the day and allowing it to fully dry completely overnight, it's very important that the floor is as moisture free as possible before being sealed as it can affect the final result. The next day I returned to the house and sealed the floor with two coats of Tile Doctor Colour Grow, an impregnating, colour-enhancing sealer that really accentuates the look of the black and white tiles. Now that the problem has been resolved, my client is very happy with the condition of her Terrazzo tiled entrance and hallway floor. Heidi Taylor South Cumbria Tile Doctor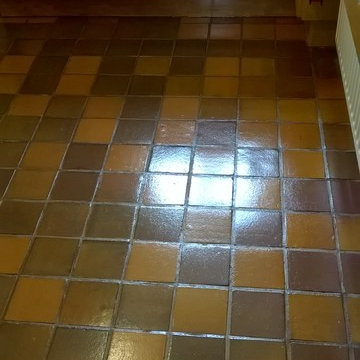 Tile Doctor Ltd
This Quarry tiled kitchen floor was in very good condition, with no cracked or broken tiles. However, my customer, who lives in the town of Tutbury, near Burton-on-Trent, was keen to boost the condition of the tiles further through professional maintenance, including a deep clean and a fresh seal to restore the sheen to the Quarry. NB, did you know it's estimated that Tutbury has actually been inhabited for 3000 years, having once been the site of an Iron Age hill fort, this house of course was a lot more recent. To clean the tiles, I chose to use our tried and trusted alkaline cleaner, Tile Doctor Pro Clean. We use Pro Clean on most types of natural stone floor, including Quarry, Slate, and Victorian. I applied Pro Clean liberally across the floor and left it to dwell for a short period, giving it time to seep into the tile to get underneath and lift out any ingrained dirt. The cleaner was then agitated using a scrubbing pad fitted to a rotary machine to remove the dirt and other general muck. I then rinsed the floor with cold water and soaked up the resulting slurry with a wet-vac machine. Some areas of the floor proved to be quite stubborn to clean, so in these areas the cleaning process was repeated until satisfactory results were achieved. Finally, the floor was given another rinse and left to dry off overnight. The next day I returned to the property and checked that the floor was ready to seal by running several damp tests, with the results indicating that was no excess moisture remaining on the tiles. We carry out these tests before sealing because moisture can cloud the sealer and prevent it from properly protecting the tiles. My choice of sealer was Tile Doctor Seal & Go, a cost effective topical sealer that builds up a robust layer of protection on the surface of the floor and provides a durable sheen finish that, as you can see from the photographs, really lifts the appearance of the tiles. It's a fact that any sealed tiled floor will need to be regularly maintained as sealers do wear off over time, especially in the high traffic areas, and this is when the floor starts to lose its appearance as dirt becomes trapped in the pores of the stone. The life of the sealer can be extended however by ensuring you only clean the floor with a PH Neutral cleaner. Trevor Preeece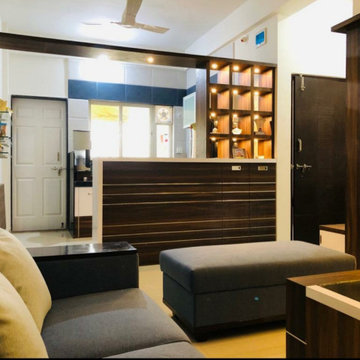 My sweet home designer
My sweet home designer, who established a top interior design firm in 2017, is a well-recognised, leading, and trusted top luxury interior designer at Ichalkaranji who provides comfortable, relaxing, and satisfactory service to their clients in and outside Ichalkaranji. The services offered consist of experience in luxury residential interiors, interior design, interior architecture, building architecture, boutiques, corporate office furniture design, and renovation of old bungalows to give them a modern vocabulary. Civil Interior Work: water work, plastering, waterproofing, and sanitary fittings and fixtures Office furniture: modular furniture, chairs' sitting arrangements Finishing Items: POP and modular ceilings; PVC ceilings; false ceilings: gypsum Flooring: laminated wood; Carpentry: loose furniture, doors, wooden partitions, glass partitions, storages, etc. Visit us at the nearest My Sweet Home Luxury Best Interior Designer Experience for a free consultation. Name- My sweet home designer Mob No- 8087741656 Address- 17/169, Pujari Mala Road, Vivekananda Colony, Pujari Mala, Ichalkaranji, Maharashtra 416115.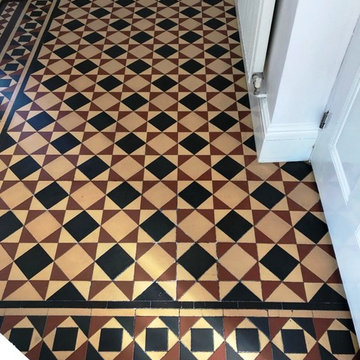 Tile Doctor Ltd
I was recently contacted by the owner of this Minton Victorian tiled floor in Kidderminster. The tiles had been covered over with carpet which I suspect was due to some the tiles being missing. Now uncovered it was stained with glue and carpet underlay was still stuck to the tiles in places. The owner was keen to have the floor fully restored including replacing damaged and missing tiles. We can replace missing or damaged tiles however the problem with old Victorian floors is finding matching replacements due to the unique patterns that many have. Fortunately, due to the popularity of Victorian tiles there are several suppliers who sell reproductions and occasionally you can find originals on ebay. I went over to survey the floor an could see the tiles were certainly in need of some love and care. As part of the visit I carried out a test clean on a patch of the floor and the results were very satisfactory, so the owner asked me to go ahead. On the day of arrival my first job was to spray the floor with neat Tile Doctor Remove and Go, this is a powerful cleaner/stripper which set to work on removing the glue and carpet underlay, this product will also remove any old sealer. I then left the solution to dwell and worked the chemical in with my buffer and a black pad removing the slurry with a wet and dry vacuum. The tiles were then treated to an acid wash using Tile Doctor Acid Gel to further clean them and counter any potential efflorescence problem which is a problem with floors of this age that were installed without a damp-proof membrane. The product was scrubbed into the tile and grout, rinsed off with water and then extracted with the wet vacuum. Once the floor was clean, I checked the colour of the tiles so I could cut and replace the missing section. I had managed to source some tiles that were a close match and set about cutting all the tiles to size and then fitted them using a flexible rapid set adhesive. The newly laid tiles needed to set, and the floor needed to dry out before we could apply the sealer. The floor was left to dry overnight, on my return in the morning I tested the floor with a damp meter to check the moisture levels and ensure it was dry enough for sealing. I was satisfied it was dry so was able to proceed and seal the floor. Five coats of Tile Doctor Seal and Go Extra were applied which takes a lot of time as you need to wait for the previous coat to dry before applying the next. This product is a semi-gloss breathable sealer which gives a nice sheen to the tiles and fully protects them. It really allowed the colours and detail of the pattern to shine through and being breathable it will cope with any moisture rising though the floor. The client was very happy with the overall finish and was really pleased that the Victorian tiles were now restored to their original appearance. It a fact that original features like these are in demand and add a lot of value to a property. Mark Conway Worcestershire Tile Doctor

Showing Results for
"Satisfactory Water"