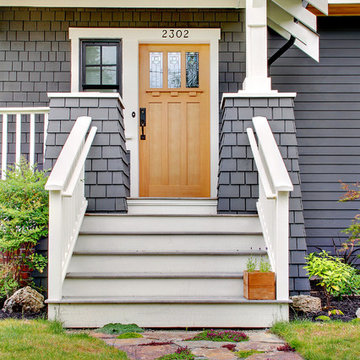 RW Anderson Homes
Example of an arts and crafts entryway design in Seattle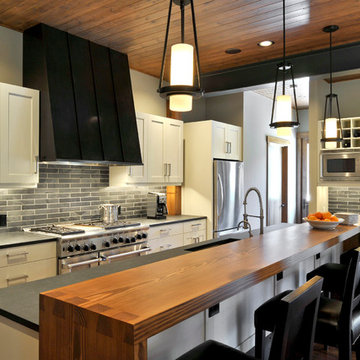 Clinkston Architects
The collaboration between architect and interior designer is seen here. The floor plan and layout are by the architect. Cabinet materials and finishes, lighting, and furnishings are by the interior designer. Detailing of the vent hood and raised counter are a collaboration. The raised counter includes a chase on the far side for power. Photo: Michael Shopenn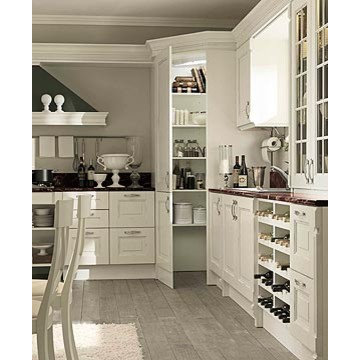 European Spaces
Kitchen - traditional kitchen idea in Miami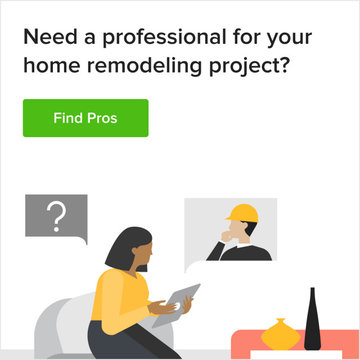 Find top design and renovation professionals on Houzz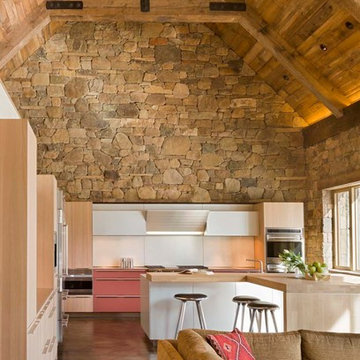 Zone 4 Architects, LLC
David O. Marlow
Mountain style galley open concept kitchen photo in Denver with flat-panel cabinets, stainless steel appliances, light wood cabinets and white backsplash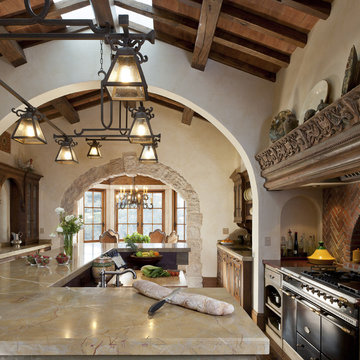 John Malick & Associates
Mediterranean Equestrian Estate Architect: John Malick & Associates Photographs © 2012 Rusell Abraham
Tuscan kitchen photo in San Francisco with black appliances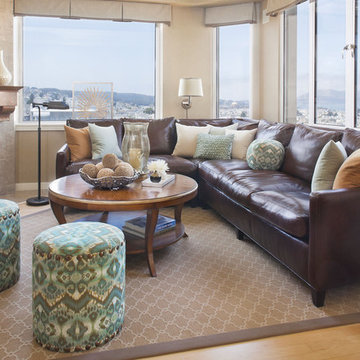 Brian Dittmar Design, Inc.
Russian Hill penthouse apartment with stunning views of San Francisco Bay mixes the best of the west with touches of the far east to create a tranquil pied-à-terre for a busy family. Photos by Peter Medilek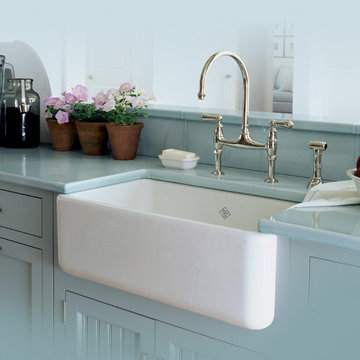 Pacific Coast Kitchen & Bath
Rohl Single Bowl Fireclay Apron Kitchen Sink
Inspiration for a timeless kitchen remodel in San Luis Obispo with a farmhouse sink, recessed-panel cabinets, blue cabinets and laminate countertops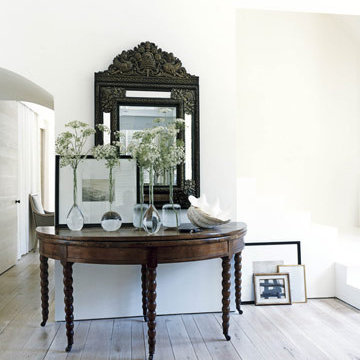 Stacie Velten
advertisement Neutrals Are Crisp Black, white, and a flash of purple brighten up this Alabama home. By Frances Schultz 2 of 22 advertisement FRANCES SCHULTZ: Well, you sure can't predict a decorator's style by her accent — Alabama, lovely and lilting, in your case. Somehow I expected ruffles and prints and your Great Aunt Bessie's sideboard. Maybe you'd better start at the beginning. BETSY BROWN: Frances, honey, it all started down on Granddaddy's plantation the summer I was 13....No, actually that's not how it went, but the truth is just as much of a cliché: My mother was an antiques dealer and obsessed with design. When we were little, my sisters and I thought she was having an affair with some guy named Billy Baldwin. My friends all had proper pastel floral bedrooms, but mine was designed around a recamier covered in a great tiger print. So between Mama and Mr. Baldwin, I was hooked. So Billy Baldwin was your mother's design idol. Who is yours? My idols are fearless originals: Andre Arbus, Frances Elkins, Jean-Michel Frank, Serge Mouille, Alberto Pinto, Albert Hadley, Frederic Mechiche, John Saladino, Angelo Donghia, Christian Liaigre. The house is unusual. What's its story? It's really just a small stone cottage that was probably built around 1920, in the Mountain Brook area of Birmingham. I live here with the youngest of my three daughters, Collier. I wanted something unpretentious and straightforward but also a simple, modern background. Architect Paul Bates and Jeremy Corkern helped reduce the interior to its most basic elements. The floors are big planks of reclaimed oak, the doors and cabinetry are limed oak, and all the walls are the same soft off-white. What possessed you to put a parterre garden right in front? A modern parterre felt fresh and unexpected. We took down a thick stand of damaged pine trees to make space for it. It's so architectural, like your interiors — a quality your predominantly neutral palette seems to emphasize. Is that delibera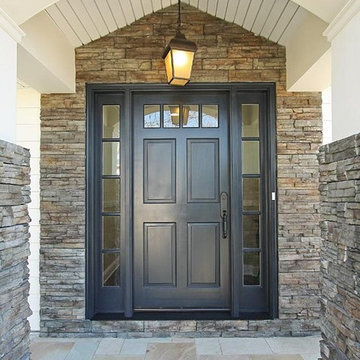 CCForteza
Example of a classic entryway design in Los Angeles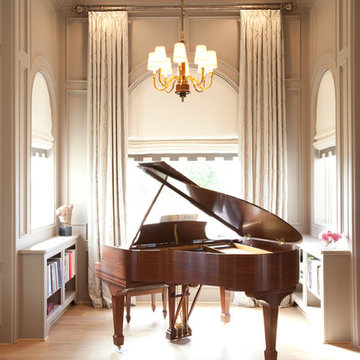 Dodson Interiors
Inspiration for a timeless family room remodel in Houston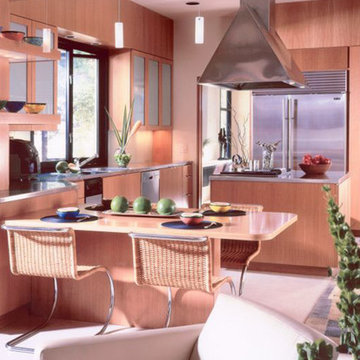 Hayslip Design Associates
Hayslip Design Associates worked closely with the homeowner, a noted author and art dealer, to realize this contemporary kitchen. A play of linen colored stone, creamy terrazzo, natural textures and blond woods create a totally modern, yet warm and inviting space. The straightforward design relies on fine proportion and human scale to enhance a sense of comfort amidst the austerity of the furniture and surfaces.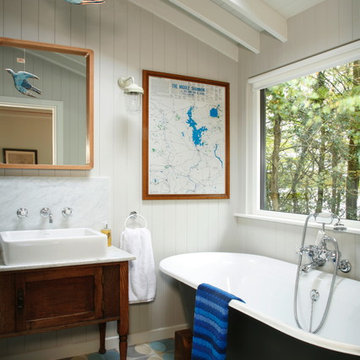 Egon Walesch Interior Design
Alison Hammond Photography
Example of a classic beige tile, blue tile and gray tile freestanding bathtub design in London with furniture-like cabinets, white walls and a vessel sink

Showing Results for
"Straightforward Dealer"