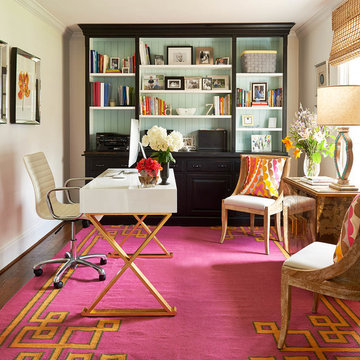 Clark and Clark Interiors
Photography by Dustin Peck Photography
Inspiration for a timeless freestanding desk dark wood floor study room remodel in Charlotte with beige walls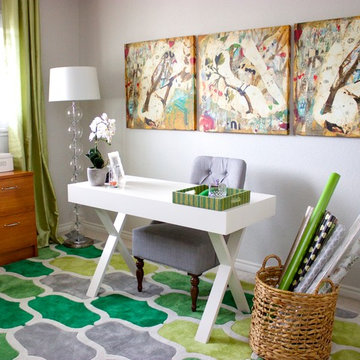 Atterholt Interiors
Small, contemporary home office and craft room. The client loved greens, oranges and nature-inspired accessories. Photo by Jamie Atterholt
Mid-sized trendy freestanding desk green floor craft room photo in Los Angeles with gray walls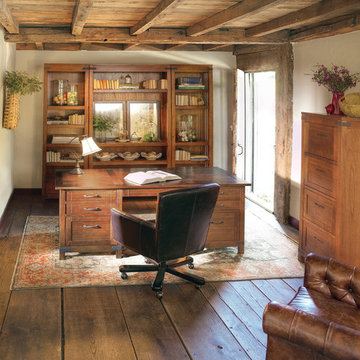 Arhaus
The Bentley Collection is inspired by the Campaign style of the 18th and 19th centuries. The original Campaign designs were crafted for the gentlemen officer class of the British army. With sea voyages that typically lasted over three months and journeys that ranged from tropical jungles to scorching deserts, ease of transport and assembly were essential considerations in the design. The officers, accustomed to the best, required their traveling furniture in high style. Thus, the living room and bedroom suites that graced their tents would also be perfectly suitable in a fashionable London townhouse. Campaign furniture helped make life "under canvas" feel like home. In a modern day sense, this collection can do the same for you. Of course, you can't fold the Bentley pieces for easy transport, but the concept remains the same: functional details help define successful style. Arhaus Furniture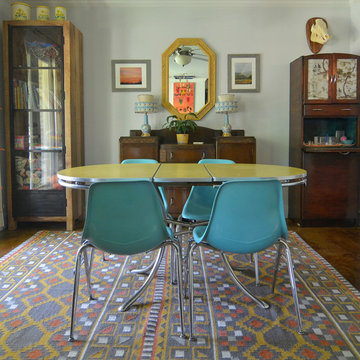 Sarah Greenman
Photo: Sarah Greenman © 2015 Houzz
Dining room - dining room idea in Dallas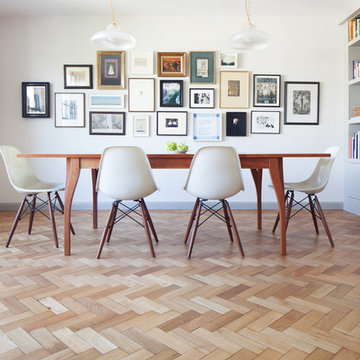 100% Design
2015 has been an exciting and multi-award winning year at The Reclaimed Flooring Company. Not only have they sourced incredible new timbers from around the world but have worked tirelessly to redefine the standard in bespoke flooring through their specialist and sought after colouring techniques. The quality and construction of both the reclaimed timbers and new oak platforms are second to none and as a company that likes to challenge the limits of design and quality they have developed an exceptional new Trade Only line comprised of several natural and contemporary colours and constructed with 100% European made materials. This exceptional Trade Only line is ideal for hospitality and large scale commercial projects combining beautiful colours with the highest quality WPB birch ply engineered boards at the most competitive trade price in the market. New product range This year has also seen the arrival of The Reclaimed Flooring Company's new line Industrial Chic which uses the finest European solid oak boards that have been finely calibrated to display industrial style surface undulation. This high-end line offers natural yet modern tones that combine the texture of softly brushed oak with luxurious finishes, bridging city prestige and provincial charm. Officially launching in September this truly bespoke flooring is sure to strike a chord across all design fronts. Look closer After a successful participation in last years 100% Design, The Reclaimed Flooring Company is back again this year with an even bigger, bolder and interactive presence! While many admire the beauty of reclaimed wood very few understand its unique qualities and the extent of its full potential. They seek to change that. Through the Look Closer campaign they will not only challenge the way you view wood but inspire you to respect and admire this material in an entirely new light. The Reclaimed Flooring Company believes there is no superior product in the market and encourage anyone to stop by and take a Look Closer. Currently they are expanding their presence internationally with selected products available in Sweden and Los Angeles. 2016 will be a big year for RFC as they officially launch their USA presence in Las Vegas in the countries biggest surfaces trade event.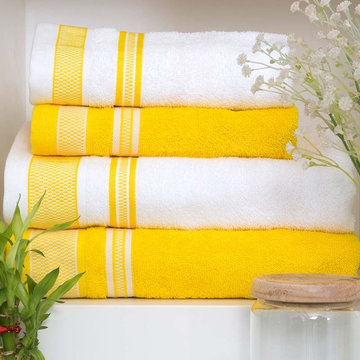 Short Stay Directory
Why the yellow and white bath towels? Because the colour is cheery and complimented the grey interior of this modern home. They also became the signature colour to the properties advertising campaign, making it easy for guests to remember it. www.shortstaydirectory.com.au A success story from Short Stay Directory. This property rented at approximately $850 per night and was fully booked within 2 weeks. Guests loved the location and quality fit out, rating it 5 stars for every booking. If you would like more information about how to set your property up please contact us hello@shortstaydirectory.com.au

Discover More
Showing Results for
"Successful Campaign"