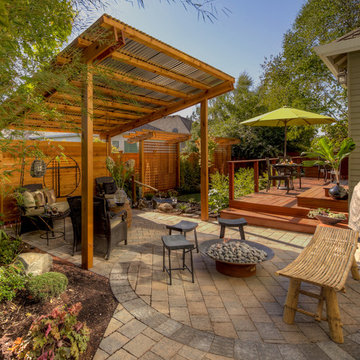 Paradise Restored Landscaping & Exterior Design
Bamboo water feature, brick patio, fire pit, Japanese garden, Japanese Tea Hut, Japanese water feature, lattice, metal roof, outdoor bench, outdoor dining, fire pit, tree grows up through deck, firepit stools, paver patio, privacy screens, trellis, hardscape patio, Tigerwood Deck, wood beam, wood deck, privacy screens, bubbler water feature, paver walkway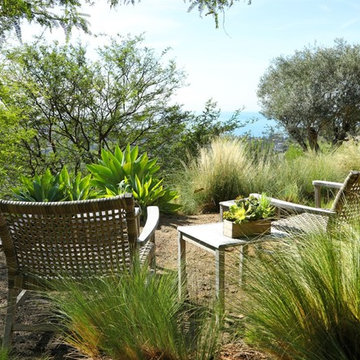 Corbin Reeves Construction
Design ideas for a huge contemporary partial sun backyard mulch landscaping in Orange County for spring.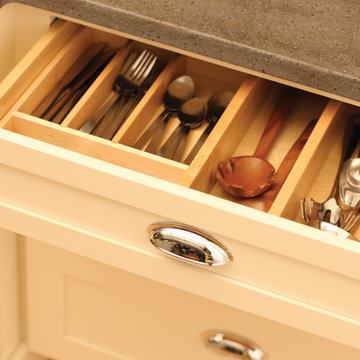 Dura Supreme Cabinetry
Reminisce about your favorite beachfront destination and your mind's eye evokes a serene, comfortable cottage with windows thrown open to catch the air and the relaxing sound of waves nearby. In the shade of the porch, a hammock sways invitingly in the breeze. The color palette is simple and clean, with hues of white, like sunlight reflecting off sand, and blue-grays, the color of sky and water. Wood surfaces have soft painted finishes or a scrubbed-clean, natural wood look. "Cottage" styling is carefree living, where every element conspires to create a casual environment for comfort and relaxation. This cottage kitchen features Classic White paint with a Personal Paint Match kitchen island cabinets. These selected soft hues bring in the clean and simplicity of Cottage Style. As for hardware, bin pulls are a popular choice and make working in the kitchen much easier. Request a FREE Dura Supreme Brochure Packet:
http://www.durasupreme.com/request-brochure
Find a Dura Supreme Showroom near you today:
http://www.durasupreme.com/dealer-locator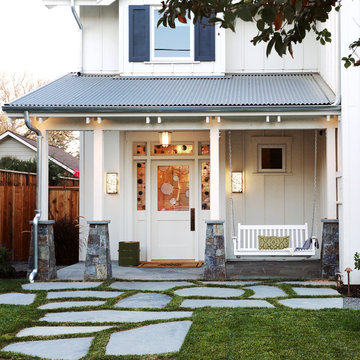 Forum Phi Architecture | Interiors | Planning
Entry
Mid-sized farmhouse stone front porch photo in Denver with a roof extension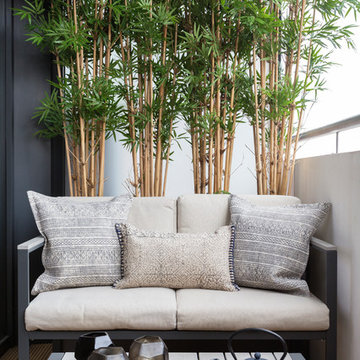 Zulufish
Balcony - mediterranean balcony idea in London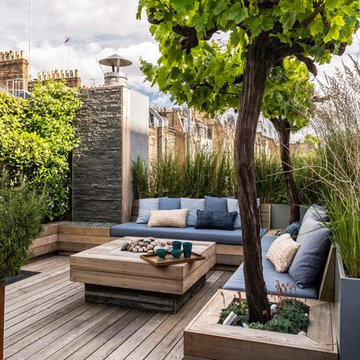 Adolfo Harrison Gardens
Photo by Andreas von Einsiedel einsiedel.com
Inspiration for a contemporary rooftop rooftop deck container garden remodel in London with no cover

Showing Results for
"Tea Swaying"