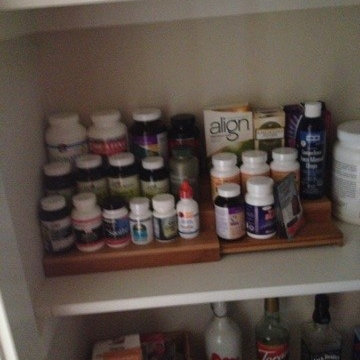 Neat Method San Diego
Example of a kitchen design in San Diego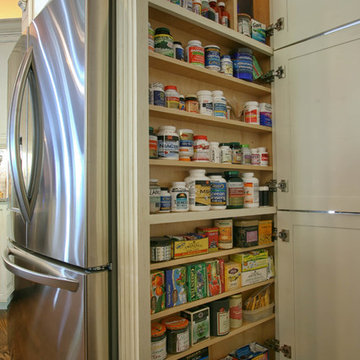 Walker Woodworking
This homeowner wanted to make use of every possible space available so we added panels on the end that open into shallow adjustable shelves. This is ideal from storing spices to multivitamins and other small items that tend to get lost in larger pantries. WW Photography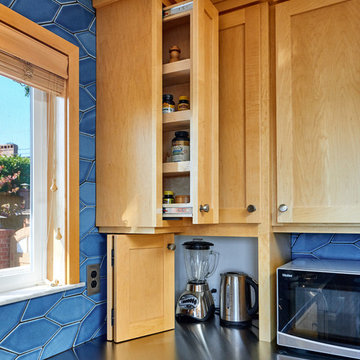 Powell Construction
Details: A pull-out pantry upper cabinet provides for handy storage of vitamins and supplements, allowing them to now be off the counters. An appliance garage with its fold-away door provides a spot to store often-used items. At right, the microwave sits at a readily accessible level on the counter, below a deeper than normal cabinet (to better surround the oven), per the client's request.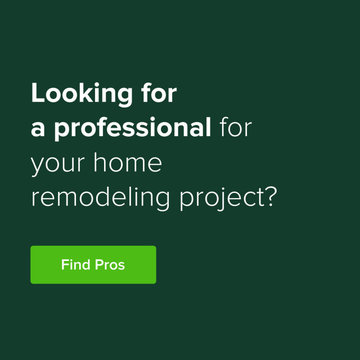 Find top design and renovation professionals on Houzz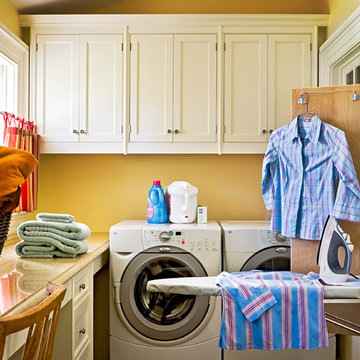 Crisp Architects
Country Home. Photographer: Rob Karosis
Elegant laundry room photo in New York with white cabinets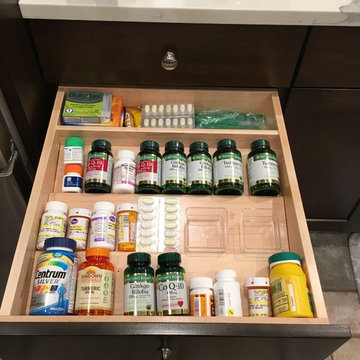 Bay Area Kitchens
This drawer keeps meds and supplements organized.
Kitchen - transitional kitchen idea in Houston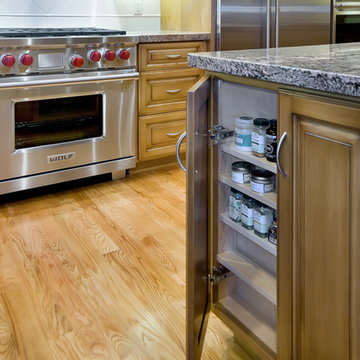 Bill Fry Construction - Wm. H. Fry Const. Co.
Large elegant u-shaped medium tone wood floor open concept kitchen photo in San Francisco with an undermount sink, raised-panel cabinets, medium tone wood cabinets, granite countertops, white backsplash, porcelain backsplash and stainless steel appliances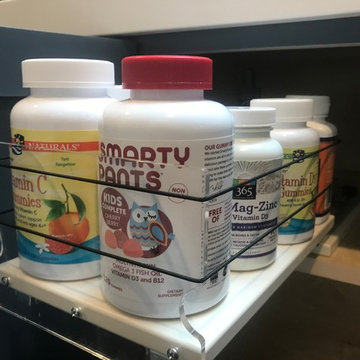 All Buttoned Up - Smart Organization Solutions
The storage of medicines and vitamins is often a request we get at All Buttoned Up. There are several options - in this home we used a spice Organization solution For the families supplements. This is very user friendly and looks great.

Visit Showroom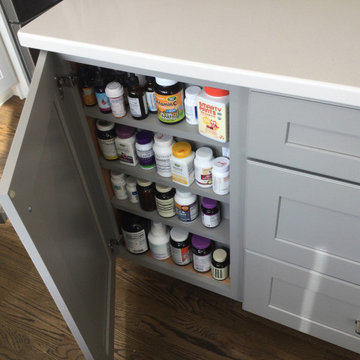 Rockland Interiors Incorporated
There is no need to clog up valuable cabinet storage by creating a shallow vitamin cabinet. All it takes is a 3" deep space on the end of the island.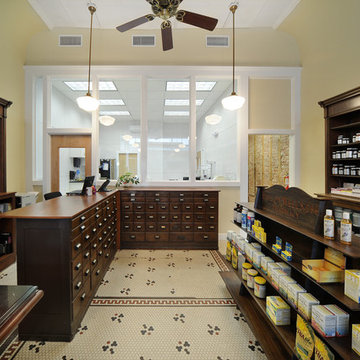 Old Saratoga Restorations Incorporated
When Menges & Curtis Pharmacy opened during the height of the Industrial Revolution on Saratoga Springs' main street, its druggists mixed tinctures and remedies to their own formulas, examined and treated patients and even applied leeches if it was deemed appropriate. By 2010, the family that had owned the Menges & Curtis for the past 50 years was struggling with the conventional pharmacist's lot in modern life: handing out prepared medications for an increasingly lower insurance reimbursements, and trying to make up the difference by selling spa and personal care products. All the while, M&C's traditional clientele was drifting away to chain drugstores, supermarkets and retailers such as Walmart stores, which were dispensing medications at low margins to lure shoppers into their aisles while they waited for their prescriptions. The owner restructured his business plan, selling his traditional pharmacy assets to a chain and creating a partnership with a "compounding shop" in Latham to go back to time-honored methods of creating personally formulated nutritional and vitamin supplements, hormone balancers and natural wellness herbal extracts for preventative health maintenance, chronic illnesses, veterinary and pediatric care. Now a new business with an old-school ethos, Fallon Wellness Pharmacy needed substantial renovations to its iconic storefront in the S.W. Ainsworth Building in Saratoga's Broadway Historic District. The low ceilings made the space feel cramped, and storage was ineffective. The new partners called upon Old Saratoga Restorations to project manage a complete modernization of the space, adding graceful private consultation rooms and compounding labs to comply with health and safety codes, while respecting the integrity of the ornate High Victorian 1871 brick commercial block building.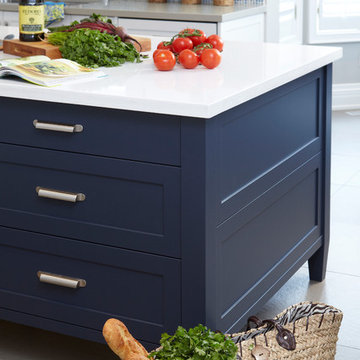 Sealy Design Inc.
Kitchen - contemporary kitchen idea in Toronto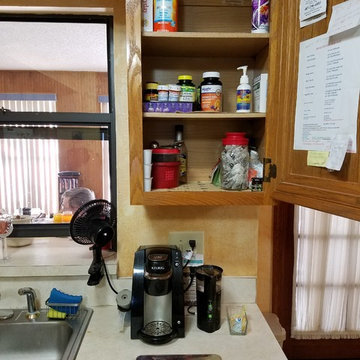 Brianna L. Celeste
This space was a tad chaotic; originally hosting the husbands tapes, glues, fabric paint, vitamins and more. We re-invented this space as their vitamin, coffee and tea station with a little extra room to store their pet's vitamins and supplements too. -Brianna Celeste

Showing Results for
"Vitamin Supplementation"