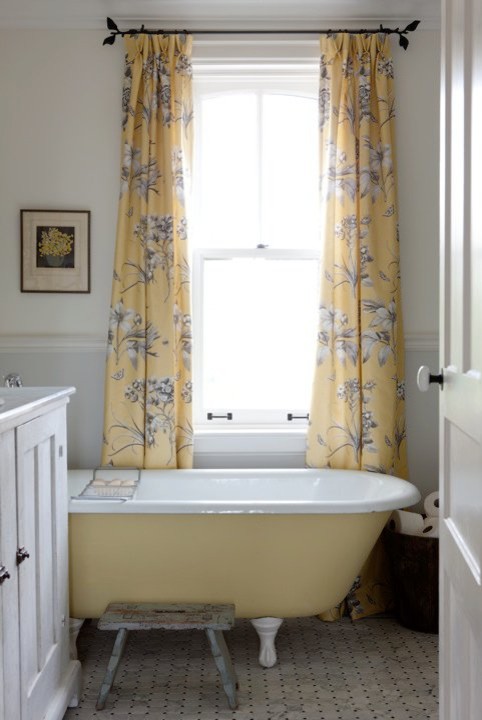 Sarah's House's Photos - Sarah's House: Season 3 | Facebook
Keep me logged in Forgot your password? Sign Up Facebook helps you connect and share with the people in your life. Sarah's House's Photos - Sarah's House: Season 3 Previous Next Click on people's faces in the photo to tag them. Main Bath - $200 antique claw foot tub, graphite and yellow Photography by Stacey Brandford Added March 24 · Comment · Like Stephanie Siemens This makes me want to take a really long bubble bath! March 24 at 8:23am March 24 at 8:30am Tynna Thompson-Adshead omg sooooo inviting !!!! March 24 at 8:30am Rhonda Hoffman Sorochan Everything looks great- I hadn't noticed the curtain rod before, and I really love it! I enjoyed Tommy's comment about off-black, graphite was definately the way to go for this space. March 24 at 8:35am Eva Gerardi Smith I can't wait for this season to come to my hgtv. We're on the back split. Great job! March 24 at 8:36am Jessica Jones-Coggins Love the curtains March 24 at 8:36am Emily Barca-Jasiewicz The colour of the tub is awesome, it totally sets the tone of the room, giving it a laid back country feel March 24 at 8:59am Jo Ann Blais gorgeous!!!...would've liked to see tub finished professionally, considering what a buyer would have to pay for the finished house. March 24 at 9:19am Lindy Isner This is the exact same tub my parents have in their 220 year old house! It's SOOO nice soaking in it. The condition of the tub itself wasn't that great (though there was no rust on the tub, however, it just looked very sad) so they had it re-enameled and painted the base like you have and it looks beautiful. I'm glad you were able to find an authentic clawfoot tub -- in great condition at that! It suits the house/room well! March 24 at 10:00am Susan Miller Raisch Love it! The window treatments are gorgeous. March 24 at 7:57pm April 22 at 8:43pm April 23 at 8:33am Pam Allison gorgeous !! :) April 24 at 3:23am Christine O'Neill So lovely, the curtains and tub, perfecto! April 28 at 9:48am Type any name or tag: or choose a person:
What Houzz contributors are saying

Janell Beals - House of Fifty

added this to

The Elegant Look of Draperies in the Bathroom
November 11, 2015
This sweet bathroom just wouldn't be the same without the yellow floral panels hung behind the claw-foot tub in a...
What Houzzers are commenting on

Jill Tyler

added this to

Bathroom
December 25, 2019
Drapes, calm light colors