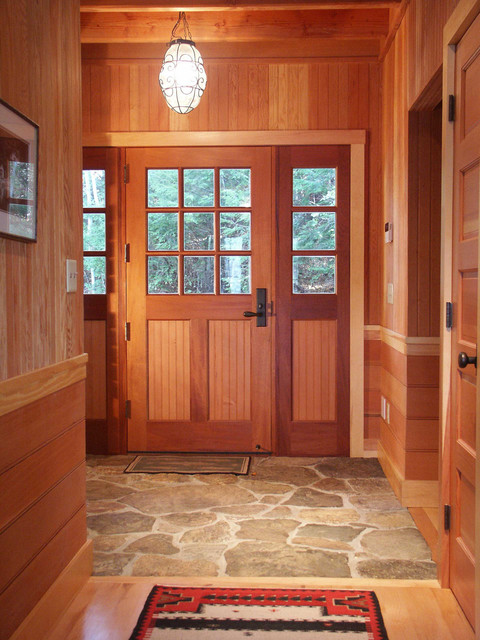 Silver Lake Retreat
Rustic Entry, Boston
This project is a vacation home for a longtime Battle Associates' Client. On a piney shoreside, this house is a graceful bowing to the lake. It was designed for a family of five to enjoy year round. The expansive porch accommodates large gatherings, yet retains an intimate, cozy feel. Client – "I wanted a house where great memories could be made, with special things built into it that my kids would always remember. John Battle did that for us." Entry hall with stone floor. Very rustic, humble feeling.
Example of a large mountain style limestone floor and gray floor entryway design in Boston with a medium wood front door and brown walls — 
Houzz
Related Professionals in Boston
What Houzz contributors are saying:

Pangaea Interior Design, Portland, OR added this to 20 Great Examples of Transitions in Flooring
Jul 28, 2011
Entryways are a common area where we find ourselves wanting to change flooring. Stone or tile can stand up to moisture and mud tracked in from outside, but hardwood is still the most popular flooring material for the rest of the house. This entryway has two logical transition points at the openings to the hallways. The colors in the stone also pick up the tones in the wood which makes the two materials look good right next to each other.