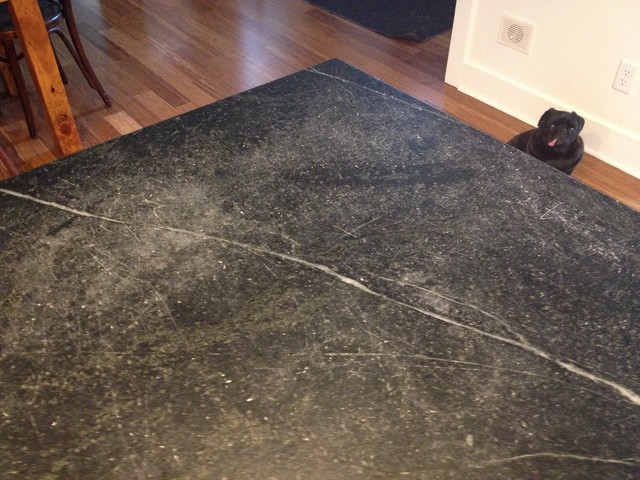 Soapstone counters
Farmhouse , Grand Rapids
Example of a cottage home design design in Grand Rapids — 
Houzz
What Houzz contributors are saying:

Alison Hodgson added this to Soapstone Counters: A Love Story
Jun 2, 2014
This is the opposite corner of the island and a popular landing place as we come in from the mudroom or the front door. Note the discoloration on the left side. There are similar markings around the faucet, but I think I'm the only one who notices them, and even then only when all the lights are on. A quick oiling would take care of them.If discoloration and markings bother you, you probably will need to oil more frequently. If you're telling yourself that constant oiling could keep the counters free of these markings, I recommend you think very carefully about installing soapstone countertops. They will never be perfect, but that's exactly what those of us who love them most appreciate. We call it character.Even so, as I said, the chips and gouges do feel like imperfections. But everything else balances out in favor of soapstone, and I couldn't be happier with my choice.
What Houzzers are commenting on:

katelegge added this to kitchen counter materials
Nov 12, 2015
like the veining. not as many "specks" of white, but sort of "chalkboard-erased" areas, like top left, might be OK
slebo17 added this to Kitchen Ideas
Jul 20, 2015
Note the discoloration on the left side. There are similar markings around the faucet, but I think I'm the only one who notices them, and even then only when all the lights are on. A quick oiling would take care of them