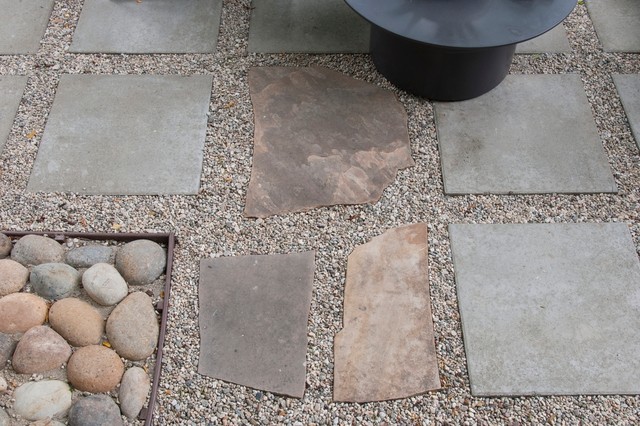 Tarzana Contemporary
Contemporary, Los Angeles
Detail of new patio including a grid of concrete pavers; warm-colored flagstone was re-used and introduced into the new seating area to play off the geometry as a touch of wabi sabi. The same honey-colored tones are seen in the river stones surrounding the patio's central cassia tree.

Photo by Martin Cox
Trendy home design photo in Los Angeles — 
Houzz
What Houzz contributors are saying:

Lauren Dunec Design added this to How to Select the Right Gravel for Your Garden
March 23, 2018
Getting StartedFirst, we'll walk you through seven questions that will help you decide on the best type of gravel for your garden. Then, we'll go into the material details of four common types of gravel: pea gravel, crushed rock, decomposed granite and path fines, as well as drain rock.

Lauren Dunec Design added this to 6 Ways You Can Save on Your Garden Renovation
April 4, 2017
"Be mindful of your paving choices early in the design process, as these can range dramatically," says landscape architect June Scott. "Treatments such as gravel are relatively inexpensive, as both a material cost and labor to install, compared to mortared-in stone, which can be quite high," she adds.

Lauren Dunec Design added this to What to Know About Installing a Walkway of Pavers and Pebbles
October 13, 2016
Gravel and pebbles. In general, select gravel or pebbles that complement your pavers. For a subtle look, choose gravel that picks up the colors of the paving stones. Pale pavers paired with dark gravel (or vice versa) creates a more dramatic garden path. Gravel: The cost of gravel varies by type of rock and size of stone as well as what is more widely available per region. Decomposed granite (also called "granite fines") have the smallest particle sizes, while coarse gravels can have rocks over an inch wide.Pea gravel: This attractive gravel is widely available and has a satisfying crunch underfoot. One drawback: The rounded pebbles tend to travel up onto pavers.Mexican beach pebble and polished river rocks: Larger rocks have a chunky, tactile quality between pavers and the added benefit that their weight keeps them from traveling.How to Choose the Right Gravel for Your Garden
What Houzzers are commenting on:
ABC Architecture added this to Low Maintenance Garden
July 15, 2019
In general, hardscape areas like pathways and patios are much more expensive in terms of materials and installation than planted areas. Significantly cut down on your costs by choosing less expensive hardscape materials, or consider planting more areas.