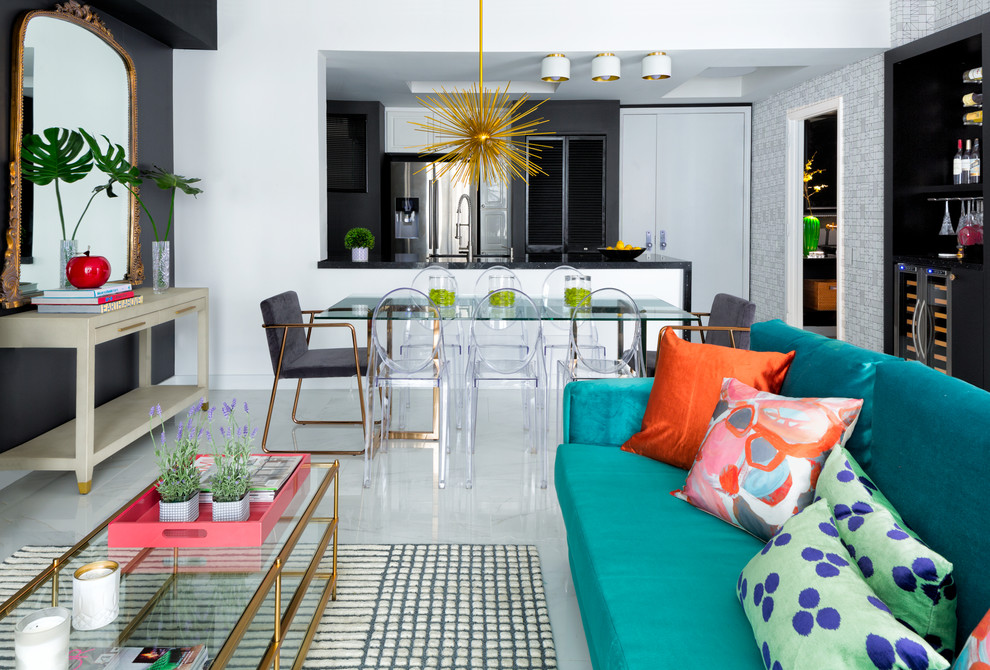 Tequesta Brickell Key Residence
Eclectic Living Room, Miami
Feature in: Luxe Magazine Miami & South Florida Luxury Magazine If visitors to Robyn and Allan Webb's one-bedroom Miami apartment expect the typical all-white Miami aesthetic, they'll be pleasantly surprised upon stepping inside. There, bold theatrical colors, like a black textured wallcovering and bright teal sofa, mix with funky patterns, such as a black-and-white striped chair, to create a space that exudes charm. In fact, it's the wife's style that initially inspired the design for the home on the 20th floor of a Brickell Key high-rise. "As soon as I saw her with a green leather jacket draped across her shoulders, I knew we would be doing something chic that was nothing like the typical all- white modern Miami aesthetic," says designer Maite Granda of Robyn's ensemble the first time they met. The Webbs, who often vacation in Paris, also had a clear vision for their new Miami digs: They wanted it to exude their own modern interpretation of French decor. "We wanted a home that was luxurious and beautiful," says Robyn, noting they were downsizing from a four-story residence in Alexandria, Virginia. "But it also had to be functional." To read more visit: https:
https://maitegranda.com/wp-content/uploads/2018/01/LX_MIA18_HOM_MaiteGranda_10.pdf
Rolando Diaz
Inspiration for a small eclectic formal and open concept porcelain tile and white floor living room remodel in Miami with black walls
What Houzzers are commenting on
Jody Kaiser

added this to

Craftsmen Modern
May 4, 2021
Colorful. Trad mirror w/ modern table.