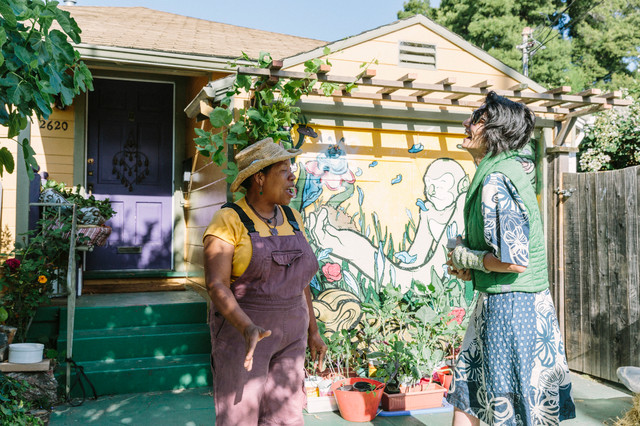 Urban Homesteading Berkeley
, San Francisco
Photo: Lauren Edith Anderson © 2016 Houzz
What Houzz contributors are saying:

Annie Thornton
added this to
To Get the Food They Believe In, These Urbanites Grow Their Own
City farmer Wanda Stewart, left, chats with neighbor Jamie Morf in front of Stewart's home in Berkeley, California. Morf had just picked up a dozen eggs from Stewart's mini farm. "I want to give my money to the people who are growing my food," Morf says. At 7:45 on a morning in May, Wanda Stewart is tending the mini farm at her home in Berkeley, California. Chayotes, kale, peppers and fruit-laden lemon trees poke their heads over the picket fence. Pots of collard greens wait to be planted or distributed to neighbors. Birds chirp, a steady stream of kids on bikes ride by on their way to school, and Stewart's dog, Angel, greets everyone who passes by with a friendly bark. Landscape architect Jamie Morf is on her way to work and stops to pick up a dozen eggs laid by Stewart's chickens. They catch up for a few minutes, and then Morf drives off, leaving Stewart to prep for an urban farm tour featuring her garden and seven others — a tour she looks forward to every year. "It's a great way to meet people," she says, "and it promotes what I do and what I believe in."Stewart, who has grown produce and raised chickens on less than one-tenth of an acre in Berkeley for nearly a decade, is part of a wider community of urbanites around the world bringing agriculture back to the city. Apartments in a new Tokyo housing complex come with their own edible garden plots, New Yorkers are turning rooftops into mini farms, and a company in London is growing micro greens and salad leaves in underground World War II air-raid shelters. Cities on the east side of San Francisco Bay in particular are becoming known for industrious residents committed to using their yards to produce most of their groceries, from herbs and vegetables to eggs, milk and meat.
What Houzzers are commenting on: