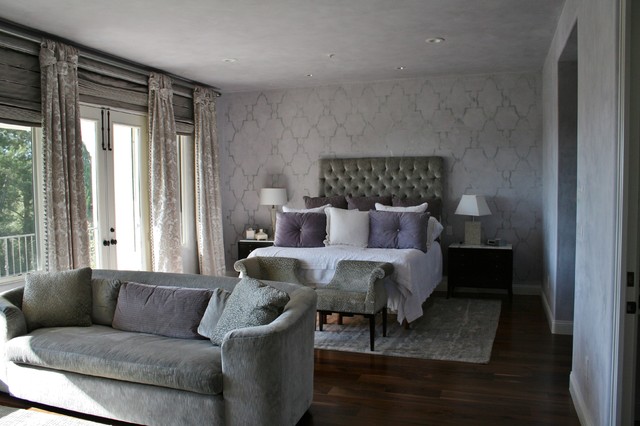 Venetian Plaster - Headboard Wall Art
Contemporary , Orange County
Intention Wall, Headboard Wall - Silver Leafed, Venetian Plaster, Accent Art Wall
Newport Coast, CA

This client hired us to perform Venetian Plasters throughout their Master Suite. The richness of fabrics and décor literally begged for just a teeny bit of additional drama to their headboard wall as a backdrop to their new large gray tufted velvet headboard. The plasters were in a silvery soft lavender purple. The pattern was to be silver leafed underneath a layer of Venetian and sanded back to flicker just oh so softly here and there.

It worked. Additionally, this wall became an intention wall, or a dream board for my client's wishes and dreams for herself and her family. She asked for peace & tranquility, serenity, happiness, playfulness & confidence for herself and her children. It began working quite rapidly.

Please visit our project files at Jacqueline Coburn's Interior Art to see views of more things you can do with paint than you can imagine. Award-winning backdrop designs in the form of Venetian Plasters, Trompe L'oiel, faux stone, wood & furniture finishes, gilding, wall glazing, faux finishes and lots of fun artistic creations. We hope to inspire you through conscious design!

Example of a trendy home design design in Orange County — 
Houzz
What Houzzers are commenting on: