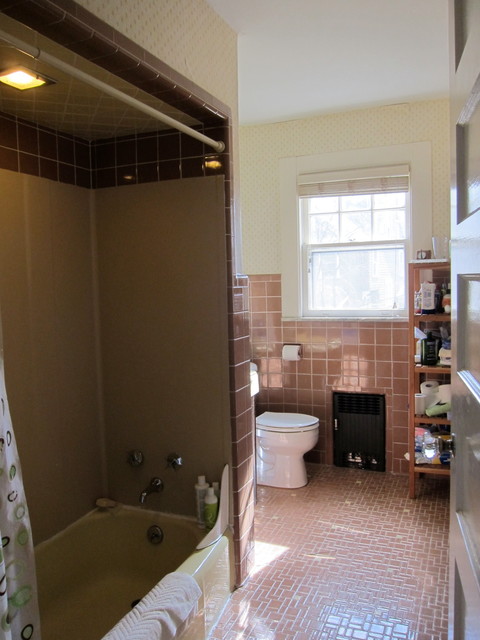 Vintage Apothecary Bathroom
Craftsman , New York
What Houzz contributors are saying:

Becky Harris added this to Before and After: 19 Dramatic Bathroom Makeovers
Sep 14, 2015
2. Dilapidated 1970s Bathroom Gets Inspiration From a Dilapidated Mansion BEFORE: The state of the bathroom in this 1912 Colonial-style home in New Jersey was sending the whole family up to the third floor to use the facilities because they couldn't stand the cracked tiles, 12-inch-high tub, awkward layout and dated colors in the main bath. While walking through a once-grand old house during an estate sale and seeing its fabulous colors and tile patterns, homeowner Jody Suden had a clear vision for the bathroom makeover in her own home.

Becky Harris added this to Room of the Day: A Family Bath With Vintage Apothecary Style
Nov 6, 2014
Photography by Wing Wong, Memories TTL Room at a GlanceWhat happens here: Lots — this is the main family bathroom for Jody Suden, husband Derek Stordahl and their 2 young sonsLocation: In a colonial home built in 1912 in Montclair, New JerseySize: 60 square feet (5½ square meters)Tip: If you're gutting a bathroom, plan ahead and add sturdy grab bars or at least the structure behind the walls to support them.BEFORE: "Our family bathroom was so bad that I would go all the way up to the third floor to use that one, because I couldn't stand it," Suden says. Tiles in the taupey brown and yellow room had cracked and fallen, and it had a claustrophobic layout, including a 12-inch-high tub (with shower) with a drop ceiling.
What Houzzers are commenting on: