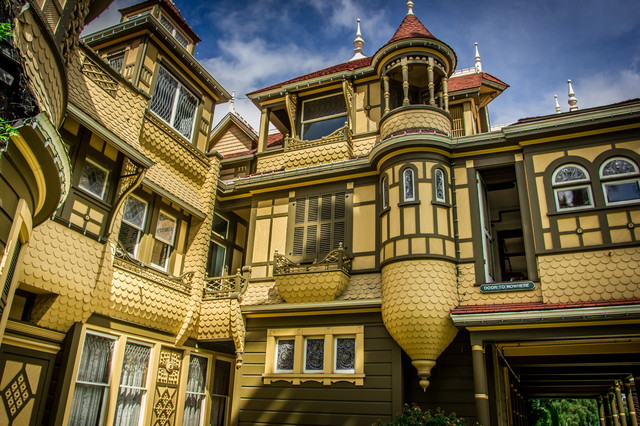 vv[10/11] What Lies Beneath the Lore of California's Winchester House
Photo courtesy of Winchester Mystery House
What Houzz contributors are saying:

Victoria Villeneuve added this to Houzz TV: Beyond the Ghost Stories of the Winchester Mystery House
Oct 12, 2016
An ornate cupola rises to the left of the Door to Nowhere. Photo from Winchester Mystery HouseWhat possessed a lone widow to travel across the country, buy a small farmhouse and spend decades transforming it into such a colossal crazy quilt?Even in her lifetime, locals began to murmur that the reclusive heiress must be mad. The eventual story that a spiritualist had advised her to keep building to appease the ghosts of those killed by Winchester rifles has attracted an estimated 12 million visitors since the home opened as a tourist attraction in 1923, Winchester Mystery House spokesman Tim O'Day says. Many of them come from Australia, Canada, China, Germany and Japan, in addition to the United States. Some have reported experiencing paranormal activity.The lore of the house provides fodder for filmmakers: Brothers Michael and Peter Spierig (Predestination, Daybreakers) in March will begin production on a movie starring Mirren as Winchester, according to Variety.It also overshadows the accomplishments of its forward-thinking owner.